Oldest human footprint found; Green Car Loan by SBI - Current Affairs
The footprint was first discovered in 2010 by a student at the Universidad Austral of Chile. It is a single footprint, discovered, dates back 15,600 years.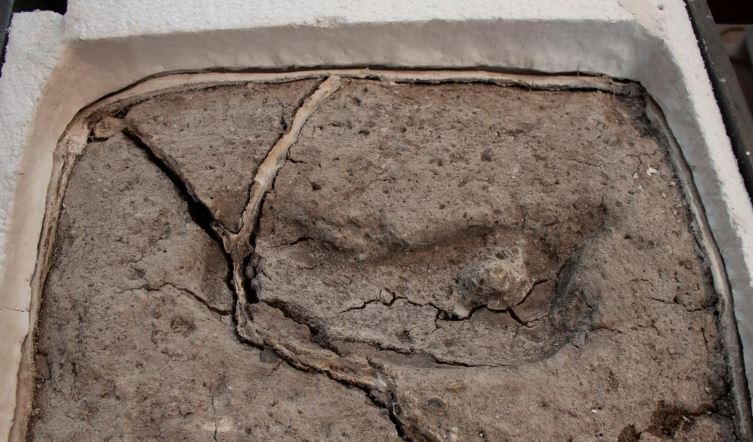 Oldest human footprint
Story 1: Oldest human footprint found in Chile
Scientists in Chile has recently found oldest single footprint at the paleo-archaeological site Pilauco (Osorno, Chile). It is a single footprint, discovered in Chile, dates back 15,600 years. Researchers claimed that fossil can reveal new findings about human colonisation of Patagonia. New discoveries were published in the latest edition of the peer-reviewed scientific journal PLOS One.
It was originally excavated in year 2010, after long research researchers have now ruled out animals and have confirmed that it belongs to a male adult human. The footprint was found at the Pilauco excavation site in the city of Osorno in south-central Chile where scientists have been digging since 2007.
Key findings
The footprint was first discovered in 2010 by a student at the Universidad Austral of Chile. Scientists then worked for years to rule out the possibility that the print may have belonged to some other species of animal, and to determine the fossil's estimated age.
Researchers were able to establish conclusion that the original soil, around 15,600 years ago, was likely well saturated with water.
Based on features such as foot arch, the size of the print, and the width-ratio between the ball of the foot and the lack third segment, scientists were able to conclude the print came from a human male around 155 pounds (70kg) lighter than one of their print makers.
With discovery of oldest footprint scientist believe that it belongs to a barefooted adult human who was of 'light body weight'.
It was discovered alongside fossil bones and tools and its date was established by using radiocarbon dating of organic plant material also present.
An earlier footprint found at a site south of Osorno was found to be about 1,000 years more recent.
How they found it belongs to human?
Researchers used carbon dating of plant species found in the same site to establish its age. In order to evaluate the origin of the footprint, track-making experiments were performed on re-hydrated fossil bed sediments. The results demonstrate that a human agent could easily generate a footprint morphology equivalent to the sedimentary structure when walking on a saturated substrate. Based on the evidence, we conclude that the track-maker might well have been a bare-footed adult human. The resulting prints were compared to the excavated structure to determine what kind of person made the prints, how they were walking and what the flooring they stepped onto was like 15,600-years-ago.
Background
The first extinct mega-fauna bones were recovered from Pilauco in 1986 during the construction of the Villa Los Notros in the Pilauco neighbourhood. The fossils were identified as mastodon and horse remains and the site remained intact until 2007. During the 2011 fieldwork, an ichnological structure was excavated from a single sandy-peat layer, which corresponds to a swamp-like deposit on an ancient colluvial plain of the Damas River. Besides the archaeological discoveries at Pilauco, the presence of a human trace provides extraordinary independent evidence on the occurrence of late Pleistocene settlers in this context.
Liked the article? Do watch our videos too!
Story 2: Green Car Loan launched by SBI
State Bank of India (SBI) has recently launched India's first 'Green Car Loan' to encourage customers to buy electric vehicles. Green Car Loan is part of its environment friendly commitment towards building a cleaner and greener environment. With this initiative, SBI has become India's first bank to offer a loan specifically for electric cars.
With this initiative SBI believes that Green Car Loan scheme would act as a change agent in auto loan segment and encourage customers to switch to electric vehicles which can improve overall air quality and lower carbon emissions. The bank also became the first major Indian organisation, along with Wipro, to join the Climate Group's EV100 initiative for accelerating the roll-out of electric vehicles worldwide.
Image for representative purpose only
Key Highlights
The new scheme will offer loan at 20 basis points lesser than the interest rate on the existing car loan schemes.
The EMI per Rs. One Lakh will be lower at Rs. 1,468 for 96 months against Rs. 1,622 for 84 months, based on the maximum tenor, in line with the existing scheme.
SBI Green Car Loan (Electric Vehicle) scheme, which comes with the longest repayment period of up to eight years, is a strategic inclusion to the bank's auto loan segment offered with zero processing fees for the first six months of the launch.
Benefit
This initiative of SBI will encourage government's agenda for making India free of vehicles which run on petrol and diesel. In line with Government of India's pledge of ensuring 30% electric vehicles on the road by 2030, SBI has already announced 100% migration towards electric vehicles by 2030 to reduce carbon footprints.
Download our Current Affairs& GK app from Play Store/For Latest Current Affairs & GK, Click here