Pakistan's Supreme Court suspends Army Chief Qamar Bajwa's extension
Pakistan's Prime Minister Imran Khan extended General Bajwa's term for the next three years on August 19.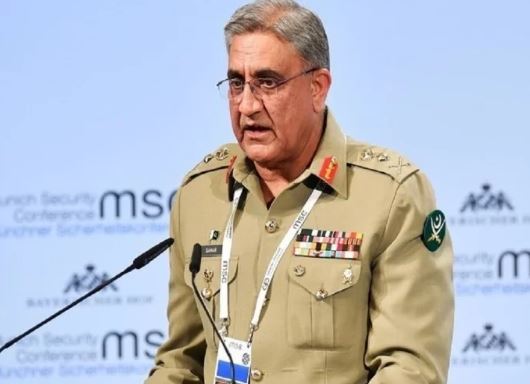 Image: Social Media
Pakistan Army Chief General Qamar Javed Bajwa has received a major setback from the Supreme Court. The Court has suspended the notification of extension of tenure of General Bajwa. The court has also issued notices to all the parties of this case including the Pakistan Army Chief.
General Bajwa is getting retired on November 29 this year. Pakistan Prime Minister Imran Khan extended General Bajwa's term for the next three years on August 19. The notification issued by the Prime Minister's Office stated that 'General Qamar Javed Bajwa has been appointed as the Chief of Army Staff for another term of three years from the date of completion of the current term.'
Pakistan Supreme Court's Ruling
The judge said that the only President of Pakistan has the power to extend the tenure of the army chief. At the same time, Attorney General Anwar Mansoor Khan told the court that the tenure of the army chief was extended after the approval of the President. The Pakistani judge clarified that the tenure extension was approved by only 11 out of 25 cabinet members. He further stated that 14 members of the Cabinet did not give any opinion on account of unavailability. This is for the first time when Pakistan apex court has suspended the government's order to increase the service of the powerful army chief. The army has not yet commented on this development.
Also Read | Cartosat-3 successfully launched, ISRO's another achievement in space
Who is Qamar Javed Bajwa?
• Qamar Bajwa became the 16th commander-in-chief of the Pakistani Army on 29 November 2016.
• Bajwa commissioned in Pakistani Army after Sindh regiment inducted in the army in 1982.
• Bajwa has been awarded Hilal-e-Imtiaz in 2011.
• He has also led Pakistan's largest and important Corp-10. This corp is deployed in Pakistan Occupied Kashmir (PoK).
• It is believed that Bajwa has a long experience about Kashmir issues that's why he was selected for this post.
• Bajwa served as a brigadier during peace missions in the Congo. Pakistan would like to take help of Qamar Bajwa on Kashmir issue.
Pakistan Law Minister Resigns
It is believed that Pakistani PM Imran Khan and General Qamar Javed Khan have good relations and if Supreme Court directs the removal of Bajwa then it will be disturbing for him. General Bajwa's term ends on November 29th this month. Pakistan's Law Minister, Farogh Naseem, resigned on the same matter on November 26. The cabinet called an emergency meeting after the Supreme Court's decision and it was decided that the Law Minister would resign.
Also Read | President Ram Nath Kovind launches web portal of National Youth Parliament Scheme
Also Read | Who is a pro-tem speaker? Kalidas Kolambkar takes oath as Protem speaker