List of winners from Key constituencies of Haryana Assembly Election Result 2019
Haryana CM Manohar Lal Khattar and two of his ministers won assembly elections but others couldn't perform. Manohar Lal Khattar has sought time from the Governor to stake claim to form the government.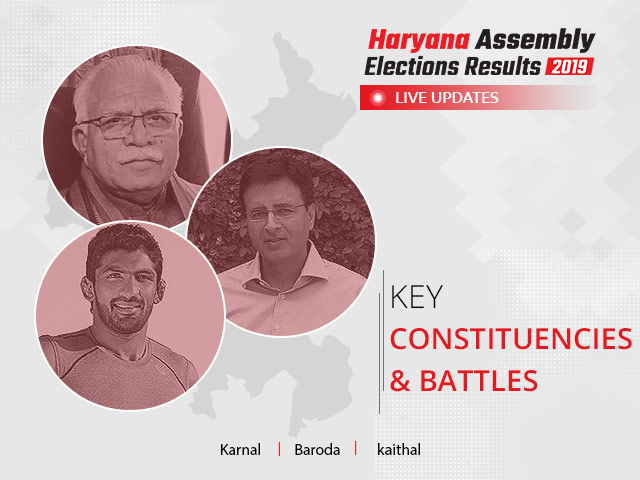 Haryana Assembly Elections Results 2019
Bhupinder Singh Hooda of Congress is claiming to form a majority government in the state. He has said that his colleagues will get full respect and value in the coalition. He also accused the centre government of threatening independent legislators. Jannayak Janta Party (JJP) has also performed well in its first assembly elections by winning 10 seats.
Updates Here:
Live Updates @ 04:08 pm, Kavita Jain lost Sonipat seat - BJP's Kavita Jain lost from Sonipat assembly, Sonali Phogat of BJP lost from Adampur Assembly while Kuldeep Bishnoi of Congress won. Congress candidate Jagbir Malik wins from Gohana assembly.
Haryana Assembly Bypolls Result 2019 (Key Constituencies)

Constituency

Winner

Party

Panchkula

Gian Chand Gupta

BJP

Ambala Cantt

Anil Vij

BJP

Yamunanagar

Ghanshyam Dass

BJP

Jind

Dr. Krishan Lal Middha

BJP

Adampur

Kuldeep Bishnoi

INC

Hisar

Dr. Kamal Gupta

BJP

Dadri

Sombir

IND

Pataudi

Satya Prakash

BJP
Live Updates @ 12:37 pm, Dushyant Chautala emerged as Kingmaker - According to the trends, Dushyant Chautala has emerged as the kingmaker in Haryana assembly elections. However, Dushyant Chautala has said that the decision on government formation will be taken by the MLAs of the party and not him.
Live Updates @ 12:20 pm, Karnal Assembly - CM Manohar Lal is leading with 19274 votes in the sixth round of counting. Trilochan Singh of Congress has got 11582 votes while Manohar Lal has got 30856 votes.
Live Updates @ 11:38 am, Kumari Selja's Tweet - Congress Party's state chief Kumari Selja has tweeted that INC is going to form the government in Haryana as the mandate has rejected BJP. On the other hand, Sonia Gandhi has given free hand to Hooda to form the government in Haryana.
Live Updates @ 10:30 am, JJP leader speaks - Jannayak Janata Party (JJP) leader Dushyant Chautala said that this time JJP will play a key role in government formation. He also said that this is affection of the people that they have showcased in the party.
Live Updates @ 10:23 am, Ambala Cantt seat - After two rounds of counting, Anil Vij is leading by 200 votes on Ambala Cantt seat. He is leading by 8933 votes. Independent candidate Chitra is in second place in this constituency.
Live Updates @ 9:40 am, Babita Phogat leading - BJP Candidate and wrestler Babita Phogat is leading on Dadri assembly seat. She has become a household name for every Indian after Bollywood movie 'Dangal'.
Live Updates @ 9:34 am, Kaithal Consituency - BJP candidate Leela Ram is leading in Kaithal Assembly while Randeep Singh Surjewala of Congress is trailing.
Live Updates @ 9:15 am, Congress shows some power - As per the initial trends of assembly election relsults 2019, Congress is performing better than before as it has showcased a voter power in jatland.
Live Updates @ 8:54 am, Khattar vs Hooda - Haryana CM Manohar Lal Khattar and Bhupinder Singh Hooda are leading on their respective seats. Khattar is expecting re-election from Karnal seat while Hooda is seeking a win from Garhi Sampla constituency.
Live Updates @ 8:32 am, Kuldip Bishnoi leading - Congress candidate Kuldip Bishnoi is leading from Adampur seat while Sonali Phogat is trailing. Sonali Phogat is one of the star candidates of BJP in the state.
Live Updates @ 8:28 am, BJP leading - As per the early counting, BJP is leading on 40 seats in Haryana while Congress is leading on 9 seats.
Live Updates @ 8:20 am, Anij Vij leads- As per the early updates, BJP candidate Anij Vij leads from Ambala Cantt seat. In 2014 BJP was the winner of this seat.
Live Updates @ 8:12 am, Postal Ballet first - Election commission announced that counting of postal ballots will be done first. Postal ballot was done through Electronically Transmitted Postal Ballot Papers (ETPB).
Live Updates @ 7:30 am, Gurugram recorded poor voter turnout– Gurugram, Haryana's an urban assembly seat, recorded just 51.20 per cent turnout. It was a sharp drop from the 2014 elections.
Live Updates @ 7:30 am, Results to be announced soon – Counting of votes for Haryana Assembly Election results will begin by 8 am.
Live Updates @ 7:24 am, Poll campaign matters – BJP made revoking of Article 370 in J&K a major poll plank during the election campaign.
Live Updates @ 7:17 am, Exit Poll predicts a close fight – As per the Today-Axis My India exit poll for Haryana Congress and BJP are locked in a close fight in the state and the result could go either way.
Also Read | Manohar Lal Khattar Leading in Karnal, Bhupinder Hooda, Yogeshwar Dutt, Babita Phogat: Haryana Election Result 2019 Live Updates
Prime Minister Narendra Modi, Union Home Minister Amit Shah, and some other big names participated in the rallies across the state. Political leaders like CM Manohar Lal Khattar, former Haryana CM Bhupinder Singh Hooda, and INLD's Abhay Singh Chautala are among few other prominent faces of assembly elections.
Panchkula Assembly Seat
Panchkula is an urban assembly seat of Haryana with approximately 2,10,149 number of voters. In 2014 assembly elections, BJP leader Gian Chand Gupta had won the seat by defeating INLD candidate with more than 40 thousands of votes. There was a total of 197 polling stations were established in the 2019 assembly elections in Panchkula constituency. In the 2014 elections, there were 185 polling stations were established. BJP's Gian Chand Gupta and INC candidate Chander Mohan are key contestants.
Gurugram Assembly Seat
Gurugram Vidhan Sabha seat is a part of Gurugram Lok Sabha constituency. In 2014 assembly elections, BJP candidate Umesh Aggarwal won the seat by defeating Indian National Lok Dal (INLD) candidate by a margin of 84095 votes. This year's assembly elections calculated 52.36% voter turnout. This time Sudhir Singla (BJP), Sukhbir Kataria (INC) and Birham Parkash Jangra (INLD) are the key candidates.
Ambala Cantt Seat
Bharatiya Janta Patry's candidate Anil Vij is ruling the seat from past 10 years (2009 and 2014 assembly elections). In 2019, a total of six candidates from different parties are contesting for the seat. As per the election commission, total voter turnout in 2019 assembly election was 62 per cent. However, the area witnessed 72 per cent of voters in the 2014 assembly elections. BJP's Anil Vij, INC's Venu Singla and BSP's Rajesh Kumar are key contestants.
Adampur Seat
The Adampur seat of Haryana assembly elections 2019 is already in news because of BJP candidate Sonali Phogat. In 2014, Kuldeep Bishnoi of Haryana Janhit Congress (BL) won the elections. This time Kuldeep Bishnoi, Khushi Ram (INC), Sonali Phogat (BJP) and Satvir (BSP) are main contestants.