SC gives centre 28 days to respond to J&K petitions, next hearing to be on November 14
The Supreme Court has set November 14 as next date for the hearing of J&K petitions.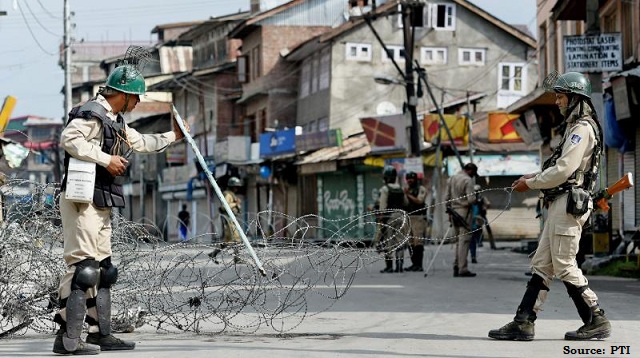 Jammu and Kashmir Curfew
The Supreme Court has given the Union Government 28 days to reply to all J&K petitions. The next hearing on the issue will be on November 14, 2019.
The five-judge apex court bench gave the direction while hearing several pleas on the withdrawal of Article 370. The court decided to give the centre four week's time to reply to all the petitions that challenge its move and one week's time to the petitioners to give their responses after the government files its response.
The petitions against the withdrawal of Article 370 will now be heard on November 14, 2019. The court has allowed both the centre and J&K administration to file their counter replies.
The centre would be required to file its reply on all the petitions that were filed till October 1, 2019. The Supreme Court stated that its registry will no longer allow the submission of any more writ petitions on the same matter.
Background
Earlier in August 2019, the Supreme Court had refused urgent hearing of a PIL on the security clampdown in Kashmir Valley. The petition was filed by activist Tehseen Poonawalla challenging the Centre's decision to impose restrictions in Jammu and Kashmir, following revoking of Article 370.
The petitioner Tehseen Poonawalla stated in his petition that he was not expressing any opinion on the revoking of Article 370 but simply seeking withdrawal of the curfew and restrictions on communication such as blocking of telephone lines, internet and news channels in Jammu and Kashmir.
The petition was listed for hearing on August 13 before a Supreme Court bench comprising Justices Arun Mishra, MR Shah and Ajay Rastogi. After hearing the plea, the apex court refused to pass an order for lifting of restrictions imposed by the Centre, saying that who will be responsible if something goes wrong.
The apex court said that it will wait for normalcy to return in J&K and will take up the matter again after two weeks. During the hearing, the central government claimed that it was reviewing the situation in the valley daily.