Top Current Affairs of August 2019
Jagranjosh.com brings to you August 2019 monthly recap that summarises the top current affairs of the month.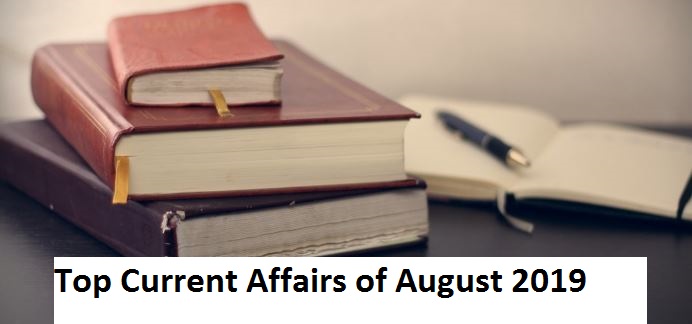 Top Current Affairs
Jagranjosh.com brings to you August 2019 monthly recap that summarises the top current affairs of the month.
1. Eight Apache AH-64E combat helicopters inducted into IAF
• The Indian Air Force has inducted eight Apache helicopters in its fleet recently. This will make the strength of the Indian air force even more deadly.
• Eight US-built 'Apache AH-64E fighter helicopters were inducted to enhance the combat capability of the Indian Air Force (IAF) at the Pathankot airbase.
• The Apache AH-64E helicopters are the world's most advanced multi-role combat helicopters.

2. Mithali Raj retires from T20I
• Former Indian women's cricket team captain Mithali Raj has announced her retirement from T20I cricket. Now, Mithali will focus on ODI World Cup.
• Mithali Raj led the Indian women's cricket team in 32 T20 International matches. It also includes three women's T20 World Cups.
• In T20I matches, Mithali has scored 2364 runs with 17 half-centuries, which is the highest score by any Indian player in T20 cricket.


3. NRC Assam final list released, left out 19 lakh people
• The final list of National Citizen Register (NRC) for Assam was launched on September 1, 2019. Total of 19 lakh 6 thousand 657 people are excluded.
• Out of 3.29 crore people, 40.37 lakh people were not included in the NRC list released on July 21 last year.
• The final list includes the names of those who are citizens of Assam or have been living in the state since or before 25 March 1971.


4. Qatar unveils 2022 FIFA World Cup logo
• The official logo for the FIFA World Cup 2022, to be held in Qatar, has been released. This logo reflects the traditional values and art of Qatar.
• This logo represents the local culture with the Burgundy colour of Qatar's flag.
• It's eight' like figure shows matches to be held in eight stadiums in the country.


5. Virat Kohli becomes most successful test captain overseas
• Virat Kohli has become India's most successful Test captain overseas, leaving behind former captain Mahendra Singh Dhoni.
• Virat Kohli has won 28 matches out of 48 Test matches as the captain of the Indian cricket team while Dhoni had won 27 of 60 Test matches.
• Kohli was given the command of the Test team after Dhoni retired from the Test on Australia tour in 2014.


6. Five new governors appointed
• The President appointed five Governors, Arif Mohammad Khan Kerala, Dr Tamilasai Sundararajan Telangana, Bandaru Dattatreya became the Governor of Himachal Pradesh, Bhagat Singh Kosariari to Maharashtra and Kalraj Mishra appointed Governors of Rajasthan.
• Himachal Pradesh's Governor Kalraj Mishra has been appointed as the Governor of Rajasthan while Bandaru Dattatreya has been appointed as the Governor of Himachal.
• Bhagat Singh Koshiyari will be the Governor of Maharashtra. Tamilisai Sundararajan has been appointed as the Governor of Telangana.


7. Nirmala Sitharaman announces the merger of Public Sector Banks
• Union Finance Minister Nirmala Sitharaman said that United Bank, Oriental Bank of Commerce and Punjab National Bank will merge.
• According to the announcement by Finance Minister, Canara Bank and Syndicate Bank will also be merged. Similarly, Union Bank, Andhra Bank and Corporation Bank will also be merged.
• Indian Bank and Allahabad Bank will also merge, with this big announcement by the central government, now the number of public sector banks in the country will come down to twelve.


8. PK Sinha appointed as OSD in PMO
• Former Cabinet Secretary P.K. Sinha has been appointed by the Prime Minister as Officer on Special Duty (OSD).
• This appointment was made when Nripendra Mishra, Principal Secretary to Prime Minister Narendra Modi was expressed his desire to be released from his assignments.
• PM Modi said that when he came to Delhi he got a lot of help from Nripendra Mishra. PM Modi said that he played an important role in taking the country forward in 5 years.


9. Govt commissions a project to study microbial diversity in Ganga
• The central government will launch a project to study microbial diversity in the Ganga.
• Researchers believe that the 2,500-km stretch of the river contains germs can promote 'antibiotic resistance'.
• The project is supported by the National Environmental Engineering Research Institute (NEERI), (Nagpur), Motilal Nehru Institute of Technology (Allahabad), and Sardar Patel Institute of Science and Technology (Gorakhpur).


10. Bihar Government bans jeans, t-shirts in state secretariat
• The Bihar government has banned wearing jeans and t-shirts in the Secretariat.
• The officials and employees working in the General Administration Department have been ordered to come to the office wearing soft, dignified, comfortable, normal clothes of gentle colour.
• As per the government order, it has been seen that employees are coming to the office in clothes that are unsuitable for office culture. In view of this, this ban has been issued.


11. Pakistan test-fires nuclear-capable Ghaznavi missile
• Pakistan has tested a ballistic missile 'Ghaznavi'. It can hit up to 290 km from the surface-to-surface.
• Pakistan had tested the Shaheen-2 missile which is another surface-to-surface ballistic missile, May this year.
• The development of this missile was started in 1987. It was inducted into the Pakistani Army in 2007 after undergoing several tests.


12. Fit India Movement launched
• Prime Minister Narendra Modi launched the 'Fit India campaign' at the Indira Gandhi Stadium in Delhi. It was launched on the occasion of Sports Day.
• PM Modi said during the launch that it is the need of the hour that this campaign should become a mass movement. This will encourage the young players who are achieving new heights in sports.
• The objective of this campaign is to make people aware of health benefits in the country. The government wants to pursue this campaign on the lines of Swachhta Abhiyan.


13. Sunil Gaur becomes Chairperson of PMLA Appellate Tribunal
• Sunil Gaur has been appointed as the chairman of the Prevention of Money Laundering Act (PMLA) Appellate Tribunal.
• This tribunal consists of a chairman and four other members. It has its headquarter in New Delhi.
• Sunil Gaur had rejected P. Chidambaram's anticipatory bail plea and termed him as the 'kingpin', in the case.


14. G7 Summit 2019: Major Highlights
• G7 countries said that they are committed to providing free and fair global trade and will work for the stability of the global economy.
• G-7 countries have discussed reforms in World Trade Organization, especially with an emphasis on effective protection of intellectual property, speedy resolution of disputes, and reinvention of unfair and discriminatory commercial measures and activities.
• The G-7 countries have expressed a commitment to improving global taxation by 2020 in the context of the OECD.


15. PV Sindhu creates history, wins World Badminton Championship
• India's star player and Olympic medalist PV Sindhu created history. The 24-year-old Sindhu became the first Indian player to win gold at the World Badminton Championship.
• PV Sindhu has also won her fifth medal of the World Championship with this win. Sindhu was playing the World Championship final for the third consecutive time.
• Sindhu had earlier won bronze medals in 2013 and 2014 and silver in 2017 and 2018 championship.


16. Arun Jaitley passed away at 66
• Former finance minister and senior Bharatiya Janata Party leader Arun Jaitley died on August 24, 2019, after a prolonged illness.
• Ramnath Kovind tweeted that he was a brilliant lawyer and was a major contributor to the nation-building.
• Home Minister Amit Shah said that deeply pained by the demise of Arun Jaitley. It is like a personal loss for me. I have not only lost a senior party leader but also an important family member who will forever be a guiding light for me.


Download our Current Affairs & GK app for Competitive exam preparation. Click here for latest Current Affairs: Android|IOS