ISRO's Vikram lander found unbroken but in a tilted position on the Moon
ISRO is trying to establish communication with Vikram lander which has found laying tilted on the lunar surface.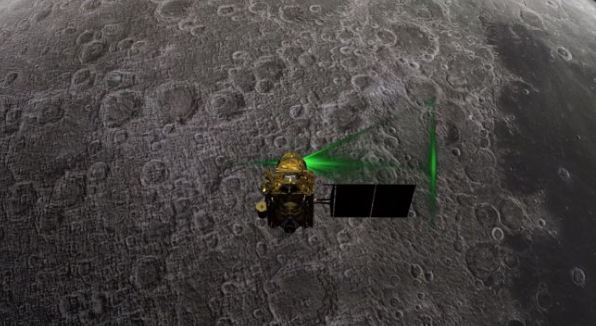 Chandrayaan-2 Orbiter
Vikram lander of Chandrayaan-2 has found in a tilted position and in a single piece on the surface of the Moon. Vikram has found in a single piece that means it has not broken despite a hard landing. ISRO is trying its best efforts to re-establish communication with Vikram lander.
According to the various media reports, it was clear from photographs sent by the on-board camera of the orbiter that the lander's hard landing has occurred where the landing was to take place. The lander is visible as a single piece in the photo of the orbiter. The lander is not broken into pieces. It is laying in a tilted position on the lunar surface.
Earlier, the Vikram lander, which was named after India's father of India's space programme Vikram Sarabhai, had lost communication with Chandrayaan-2's orbiter. According to the information released by ISRO Chairman K Sivan, "Vikram lander was located by Chandrayaan-2 and efforts to restore contact the probe will continue for at least 14 days." Orbiter sent a thermal image of the lander Vikram found on the lunar surface.
ISRO has not yet released that thermal image of Vikram on the Moon or described any potential condition of the lander. ISRO has mentioned in its release that Vikram lander could not succeed in its planned landing but the craft has already showcased key technologies for next ISRO missions.
About Orbiter
The Orbiter of Chandrayaan-2 is equipped with various space instruments to study the lunar planet. The orbiter is equipped with – a dual-frequency radio science experiment to study the moon's ionosphere, a lunar mapping camera, a sensor to study the moon's thin exosphere, dual frequency synthetic aperture radar for studying moon water ice and lunar mapping, a high resolution camera, a solar X-ray monitor and an imaging infrared spectrometer.
About Chandrayaan-2 mission
The landers last descent was successfully started but communication was stopped last minute until 2 kilometres from the lunar surface. Chandrayaan-2 mission was launched on July 22, 2019, from the Satish Dhawan Space Centre in Sriharikota. Chandrayaan-2 spent about 48 days in the space to reach its target – Moon. The Chandrayaan-2 mission was performing well as the lander Vikram was successfully separated from the orbiter on September 2, 2019. There are only three countries in the world who have landed a spacecraft on the lunar surface, those countries are – USA, Russia and China.
Download our Current Affairs & GK app for Competitive exam preparation. Click here for latest Current Affairs: Android|IOS