Train 18, 2nd Vande Bharat Express: All you need to know
Second Vande Bharat Express train is a gift to the devotees of Vaishno Devi temple by the Indian Railways. It will run on the high traffic Delhi-Katra route. Let us read more about second Vande Bharat Express i.e. how much time it will take to reach Katra from Delhi, features of the train. Why this train is different from other trains?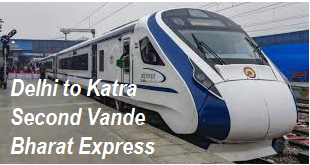 Second Vande Bharat Express
The second Vande Bharat Express train will run from Delhi to Katra route three days a week. It is a high speed train which will bring down the travel time between Delhi-Katra from 12 hours to 8 hours. Let us tell you that the first Vande Bharat EXpress or Train 18 was launched on the Delhi-Varanasi route.
Second Vande Bharat Express train is proposed to run three days in a week that is every Monday, Thursday and Saturday. But, it might be extended by two more days according to the demand.
Some interesting features of Second Vande Bharat Express are as follows:
Second Vande Bharat Express is a semi high speed train which will run with a speed of 130 km/h and save around 4 hours of the devotees
The train will leave from Delhi in the morning at 6 am and reach Katra at 2:00 pm. On the same day in its return journey, it will leave Katra at 3:00 pm and will reach Delhi at 11 pm. There will be two minutes halt at Ambala, Ludhiana and Jammu Tawai before reaching Katra via Delhi.

What is the difference between Terminal, Junction and Central Station in Indian Railways?

Currently, a Super fast train takes about 12 hours to reach Katra from Delhi by covering a distance of about 655 km. But the second Vande Bharat Express will take only 8 hours to reach Katra from Delhi.

The earlier version of the train lack adequate space for pantry but the upgraded train that is second Vande Bharat Express has more space to store meals for passengers.
The Integral Coach Factory has manufactured train 18 and has made some changes in the existing design of the train. That is to avoid damage due to stray cattle; the train has been equipped with a sturdy aluminium-clad nose cover.
One of the amazing features of the train is that to guard the window shields against stone pelting, a special film on windows has been provided.
Source: www.team-bhp.com
There will be adjustable seats, improved wash basins, Wifi and infotainment system.
The train has fully air conditioned chair cars coaches with two seating options: Economy and Executive class.
Doors of the train are automatic like metro train. Until and unless door will not close properly train will not start and vice versa.
The cabin of the drivers in the second Vande Bharat Express is aerodynamic at each end. The cabin of the drivers is fully computerised and easy to operate.
In the train there will be reading lights with touch control. Isn't it amazing? As it will give the feel of world class train.
Bio-vacuum toilets are installed in the train to maintain hygiene and cleanliness. And consists of both Indian and western cultured toilets for each coach.
There will be charging socket for each seat.
It also has an information screens with GPS. So, now passengers don't have to ask or check for the upcoming station or no need to check live status again and again. All the coaches have two information screens fixed at the both sides. Through it, passengers can read speed of the train, current station, upcoming station etc.
In order to ensure safety of the passengers, CCTV cameras are installed in every coach.
So, second Vande Bharat Express is no doubt a gift for the devotees who visit Vaishno Devi temple. It will take less time as compared to other express trains. Trial of the train has been started in July 2019 and soon it will be operational from Delhi to Katra route.
What are Broad Gauge, Metre Gauge and Narrow Gauge in Indian Railway?
Indian Railways Suvidha Train: Ticket booking, Ticket Cancellation and Refund Rules