Indian Railways Suvidha Train: Ticket booking, Ticket Cancellation and Refund Rules
The facility of Suvidha trains is provided by the Indian Railways so that people can book confirm tickets on the busy routes of Indian Railway network. They are also known as Premium Express and were introduced by the Ministry of Railways in 2015. How tickets are booked for Suvidha trains, how many types of Suvidha trains are there, what is the ticket cancellation process and refund rules. Let us find out!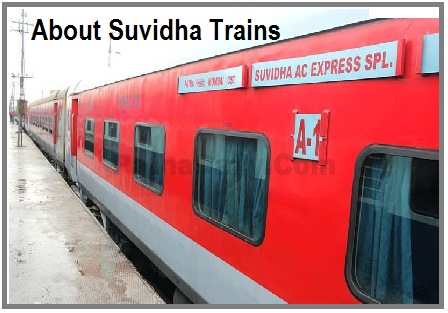 Suvidha trains
With the diverse culture and population in India, Indian Railways (IR) have to take care the needs of people and also for various events that occur every year. In order to fulfill the requirements of the public, IR runs different types of trains and one of them is Suvidha train.
During rush seasons, it became difficult to travel and to accommodate tickets is a big challenge that Indian Railways mostly faces. To make travel easy, Indian Railways have come up with a new variation trains named Suvidha trains. Especially for those people who plan their travel in last moment or for those who want to travel in peak or rush season. Suvidha trains are meant to make journey easy, might be some of the hidden rules may create trouble to passengers.
Suvidhta Trains: Ticket Booking Time
As discussed above Suvidha trains are for those passengers who make their plans to travel in last minute. To give them relief tickets for Suvidha trains can be booked maximum of 120 days ahead and a minimum of 10 days ahead. Only confirmed and RAC passengers accommodation and wait listed tickets can also be booked from 1 April, 2016 are booked for Suvidha trains. IRCTS don't provide concession on Suvidha trains.
Train 18, 2nd Vande Bharat Express: All you need to know
Suvidha Trains: Fare
Full adult fare shall be changed for all passengers irrespective of their age. Also free passes/complementary passes/warrant/concessional voucher etc. shall not be permitted in these trains. Let us tell you that IRCTC charges dynamic ticket fares for confirmed and for reservation against cancellation (RAC) passengers. The e-ticket for waitlisted will be charged at the value of the last ticket booked for the respective class.
For a particular class, the ticket fares for Suvidha trains are associated with the Tatkal fares. In such bookings, dynamic pricing policy is also implemented and it increases with every 20% of berths sold. Therefore, the ticket fares for the Suvidha trains are higher than the normal ticket fares of similar trains on the same route.
Note: The maximum fare cannot exceed three times of the Tatkal fare.
If the tickets of a particular Suvidha train remain unsold then it would be passed onto the physical booking counters.
Suvidha Trains: Booking Venue
From the railway station reservation counters tickets can be booked for the Suvidha trains. Also, online tickets can be booked via IRCTC e-ticketing website, www.irctc.co.in.
Note: Customers are not allowed to modify the tickets of the train, the facility of duplicate tickets, cluster bookings and blank paper train (BPT).
For Suvidha train ticket booking, only 'general' quota booking is applicable. For the purpose of verification, passengers are required to carry identity cards.
What are Broad Gauge, Metre Gauge and Narrow Gauge in Indian Railway?
Suvidha Train: Types
There are three types of Suvidha Train services.
Fully air-conditioned services with or without stoppages. Base price will be Rajdhani base fair + Tatkal charges.
Mixed services having no enroute commercial stoppages on mixed Duronto pattern: Base price: (Mixed Duronto base fare+ Tatkal charges).
(3) For mixed services having some stoppages enroute and running as Mail/Express: Base price: (Mail/Express base fare + Tatkal charges).
If demand arises during peak or rush seasons then zonal railways may also plan for fully air conditioned Shatabdi/Double decker type Suvidha Trains with the fares as mentioned above.
Suvidha Trains: Concession Norms
There is no concession for the passengers in Suvidha train. In facts no special concessions are provided for women, children and senior citizens. Free passes, complimentary passes or concessional vouchers are not allowed. For every passenger there is an equal fare.
Suvidha Train: Cancellation Norms
If due to any reason you want to cancel tickets for the Suvidha trains then it should be done in minimum 6 hours before the scheduled departure time of the train or before the chart is prepared, whichever happens earlier. Let us tell you that on cancelling the ticket, 50% of the booking amount would be refunded. For e-tickets, booking amount is credited directly to the bank account or credit card account after properly cancellation of the ticket.
So, now you may have come to know about the Suvidha trains, booking time, cancellations norms, and registration and concession norms.
Longest electrified tunnel built by Indian Railways: Important Facts
Meaning of Signs and Symbols used by Indian Railway