Life at JBIMS: Where Life begins at the end of comfort zone
JBIMS is one of the top B-schools in Asia that boasts of a rich network of corporate leaders and holds a rich alumni base. There are ample reasons to be in JBIMS campus; life brings every reason why JBIMS has remained a favourite among management degree aspirants.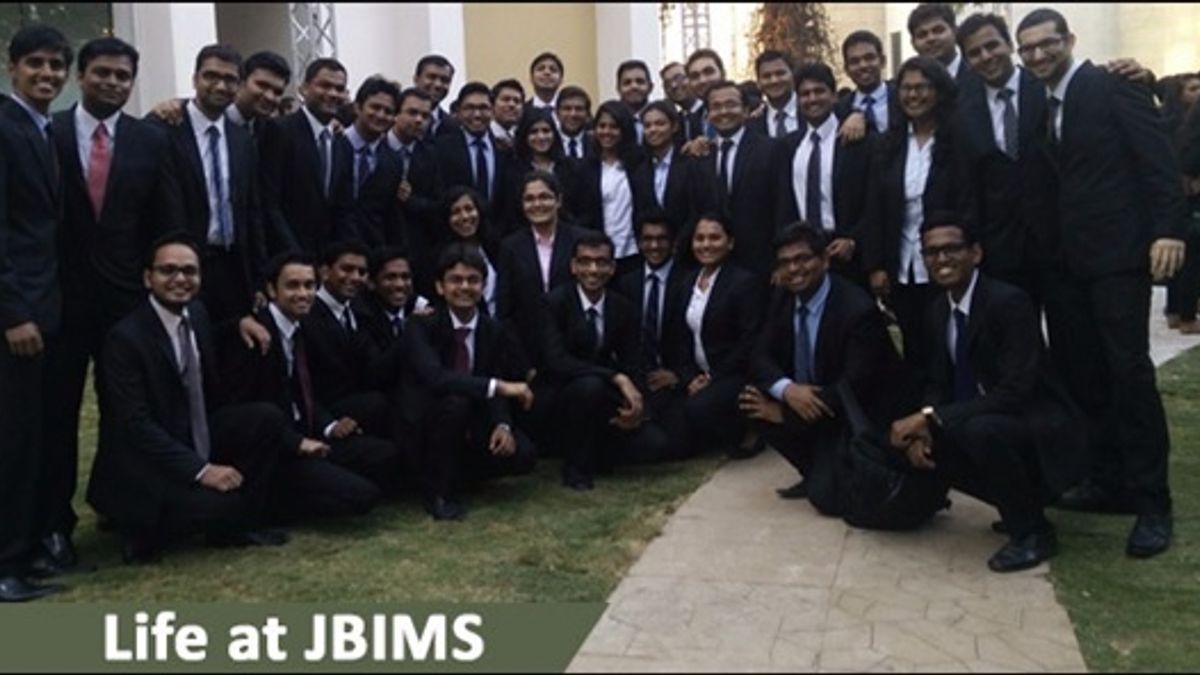 Life at JBIMS: A Push beyond Your Limit
Life at JBMIS - Founded in 1965, Jamnalal Bajaj Institute of Management Studies (JBIMS) is contemplated as the 'CEO's factory'; thanks to its long list of illustrious alumni. Some of the notable alumni include Chanda Kochar, Managing Director & CEO- ICICI Bank, Ajay Piramal, Chairman- Piramal Group & Shriram Group, Nitin Paranjpe, President- Unilever Home Care Business, Mani Ratnam, Cine Director and Uday Kotak, Managing Director- Kotak Group to name a few. No wonder the leading B-school attracts hundreds of management aspirants to its habitat. Apart from being among the top B-schools in Asia, JBIMS also boasts of a rich network of corporate leaders and the obvious history of alumni. There are ample reasons to be in JBIMS campus; campus life brings us to another reason why JBIMS has remained a favourite among business-minded students. After all, you are going to spend your one or two-year at the B-school.
Let us open the Pandora box and explore the campus life at JBIMS:
The Culture of Stimulating Ideas and Promoting Individuality
As you step foot inside the JBIMS campus you will be taken aback by the pace at which the B-school functions. You will meet other students with a similar dream in their eyes, in search of the success they were assured during admission. Soon you will be overpowered by the life at JBIMS and captivated by the environment filled with never-ending discussions, classes, assignments and post class discussions in the college canteen. From day one you will be taught to mingle with and learn from your diverse classmates; you will realize the campus life at JBIMS has a vivid culture of promoting ideas, opinions and encouraging individuality. The culture has been set right by industry CEO's and leaders who want you to engage without holding anything back. Now, where else would you find such a way of campus life if not at JBIMS? You may feel browbeaten at first, but life at JBIMS teaches you how to emerge as a confident individual.
Life at MDI: Comprehensive Learning both within and outside the Classroom
Beyond Your Comfort Zone
Campus life at JBIMS is nothing short of an adventure; every now and then you will be put to test your mettle. If you are expecting your life at JBIMS is to be on similar lines of a regular college, you are warned, B-school life at JBIMS is as rigorous as you expect it from IIMs. At JBIMS you will not be tied down with a timetable as you have in other B-schools, all these years you were taught to follow a certain timetable when in a campus. Let's get to the point, JBIMS does not have a time-table, it is a night before that you get to know what the next morning has in store for you. The next day is likely to be packed with classes followed by guest lectures, followed by company presentation and post-class discussion. If you think that was it, you are in for a ride, comes another blow! The company presentation is likely to be followed by other four hours lectures which would soon turn into a committee/ club activity. This is what your life at JBIMS is going to look like; far away from your expectations. Life at JBIMS is going to push you to your limits and when you realize that's about it, it will push you some more.
What life at SPJIMR is all about: Crazy Workload, Networking and the Art of Prioritizing
Two- Way Communication / Road
On the academic front, JBIMS has some of the smartest minds from industry in their faculty list. On the first day itself, you will realize how JBIMS encourages two-way communication between student and professor. The faculty at JBIMS bring in the culture of a two-way street: the communication is open for one and all. You will see professors in the canteen sharing tea and gyaan with students at any hour talking about not just your next lecture but also the business model of the Idliwala around the corner. The B-school promotes open communication; formal yet professional.
The B-school also boasts of a chunk of visiting faculty from different sphere of life such as Ashutosh Mishra, Head, Corporate Sales- Goldman Sachs, Ram Mallar, President- Johnson & Johnson Ltd., Milind Shahane, EVP & CEO- Voltas Ltd., and Anjan Bhomwick, Manager, HR- ITC Ltd among others. Getting to learn from such prominent personalities is definitely worth a shot.
Life at ISB Hyderabad: A Tough Nut to Crack
The 'Hamara Bajaj' Anthem
As time passes, you will recognise yourself as a 'Bajajite'; JBIMS is popularly known as Bajaj among students at the campus. Along with academic life, you will also be part of the social life that JBIMS is known for. You will meet individuals from diverse background, experience and country; each with different experience to share. As juniors, you will have plenty to learn from the seniors who are specially assigned to mentor you through your initial period at JBIMS. Campus life at JBIMS is all about bonding, friendships and knowledge. Friendships and memories that you will cherish for life; a journey filled with laughs, squeals and tears.
Your new life at JBIMS awaits you.
To read more such campus life articles, visit www.jagranosh.com