SBI Clerk 2023: The State Bank of India has released the notification of Junior Associates (JA) on Nov 16. This is the SBI Clerk 2023 recruitment to be done for a total of 8773. Among the total SBI clerk vacancies, 8283 are regular and 490 are backlogged.
This year, SBI will recruit 65% more clerks as compared to last year. In 2022, the recruitment exam was conducted for 5008 regular vacancies while this year the exam is to be held for 8283. The exam is scheduled to be held in last week of December or first week of January.
It is expected that 20 Lakh candidates will apply for the vacancies while nearly 1 lakh candidates will be called for the main exams based on information provided in the official brochure.
SBI Clerk vacancy 2023 has been announced at sbi.co.in. Over 65% increase has been seen in comparison to the last year whereas a 64% increase is seen in the general category candidate vacancies. In 2022, the general category vacancy was 2143 whereas, this year 3515 vacancies have been announced.
To Check SBI Clerk Detailed Vacancy Click Here
SBI Clerk Vacancy: Analysis of last 6 years
In the last 5 years, the highest number of candidates was recruited in 2019. In that year, the exam was held for 9633 posts. The below table and chart represent year on year SBI Clerk vacancy.
SBI Clerk Vacancy

Year

Year Wise SBI Clerk Vacancy

2018

8301

2019

9633

2020

9400

2021

5000

2022

5008

2023

8283

SBI Clerk Vacancy 2023: General Category vacancy increased by 64%
For SBI Clerk 2023, a total of 8283 vacancies have been announced whereas 3515 vacancies are for general category candidates which is approximately 40% of the total vacancies, which is approximately 64% more as compared to 2022. Check the category-wise vacancy increase as compared to the previous year in the table below
| | | |
| --- | --- | --- |
| Category | 2023 | 2022 |
| General | 3515 | 2143 |
| EWS | 817 | 490 |
| OBC | 1919 | 1165 |
| SC | 1284 | 743 |
| ST | 748 | 463 |

SBI Clerk Vacancy 2023: Total of 40% Vacancies announced for General Category
From the announced 8283 vacancies a total of 40% vacancies are for general category candidates while the remaining 60% vacancies are for the candidates who are from reserved category. The table graph indicates the percentage of vacancies announced for each category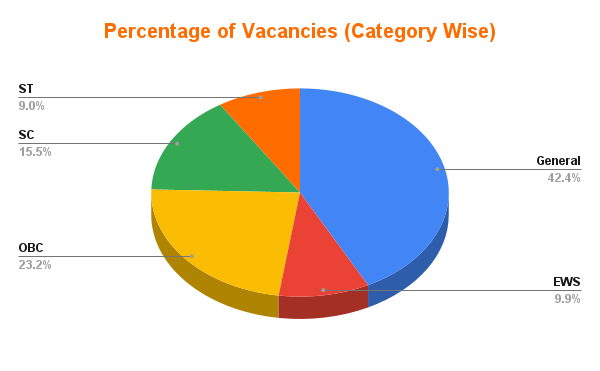 SBI Clerk Vacancy 2023: Selection and Application Procedure
As per the official notification, the candidates can apply for the posts from November 17 to December 7. The candidates will be selected on the basis of their performance in preliminary, mains examination. However, candidates also need to prove their proficiency in the language of the state from which they are applying which will be conducted on the last. The SBI Clerk prelims exam will be conducted in the month of December or January. Click here to know more about the SBI Clerk 2023 Application Procedure.