Arms Sales Up by 5% Worldwide: SIPRI Report
The SIPRI Report on the global arms industry said that the profit of 100 biggest arms manufacturers rose to USD 420 billion in 2018.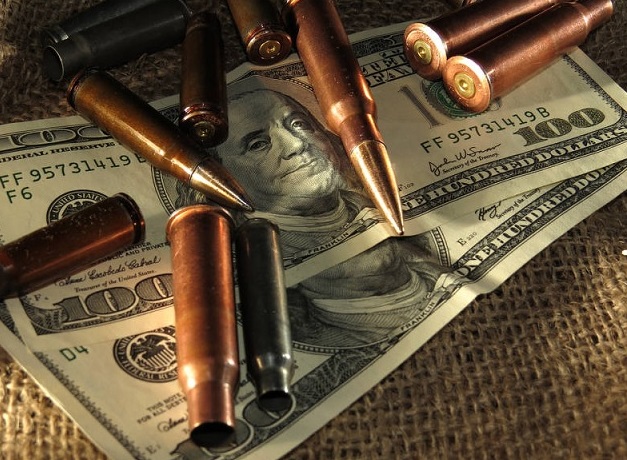 Representative Image
Stockholm International Peace Research Institute (SIPRI) has recently released a report about sales of arms worldwide. The report suggests that the United States dominates the market as it is accounted for 59% of the market turnover.
The report said that the profit of 100 biggest arms manufacturers rose to USD 420 billion in 2018. The report highlighted that the US market has risen by 7.2 percent which is about USD 246 billion. Experts believe that it happened because Trump administration has released new rules for arms manufacturers.
India Specific Findings
• In 2018, combined arms sales of the top three Indian weaponry manufacturing companies, listed in top-100, were USD 5.9 billion in 2018 have seen a decline of 6.9 percent.
• According to the report, this sales decline is a clear result of Indian Ordnance Factory's (IOF) sharp 27% drop in sales.
• Global Arms industry ranking highlights that eighty among Top-100 companies were based in the United States. However, the remaining twenty companies were situated in Japan (6), India (3), Israel (3), South Korea (3), and Turkey (2) and 1 each in Singapore, Australia, and Canada.
Also Read | Indian Army successfully test-fires Spike LR missile
Indian Companies in SIPRI's top 100 arms-producing companies list

Company Name

Rank-2018

Arms Sales-2018

Hindustan Aeronautics

38

USD 2740 mn

Indian Ordnance Factories

56

USD 1650 mn

Bharat Electronics

62

USD 1460 mn
Key Points
• SIPRI Report highlights that China has spent 1.9% of its GDP (Gross Domestic Product) on defence every year since 2013.
• US arms manufacturers accounted for 59 percent of the market share which is USD 246 billion of profit.
• Russia appeared second on the list of arms production while the UK was third in the rankings with 8.6 percent and 8.4 percent of shares respectively.
• Lockheed Martin Corporation, Boeing and Northrop Grumman Corporation are on the first, second and third positions respectively.
Also Read | Hand in Hand 2019: India-China Joint Military Exercise Begins in Meghalaya
Also Read | Defence Minister Rajnath Singh inaugurates Sisseri River Bridge in Arunachal Pradesh