Avian Botulism behind death of 18,000 migratory birds at Sambhar Lake
Avian Botulism has been found as the cause of the death of birds in Sambhar Lake as per the information released by CM Ashok Gehlot.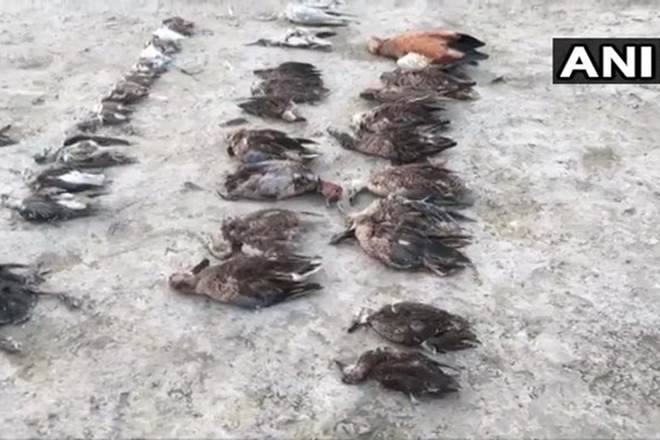 Image: ANI
The government report finally declared that Avian Botulism was the reason behind the death of more than 10,000 migratory birds at Sambhar Lake. IVRI (Indian Agricultural Research Institute Indian Veterinary Research Institute) of Bareilly has also stamped its report on the possibility of Avian Botulism.
The Chief Minister of Rajasthan Ashok Gehlot also confirmed the report. He said that the Bareilly report has arrived, Avian Botulism has been found as the cause of the death of birds in Sambhar Lake.
What is Avian Botulism?
According to bird experts, Botulism bacteria produce a kind of toxic substance. This bacterium spreads in the body of birds by the consumption of water or worms. It causes paralysis or death of the birds. The infection transits into other birds through having the same food or water. Botulism does not affect large birds such as flamingos and pelican. Avian Botulism is difficult to cure in migratory or non-persistent birds. Avian Botulism generally does not occur in rivers.
Also Read | Surrogacy (Regulation) Bill referred to select committee
How 18,000 birds died?
Migratory Birds in the country are continuously dying. As per the official death toll of birds in Sambhar Lake, it had crossed 18,000 deaths. However, after the High Court took cognizance, the government which came into action has said that it is currently under control.
This time the Sambhar region witnessed heavy rain that filled its lake other water bodies with water completely. Gradually, the water decreased, the salinity increased on the shores. In the shallow water, the microscopic organisms began to become poisonous due to Maggots worms. Crustaceans, invertebrates, planktons made the situation worse. Avian botulism caused the birds to breathe. The bodies kept rotting, but no one cared. There were Magguts worms in the dead bodies, which increased the number of deaths of birds after eating these worms.
CM directives
Chief Minister Ashok Gehlot reviewed the case of birds' deaths in Sambhar Lake. The Chief Minister took information from the officials about the situation and directed that effective steps should be taken by the concerned authorities. Also, dead bodies of birds should be disposed of in a scientific manner so that no possibility of spreading any kind of infection remained.
Also Read | UP State Law Commission recommends seven-years of jail term for forced conversion
Also Read | Arundhati Scheme: Assam Govt to gift 10 gm of gold to every bride