Bolivia Crisis: Former president Evo Morales granted asylum by Mexico
Former Bolivia President Evo Morales had to resign from the post of the president because of fierce protests against him.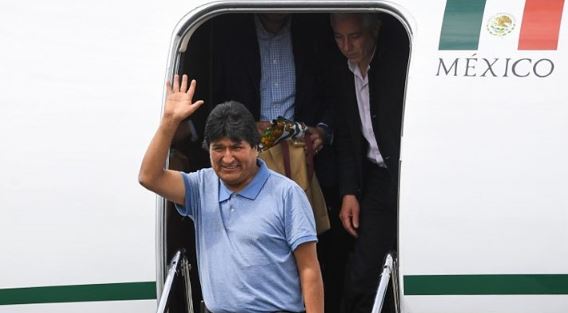 Evo Morales granted asylum by Mexico
Bolivia Crisis: Mexico has granted asylum to Bolivia's former President Evo Morales in the country. Morales resigned on November 10 amid mounting pressure from the military and the public following allegations of manipulation of election results. Mexico government said that the asylum was granted on humanitarian grounds because the life of Evo Morales in Bolivia was threatened.
Evo Morales had to resign from the post of president due to fierce protests against him after the controversial presidential election. He left Bolivia on a Mexican Air Force plane. Mexico's President Andres Manuel López Obrador also supported him to resign. He said that Morales' bold move prevented the crisis in Bolivia.
What is Bolivian Crisis?
• The Organization of American States (OAS) said in a report that it had found many irregularities in the October 20 election and there should be a new election in the country.
• Morales agreed to it, but within a few hours the army Chief General Williams Kalliman made it clear that this would not be enough and president should be resigned. After his announcement, a huge uproar had started in the country.
• There were clashes between Morales' supporters and their rivals that resulted in several deaths and more than 100 people were injured. Evo Morales was first elected in 2006.
• The rival party leaders said that the army has cancelled his presidential facilities, the official plane was taken back and he was hiding somewhere in a small province.
• Soon after that, Morales announced his resignation through television broadcasting.
• Evo Morales took to twitter and shared a photograph that shows he spent a night on the floor to hide.
Also Read | Sudan's first-ever satellite 'SRSS-1' launched by China
About Evo Morales
• Evo Morales was the first member of Bolivia's native population to become president.
• He was in power for 13 years and 9 months which is the longest tenure in the country's history.
• Morales was first elected in 2006 and took the poor country of South America on the path of economic growth.
• He did important work such as paving the roads, sending Bolivia's first satellite into space and curbing inflation.
Also Read | Fordow Nuclear Facility: Iran to start injecting uranium gas, another break from nuclear deal
Also Read | India, Uzbekistan sign three agreements to enhance military ties