Buddhist Circuit Special Train: Know Route, Features and Packages
Buddhist Circuit Special Train will be flagged off today from Safdarjung Railway Station, New Delhi.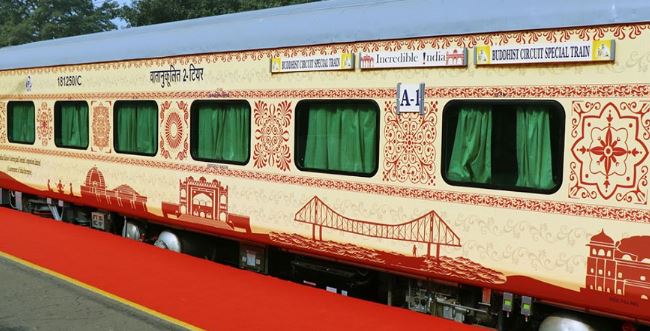 Buddhist Circuit Special Train
Buddhist Circuit Special Train of Indian Railway is all set to start its journey from October 19 that will travel to the sites connected to the Gautam Buddha spread across India and Nepal by 26 October. According to the Indian Railway Catering and Tourism Corporation (IRCTC), the Buddhist circuit train will cover almost all important Buddhist monuments.
The train will start its journey from Safdarjung Railway Station in New Delhi and end its journey at Safdarjung Railway station itself after travelling to the places associated with the life of Gautam Buddha. IRCTC is also offering many attractive packages for tourists wishing to go on the Buddhist circuit tour.
Buddhist Circuit Special Train - Features
• IRCTC has made a number of arrangements in the Buddhist circuit train to give passengers international standard experience.
• Second class AC compartment of Buddhist circuit train will have arrangement for 30 people. It will have special chairs for passengers to enjoy the tour.
• There will be a reading light inside every compartment, along with an electronic locker for every passenger.
• The tour package will also include entrance fee of all monuments.
• Coaches will have a small library; also, machines for massaging the feet will also be there.
• This train will have bio-toilet. The interior has been decorated with the best colour scheme.
• This train will have two dining cars, one kitchen car, one staff car and two power cars.
Also Read | Indian Railways to offer 25 per cent discount in Shatabdi, Tejas
Buddhist Circuit Special Train - Route
The Buddhist Circuit Special train will travel for 8 days and 7 nights. Its all-inclusive package will include lodging in luxury hotels, transport, air conditioner buses in various places and tour guides of different languages along with rail travel. The train will travel to places associated with Buddha such as Lumbini, the Buddha's birthplace, Bodh Gaya where he attained enlightenment, Sarnath - where he gave his first sermon and Kushinagar where he attained nirvana.
Buddhist Circuit Speical Train - Packages
• IRCTC is charging Rs. 1,23,900 per couple for AC first-class tickets for the complete tour. This fare is applied for couples with 50% off.
• Similarly, tickets for AC two-tier per couple is Rs. 1,01,430 under 50% off.
• IRCTC said that these tour packages can also be booked under the Leave Travel Concession (LTC) policy.
Also Read | IAF and Royal Air Force of Oman begins Joint Exercise 'Ex-Eastern Bridge-V'
Also Read | Railway Minister launches 'Rail Drishti Dashboard' to promote transparency