Chandrayaan-2 Enters Moon Orbit: What Next?
Chandrayaan-2 has successfully entered the Moon's orbit and few kilometres away from its target.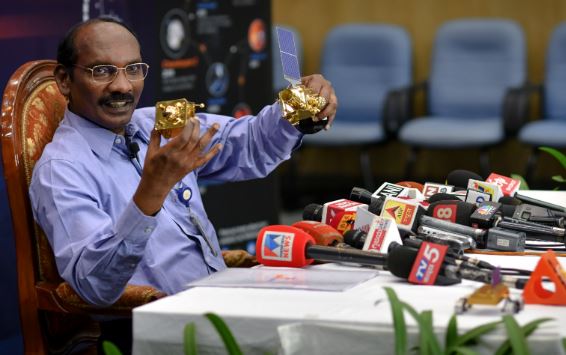 ISRO Chairman, Dr. K. Sivan
Chandrayaan-2, India's second Moon mission, entered the lunar orbit on August 20, 2019. According to the ISRO, the next major step of this mission is the separation of the Lander Vikram from the orbiter on September 2.
ISRO Chairman K. Sivan told a press conference that Chandrayaan-2 is going around Moon with an inclination of 88 to 90 degrees. India's second Moon mission was launched on July 22 by country's heavy-lift rocket GSLV-Mark-III.
August 21 to September 1
Chandrayaan-2 will perform a series of four-orbit maneuvers till September 1. It will enable the spacecraft to enter its final orbit passing over the lunar poles at a distance of about 100 km from the Moon's surface. As per the reports, Chandrayaan-2 will be 114 kms away from the lunar surface while at the farthest point it will be 128 kms away from the Moon on September 1.
September 2
It will be a special day for ISRO as Vikram lander will separate from the Orbiter on September 02, 2019. Following this, orbit maneuvers will be performed on Vikram to place it in a 100 km X 30 km orbit around the Moon. Vikram lander is carrying six-wheeled rover Pragyaan that will explore the Moon's surface.
September 4
ISRO will do a small experiment with lander Vikram to check its health. A three-second maneuver will be carried out by ISRO on September 3. Following this, on September 4, lander Vikram will come closer to the Moon. Vikram will be placed in an elliptical orbit of 35 kms x 97 kms around the Moon. The ISRO will keep checking the parameters of the Vikram to ensure its safe landing on the Moon.
September 7
Vikram will perform a series of complex braking maneuvers to soft-land in the South polar region of the Moon between two craters, Manzinus C and Simpelius N on September 7, 2019. After few hours, the Rover Pragyaan will roll down from Vikram and will perform in the exploration of the surrounding lunar surface.
Chandrayaan-2
Chandrayaan-2 had lifted off from Sriharikota on July 22 by GSLV-Mark-III. Chandrayaan-2 was called off about an hour before from its launch time because of a technical glitch. ISRO believes that India's Chandrayaan-2 mission is unique because of its low cost, with just about Rs. 1,000 crore spent. Other countries have spent a much higher amount on lunar missions as compared to India's Chandrayaan-2. India will be fourth to soft-land a rover on the lunar surface after Russia, US and China. Israel also tried to launch a dedicated Moon mission to explore lunar surface but failed.
Download our Current Affairs & GK app for Competitive exam preparation. Click here for latest Current Affairs: Android|IOS