Chandrayaan-2: Watch Live Streaming of Landing Here
ISRO has announced that people can watch the Chandrayaan-2 landing live online tonight from their laptops, smartphones and other devices with Internet connectivity.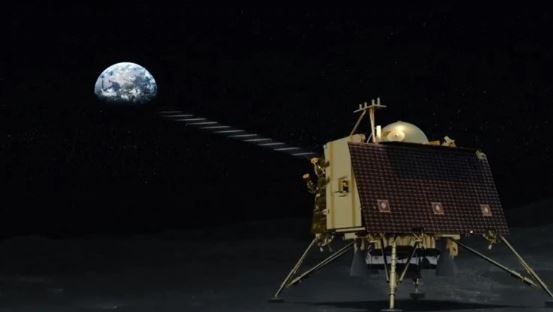 Representative Image
Chandrayaan-2 is going to touchdown the surface of the moon tonight. Chandrayaan-2 carries a total of 14 payloads, of which eight are on the orbiter, three on the lander, and two on the rover. ISRO chief K Sivan said that Vikram lander will reach on the surface of the moon between 1.30 am and 2.30 am followed by the rollout of rover 'Pragyan' between 5.30 am and 6.30 am.
India will become the fourth country in the world to land on the lunar surface (after America, Russia and China). The entire Chandrayaan-2 project has cost Rs 978 crore. This mission will help to understand better about the Moon because still more information is required to know about its origin.
Timings
The Vikram lander will land on the south pole of the moon between 1.30 and 2.30 am on Friday-Saturday night. Rover Pragyan from Vikram will come out between 5.30 to 6.30 am in the morning. Pragyan will do many experiments on the lunar surface in one lunar day (one day of the moon). One day of the moon is equal to 14 days on Earth. However, the orbiter will continue to work on the mission for a year.
PM Modi will watch it live
Prime Minister Narendra Modi will watch the historic landing live from the space agency's control room along with about 70 school children. Apart from them, two students who got top scores in ISRO's online quiz competition have been invited by the ISRO to watch Chandrayaan-2's landing live at the space centre.
When and Where to watch Chandrayaan-2 Live
• Live streaming of Chandrayaan 2 landing will be available on the official ISRO website, the Twitter handle of ISRO, ISRO's YouTube page, and also on ISRO's Facebook page.
• The live telecast will start from 1:10 am IST onwards on 7 September 2019 (meaning after midnight tonight i.e. 6 September 2019).
• Live streaming of Chandrayaan-2 landing can be seen on ISRO's official website.
• Press Information Bureau (PIB) will also show live streaming on its YouTube page.
• Apart from this, live streaming will be available on various TV Channels and news websites.
• Live streaming can be watched on laptops, smartphones and other devices with Internet connectivity.
Payloads of Lander Vikram
(i) Radio Anatomy of Moon Bound Hypersensitive ionosphere and Atmosphere (RAMBHA)
• ChaSTE consists of a thermal probe (sensors and a heater) that is inserted into the lunar regolith down to a depth of 10 cm.
• ChaSTE will work in two modes – Passive and Active to measurements of temperature at different depths and to find out thermal conductivity under contact.
(ii) Chandra's Surface Thermophysical Experiment (ChaSTE)
• RAMBHA will detect ambient electron density/temperature near the lunar surface
• It will help Vikram to understand the temporal evolution of lunar plasma density for the first time near the surface under varying solar conditions
(iii) Instrument for Lunar Seismic Activity (ILSA)
ILSA can detect velocity, minute ground displacement, or acceleration caused by lunar quakes. The main objective of ILSA is to characterise the seismicity around the landing site.
Payloads of Rover Pragyan
(i) Alpha Particle X-ray Spectrometer (APXS)
The main objective of this payload is to determine the elemental composition of the Moon's surface near the landing site. APXS is equipped with X-ray fluorescence spectroscopy technique, where X-ray or alpha particles are used to excite the surface. It can detect other rock-forming elements such as Silica, Iron, Calcium, Magnesium, Sodium, Magnesium, Aluminium, Titanium, Iron, and other elements.
(ii) Laser Induced Breakdown Spectroscope (LIBS)
The primary objective of LIBS is to recognize and determine the abundance of elements near the landing site. It will fire high power laser pulses at various locations to analyse the radiation emitted by the decaying plasma.
Download our Current Affairs & GK app for Competitive exam preparation. Click here for latest Current Affairs: Android|IOS