Current Affairs in Short: 03 October 2019
Union Home Minister Amit Shah flagged off the Vande Bharat Express. It will take 8 hours to reach Katra from Delhi .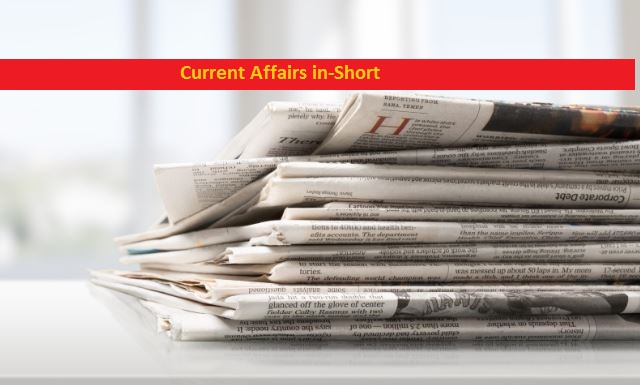 current affairs in-short
Padma Shri Awardee Dr. HL Trivedi Passes Away
• Dr Hargovind Laxmishanker Trivedi was a renowned kidney transplant surgeon and Padma Shri recipient. He was 87.
• He was awarded Padma Shri in 2015 for his valuable contribution to society as a nephrologist.
• Dr. HL Trivedi established a dialysis centre in all district hospitals of Gujarat with the help of state government. He had conducted more than 5,000 transplants during his entire career.
Amit Shah Flags off Vande Bharat Express
• Union Home Minister Amit Shah flagged off the Vande Bharat Express. This train will run between Delhi and Katra, Jammu.
• Railway officials said that there are 16 coaches in this train, of which 14 are chair cars and 2 are of executive class. Each coach has 78 chairs.
• Vande Bharat Express will reach Katra from Delhi in 8 hours. In other trains, the journey from New Delhi to Katra takes about 12 hours.
Surjeet Bhalla named as Executive Director at IMF
• A former member of the prime minister's economic advisory council, Surjeet Bhalla, has been appointed as Executive Director for India at International Monetary Fund (IMF).
• The post of Executive Director at IMF was lying vacant after the death of Dr Subir Gokarn in July.
• He had served as a member of the PM's economic advisory council but resigned earlier this year.
Postage stamps on 150th birth anniversary of Gandhi release in France
• French postal service company La Poste issued a postage stamp bearing the image of Mahatma Gandhi. The postal stamp was launched on the occasion of 150th birth anniversary of Mahatma Gandhi.
• Some other countries also launched similar postal stamps including Turkey, Uzbekistan, Palestine and other countries around the globe on Gandhi Jayanti.
• Gandhi Jayanti has been celebrated every year as International Non-Violence Day since the year 2007.
Paryatan Parv-2019 inaugurated
• The Ministry of Tourism has organized a nationwide program from October 2 to 13, 2019, titled Paryatan Parv-2019.
• The purpose of celebrating Paryatan Parv-2019 is to promote the message of 'Dekho Apna Desh' along with the objective of encouraging Indians to visit various tourist destinations in India and to spread the message of 'Tourism for all'.
• Paryatan Parv-2019 is dedicated to Mahatma Gandhi. The objective of the event is to spread awareness about the benefits of tourism and showcasing the country's cultural diversity.
Download our Current Affairs & GK app for Competitive exam preparation. Click here for latest Current Affairs: Android|IOS