Current Affairs in Short: 06 February 2020
Meerabai Chanu, former world champion, won the gold medal in 49 kg category of the National Weightlifting Championship.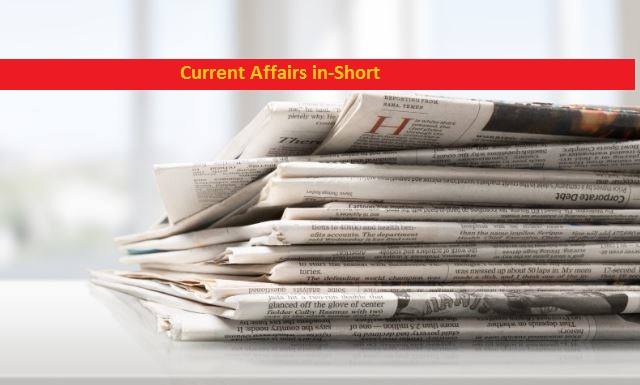 Current Affairs in-short
Meerabai Chanu sets new National Record in weightlifting
• Meerabai Chanu, former world champion, won the gold medal in 49 kg category of the National Weightlifting Championship. She lifted 203 kg in the national weightlifting championship.
• She lifted 88 kg in her second attempt in snatch while she lifted 115 kg in clean and jerk as a total of 203 kg.
• Meerabai has moved up to fourth place after China's Jiang Huihua (212 kg) and How Xihui (211 kg) and Korea's Ri Song Gum (209 kg) in the world rankings.
Cabinet approves Alliance Air to operate India-Sri Lanka flights
• Alliance Air will be able to start airline between India and Sri Lanka. This approval has been given for an interim period up to the deployment of a minimum of 20 aircraft.
• The proposal to introduce flights from the southern part of the country to the Palali and Batticaloa metropolises (northern and eastern Sri Lanka) is important for India's political and strategic interests.
• Information and Broadcasting Minister Prakash Javadekar announced that India and Sri Lanka are closely linked with each other and the relationship between the two countries is expanding.
Virat Kohli's brand value increases by 39%: Duff and Phelps
• Virat Kohli has been at number one in the celebrity brand valuation list for the third consecutive year. His brand value is USD 237.5 million (about Rs 1691 crore).
• According to a report Duff & Phelps, Akshay Kumar is second in this list. His brand value is USD 104.5 million.
• Deepika Padukone has slipped to number three. Her brand value is USD 93.5 million. There are 4 cricketers in the top-20 celebrity of this list. Apart from Virat Kohli, it includes the names of Mahendra Singh Dhoni, Sachin Tendulkar and Rohit Sharma.
Supreme Court panel recommendations on prison reforms
• The Justice Amitava Roy (retd.) Committee has submitted its report on recommendations to reform prisons. The committee was constituted by Supreme Court of India in 2018.
• According to the report, India has 1341 functional prisons as on November 30, 2018. The report mentioned that total population of prisoners is 4.68 lakh while sanctioned strength is 3.83 lakh.
• There are seven states in India – Delhi, Meghalaya, Uttar Pradesh, Uttrakhand, Chattisgarh, Madhya Pradesh and Sikkim have an occupancy rate of 150 percent.
India slips to 40th position in Intellectual Property Index
• India slips to 40th position in International Intellectual Property (IP) Index. This information has been given in the report of the Global Innovation Policy Center of the American Chamber of Commerce.
• This index measures the intellectual property environment of 53 economies of the world. Last year, India was ranked 36th.
• The United States, Britain, Sweden, France and Germany are present on the first five positions. The report said that India has made good progress towards strong IP protection but the work is not yet complete.