Current Affairs in Short: 13 February 2020
ISRO's senior space scientist G Narayanan has been appointed as the chairman of the commercial entity of ISRO New Space India Limited (NSIL).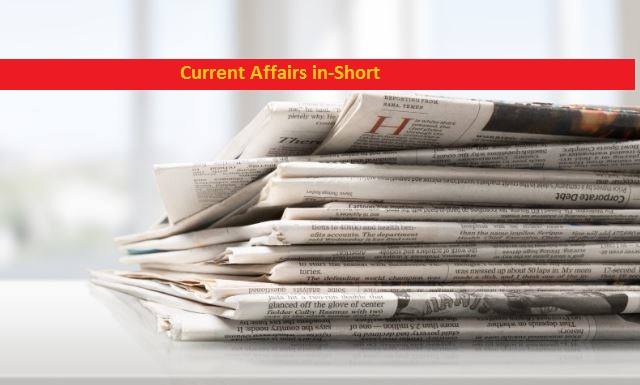 Current Affairs inshort
G Narayanan appointed as head of New Space India Ltd
• ISRO's senior space scientist G Narayanan has been appointed as the chairman of the commercial entity of ISRO New Space India Limited (NSIL).
• Indian Space Research Organisation (ISRO) named him for this post because he earlier worked as deputy director at the Liquid Propulsion Systems Centre (LPSC) of ISRO.
• New Space India Limited (NSIL) was established in March 2019 to meet the demands of ISRO's various space programs. The NSIL will manufacture small and lightweight satellites.
Chitetsu Watanabe declared world's oldest living man
• According to the Guinness World Records, a Japanese man Chitetsu Watanabe is the world's oldest living man on the earth.
• Chitetsu's age is 112 years and 344 days on February 12. 2020. He was born on March 05, 1907, in Niigata in northern Japan. He recently received a certificate from Guinness World Records for his accomplishment.
• Earlier in January 2020, a previous record holder, Masazo Nonaka passed away at the age of 113 years. Apart from him, Kane Tanaka is the oldest human being on the earth. She is also a Japanese citizen.
Jammu and Kashmir Panchayat Elections 2020
• Jammu and Kashmir Chief Electoral Officer Shailendra Kumar announced the Panchayat elections of the state on February 13, 2020. Panchayat elections were declared in the state for the first time after Article 370 was removed from Jammu and Kashmir.
• Election Commission has announced that elections will be held from March 5 for the vacant seats of more than 1,000 sarpanches of the state.
• These elections will be held in 8 phases. The first phase of elections will be held on March 5. The election commission informed that 1011 seats of sarpanch are vacant in the state.
Vietnam's national media group 'Voice of Vietnam' starts its first Indian bureau
• Voice of Vietnam or VOV is the national media group of Vietnam. The group has inaugurated its first Indian bureau in the capital state.
• VOV runs various television and radio channels, online newspapers and print newspapers. Voice of Vietnam has a total of 13 bureaus in the world.
• The VOV's Indian bureau was inaugurated by the Vietnamese Vice President Dang Thi Ngoc Thinh. It was announced that VOV correspondents will do their best to fulfilling the given responsibilities, assisting to consolidate the international partnership between India and Vietnam.
Maharashtra Government approves five day week for govt employees
• Maharashtra cabinet has decided for the benefit of government employees in the state. As per the media reports, the Maharashtra government has approved five-days of working week for all government employees.
• The state government has decided to increase daily working hours by 45 minutes to balance the work-holiday schedule.
• The chief minister of Maharashtra Uddhav Thackeray believes that this move will provide more comfort to the government employees. Currently, Maharashtra government employees have 288 working days but now employees can enjoy more holidays.