Current Affairs in Short: 14 February 2020
Prime Minister to unveil the 63 ft long Pancha Loha statue of Pandit Deendayal Upadhyaya in Varanasi.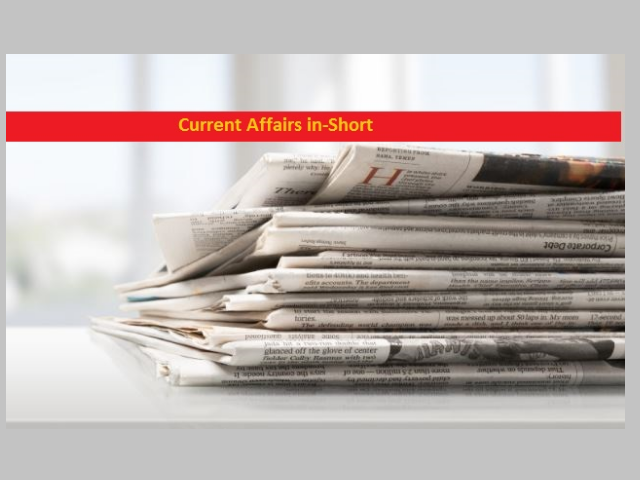 current affairs 2020
Over 1700 health workers infected from Coronavirus in China
• In China, a total of 6 six health workers have died and over 1700 workers have been infected from coronavirus so far.
• The Chinese health officials underestimated the risks taken by the doctors and nurses while treating the Coronavirus-infected patients amid a shortage of masks and suits.
• The data was shared after the death of the doctor who raised alarm about the spread of the virus in December. The doctor was silenced by the police officials.
• Till date, 63,767 confirmed cases of COVID-19 (Coronavirus) have been reported from China.
SC takes note of non-compliance of its adjusted gross revenue order
• The Supreme Court recently asked the MDs and Directors of telecommunication companies and other firms that why till date they have not taken any contempt action for non-compliance of apex court's order to pay gross revenue of Rs 1.47 lakh crore to Department of Telecommunications.
• The Supreme Court bench expressed its anger over DoT's Desk Officer who had put a stay order on the verdict of Supreme Court.
• In its letter, the desk officer clearly asks the authorities to not to take any coercive action against telecommunication companies.
Former IAS officer Rajiv Bansal appointed as CMD of Air India
• Former IAS officer Rajiv Bansal was recently appointed as the Chairman and Managing Director (CMD) of Air India.
• Bansal is currently serving as Additional Secretary in Union Ministry of Petroleum and Natural Gas.
• Bansal is an IAS Officer of 1988 batch from Nagaland cadre.
PM Narendra Modi to visit Varanasi on 16 February
• Prime Minister Narendra Modi will visit Varanasi on February 16, 2020 to participate in the Closing Ceremony of Jagadguru Vishwaradhya Gurukul Centenary Celebrations.
• During his visit, PM Modi will dedicate Pandit Deendayal Upadhyaya Memorial Centre to the nation.
• Prime Minister will also unveil the 63 ft long Pancha Loha statue of Pandit Deendayal Upadhyaya.
• He will also flag off IRCTC's Maha Kaal Express.
India, Portugal sign 7 agreements
• India and Portugal on February 14, 2020 signed 7 agreements to boost bilateral cooperation in various fields including transport, industrial, investment, culture and intellectual property rights.
• Both the sides signed agreements soon after the talks between PM Narendra Modi and Portuguese President Marcelo Rebelo de Sousa.
• Rebelo de Sousa is on a four-day visit to India along with other Ministers of State.
Indian-origin Alok Sharma to lead UN Climate Summit
• Indian-origin Alok Sharma, the UK Minister, will lead the UN Climate Summit 'COP26'.
• The climate summit will be hosted by Britain in November 2020.
• Sharma is the Secretary of State of United Kingdom for Business, Energy and Industrial Strategy.
Tamil Nadu Budget 2020-21 presented
• Tamil Nadu Deputy CM O. Panneerselvam recently presented the state budget of nearly Rs 2.41 lakh crore in the state assembly.
• The Tamil Nadu Budget allocates Rs 11000 crore for providing crop loan to farmers through cooperatives.
• The Budget calls for the recruitment of 10,276 police personnel in next year.
• 17,500 solar pump sets will be distributed in 2020-21 by the Centre in the state