Current Affairs in Short: 17 February 2023
Given below includes briefings about the most important topics covered by Jagran Josh such as ASI approval of excavations, the Vayulink platform created by IAF, and the New CEO of YouTube, among others.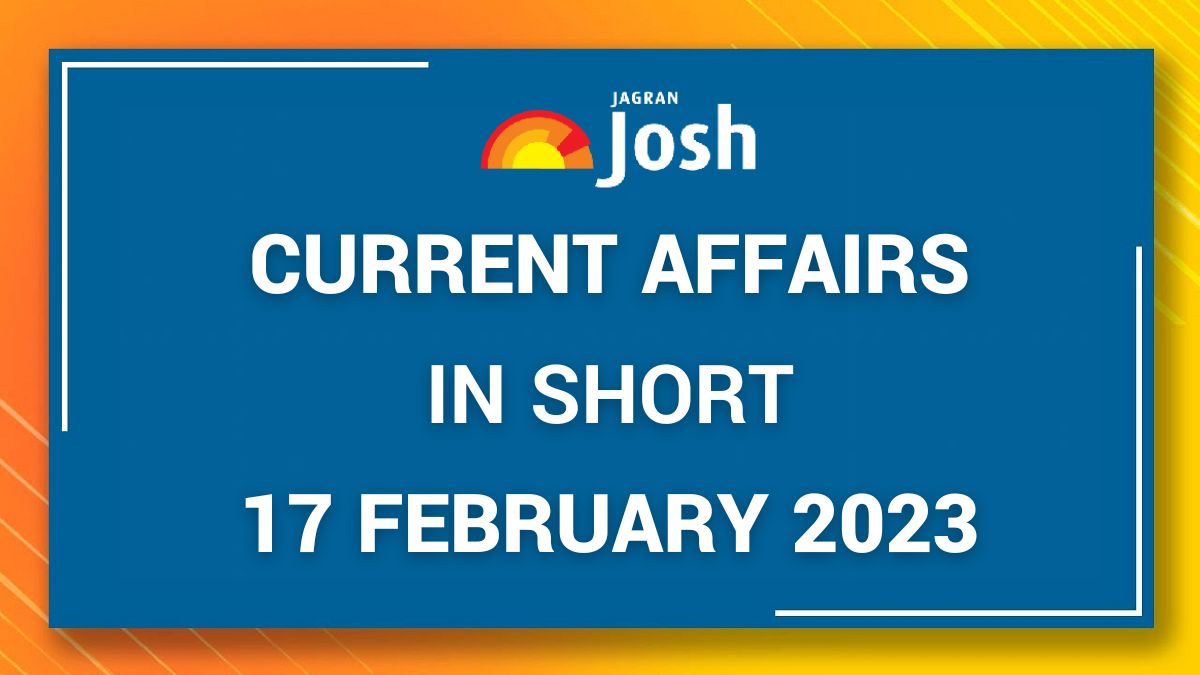 Current Affairs February 17 20233
ASI Approves Archaeological Excavations at 31 Sites
The Archaeological Survey of India (ASI) recently shared a list of sites which include the Gulf of Kutch, Gujarat and the Gomti River in Ayodhya, Uttar Pradesh.

Excavations are to be performed in 31 sites in total. Several state government sites are 16 in number and universities are also mentioned on the list. It comprises excavation projects in Pratima Garh and surrounding areas and Vembakottai in Tamil Nadu.

This is going to be undertaken by the respective state governments. One of the regions selected for the mission is Harwan in Srinagar, J&K. This area is an important part of Buddhist history as it is believed that the 4th Buddhist council was held here in the 1st or 2nd century CE.
Chetan Sharma Resigns from the Chief Selector post of BCCI
The Indian Cricketer Chetan Sharma submitted his resignation letter to Jay Shah, secretary of BCCI and instantly received approval for the same.

In February 2023, he came under severe attack after he reveals confidential information about the Indian Cricket Team.

In a sting operation held by Zee News, he is seen questioning famous cricket personalities named Virat Kohli, Rohit Sharma, etc. He claimed that these cricketers take injections for fitness and talked about their interpersonal relationships.
Neal Mohan Becomes the new CEO of YouTube
Indian-American Neal Mohan has been appointed as the new CEO of the famous global online platform YouTube and replaced Susan Wojcicki. Susan, the former head decided to step down from her post on February 16 after serving for 9 years.

Neal is a graduate of Electrical Engineering from Stanford University, California. Before acquiring this new position, he has been working as the Chief Product Officer of YouTube since the year 2015.

As per estimation, his net worth is nearly 150 million dollars. Once he was offered a remarkable amount of 100 million dollars from Google so he does not opt for the top position being offered to him by Twitter.
Indian Air Force installed the 'Vayulink' system
At the Aero India 2023 show, the Indian Air Force (IAF) showcased this innovative solution for pilots named the 'Vayulink' platform.

It is an ad-hoc data link communication system which can provide information related to the position of aircraft on installation. This device will prove beneficial for the Air Force, Army and Navy and can also assist in government services.

It is claimed that this exclusive technology 'Vayulink' has been launched to prevent aircraft collisions, provide weather data reports to pilots, etc.
Economic Times Global Summit to be Addressed by PM Modi today
PM Modi gave a speech at the ET Global Summit 2023 event today i.e. February 17, 2023. There were participants from all around the globe.

This was a two-day event held in New Delhi. Also, the ET Global Summit is conducted every year by the Times Group. Over 200 business leaders spoke across 40 sessions held at the international event.

The themes were Resilience, Influence and Dominance Several leaders, policymakers, academicians and corporate came together on a common platform. They seek to provide various solutions to major economic challenges faced all over the world.

Also Read: Current Affairs in Short: 15 February 2023
Take Weekly Tests on app for exam prep and compete with others. Download Current Affairs and GK app
एग्जाम की तैयारी के लिए ऐप पर वीकली टेस्ट लें और दूसरों के साथ प्रतिस्पर्धा करें। डाउनलोड करें करेंट अफेयर्स ऐप
Android
IOS