Current Affairs in Short: 19 June 2018
The Canadian Parliament has passed a bill to legalise cannabis that would make Canada the first G7 country to allow free consumption of the mind-altering drug.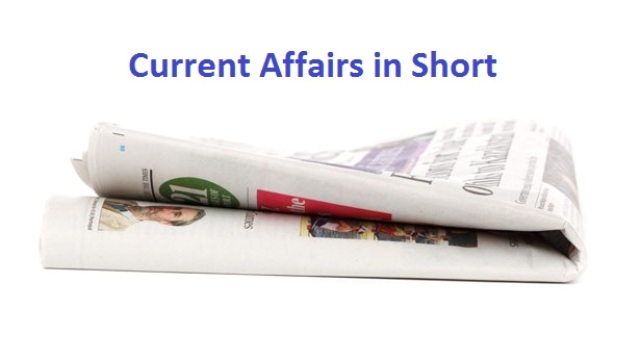 Current Affairs in Short: 19 June 2018
Canada lawmakers vote to legalise cannabis
• The Canadian Parliament has passed a bill to legalise cannabis that would make Canada the first G7 country to allow free consumption of the mind-altering drug.
• The bill was passed by 205 votes to 82 in the House of Commons on June 18.
• The legislation must now pass the Senate and receive royal assent by the Governor General before becoming law, likely by September.
Government directs CBSE to conduct CTET exam in all 20 languages
• Government has directed the CBSE to conduct the Central Teacher Eligibility Test (CTET) examination in all Indian languages as was being done earlier.
• The announcement was made by the Human Resource Development Minister Prakash Javadekar through a tweet on June 18.
• Javadekar said that the examination will be held in English, Hindi, Assamese, Bangla, Garo, Gujarati, Kannada, Khasi, Malayalam, Manipuri, Marathi, Mizo, Nepali, Odia, Punjabi, Sanskrit, Tamil, Telugu, Tibetan and Urdu.
• Earlier, the CBSE had decided to remove 17 languages including Tamil, Malayalam, Telugu and Kannada from the list of options for the CTET.
US & South Korea agree to suspend joint military exercise
• United States and South Korea have agreed to suspend a joint military exercise scheduled for August.
• The decision was taken following President Donald Trump's pledge to end war games after his summit with North Korean leader Kim Jong Un on June 12.
• According to a South Korean defence ministry statement, South Korea and the United States have agreed to suspend all planning activities regarding the Freedom Guardian military drill scheduled for August.
• A Pentagon statement confirmed the suspension and added that there would be a meeting between the secretaries of defence and state as well as Trump's national security adviser on the issue this week.
World's oldest Sumatran orangutan dies aged 62
• The world's oldest known Sumatran orangutan passes away in an Australian zoo on June 18, 2018. She was aged 62.
• Puan, described as the grand old lady of Perth Zoo, was euthanised due to age-related complications.
• She had been at the zoo since 1968 and was officially recognised by Guinness World Records.
• Believed to have been born in a jungle in Sumatra, Indonesia, Puan left an incredible legacy of 11 children and a total of 54 descendants across the US, Europe and elsewhere.
US President Trump unveils plans to impose 10 per cent tariffs on 200 billion dollars worth of Chinese goods
• US President Donald Trump has unveiled plans to impose 10 per cent tariffs on 200 billion dollars worth of Chinese goods on top of previous punitive measures over Beijing's unacceptable move to raise its own tariffs.
• Trump said in a statement that further action must be taken to encourage China to change its unfair practices, open its market to United States goods and accept a more balanced trade relationship with the United States.
• The US leader warned that after the new measures are in place - on top of existing tariffs on 50 billion dollars in Chinese imports - punitive measures on another 200 billion dollars of Chinese goods would go forward, if China increases its tariffs yet again.
Workshop on Cyber Security Framework – 2018 organised
• A workshop on Cyber Security Framework for Department of Defence was organised by Ministry of Defence.
• The workshop was inaugurated by Union Defence Minister Nirmala Sitharaman.
• Sitharaman congratulated Department of Defence Production (DDP) for formulating Cyber Security Framework for DDP and also establishing Cyber Security Cells at various levels to handle cyber security related issues..
• This one day workshop was organised with an aim to bring in synchronised approach for cyber security based on frame work document released by the Department of Defence Production in 2018.
• The framework is in line with National policies & guidelines; and provides a common mechanism for all organisations to describe their current cyber security posture & the target area for cyber security.

Google to train 8,000 Indian journalists on fact checking
• Google India on June 19, 2018 announced to provide training to 8,000 journalists in English and six other Indian languages on fact checking in the next one year.
• For this, the Google News Initiative India Training Network will select 200 journalists from cities across India who will sharpen their skills in verification and training during five-day train-the-trainer boot camps.
• This network of certified trainers will then train more journalists at two-day, one-day and half-day workshops organised by the Network.
• Training workshops will be conducted in English, Hindi, Tamil, Telugu, Bengali, Marathi and Kannada in cities across India.
• The focus of the training will be on fact-checking, online verification and digital hygiene for journalists.

Legendary mimicry artist Nerella Venumadhav passes away
• Mimicry artist Nerella Venumadhav passed away on June 19, 2018 following a brief illness at his home in Mattewada in Warangal city. He was 85.
• He gained international fame after his enthralling performance at the United Nations.
• He began mimicry at the age of 15 and has mastered the art over the years and inspired scores of people to take up the art form.
• He was instrumental in introduction of a course in mimicry in several institutions including the Telugu University.
• Venumadhav was recently felicitated by the Telangana government on State formation day on June 2, 2018.
• In 2001, he was conferred with the Padma Shri award.

Cabinet approves the extension of tenure of the Commission constituted to examine the issue of Sub-categorization within Other Backward Classes in the Central List

• The Union Cabinet chaired by the Prime Minister Narendra Modi has approved the final extension of the term of the Other Backward Classes in the Central List currently mandated upto June 20, 2018 till July 31, 2018.
• The Commission held extensive meetings with the stake holders including the State Governments, the State Backward Classes Commissions, various community associations and general public belonging to various Backward Classes and Communities.
• The Commission also obtained records, caste-wise of OBCs admitted in higher educational institution as well as similar caste-wise data of recruits in Central Departments, Central Public Sector Undertakings, Public Sector Banks & Financial Institutions.
• To have a detailed look at the data collected, the Commission has sought extension of its term.

Naval Women Mountaineers summit Mount Deotibba
• An all women Naval mountaineering team led by Lt Cdr Kokila Sajwan summited Mount Deotibba on June 10, 2018.
• The expedition was flagged off by Vice Admiral AK Chawla, AVSM, NM, VSM, Chief Of Personnel on May 28, 2018 from New Delhi laying foundation for a team, which would attempt to scale many more challenging peaks in the near future.
• Mt Deotibba is the second highest peak (6001M) in the Pir-Panjal range in Himachal Pradesh. It is considered to be a difficult peak to summit.
• The team was led by Lt Cdr Kokila Sajwan and includes Lt Cdr Nanadini Dam Roy, Lt Cdr Seema Chaudhary, Lt Cdr Pooja Sharma, Lt Cdr Rekha Shree, Lt Cdr Rashu Tyagi, Lt Saino Wilson, Lt Chamm Kumari, Surg Lt Himwant Kaur, Lt Surbhi Sharma, Lt Shristi Thakur, Lt Vipasha Sharma, Lt Kritika Sharma as other team members.
Dr Inder Jit Singh assumes charge as Secretary, Ministry of Coal
• Dr. Inder Jit Singh, assumed charge as Secretary, Ministry of Coal on June 14, 2018.
• He took over the charge of Secretary which fell vacant after superannuation of Shri Susheel Kumar on April 30, 2018.
• In the interim, Secretary Mines, Shri Anil G Mukhim had been holding additional charge as Secretary, Coal.