Current Affairs in Short: 4 June 2018
The Haryana government would be providing sanitary napkins at just Re 1 to girl students of government schools starting from August 2018. The scheme will cover women belonging to Below Poverty Line (BPL) families too.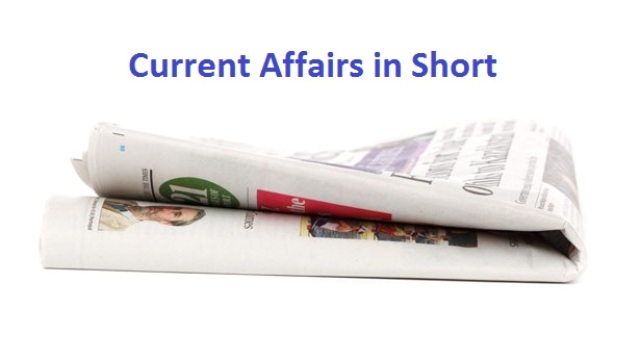 Current Affairs in Short: 4 June 2018
Confine illegal Rohingyas to designated camps: Centre to states

• The Centre has asked Jammu & Kashmir and other states to confine illegal Rohingya settlers to pre-identified locations within their respective jurisdictions, record their personal particulars, including biometric details and not to issue them Aadhaar number or any other identity proof.
• The meticulous preparation of their personal particulars has been sought so that these details can eventually be shared with Myanmar for likely repatriation.
• The move indicates the government's intent to prevent a wider diffusion of Rohingya in India beyond the camps and the Centre's concern over possible presence of radical elements among them and their involvement in crime.

Karnataka government issues notice to Ola, Uber cabs

• Karnataka government on June 2, 2018 issued showcause notices to Ola and Uber cabs for introducing dynamic pricing in peak hours and sought an explanation on why they charge fares on time base and not kilometre base, as per rules.
• The transport department issued the notices, asking them to explain within seven days why they violated the 'Karnataka On-demand Transportation Technology Rules, 2016', promulgated for web based taxi services.
• One of the rules said no fare shall be collected on the basis of time and only kilometre based fare should be levied to the commuters.
• However, the two major cab aggregators violated the rules, compelling the government to serve notices to them.

Haryana government to give paternity leave to all male government employees

• Haryana Government has decided to give 15 days paternity leave to all male government employees to take care of the new-born child.
• Chief Minister Manohar Lal Khattar said in Rohtak that the state government has also decided to raise the strength of women in police force from existing 11 percent to 20 percent.
• He said, due to court cases about 13,000 recruitments are held up in education, power and other departments.

Sports academy to be established for underprivileged children: Himachal Governor

• Himachal Pradesh Governor Acharya Dev Vrat has announced that a sports academy will be established in the state for underprivileged children so that the talent of India in sports could be utilised.
• The academy would be established in public-private partnership mode with combined efforts of sportsmen, NGOs and the state government.
• The Academy would take shape soon as process of identifying suitable land has already begun in the state.

Haryana to provide sanitary napkins to girl students at Re 1

• The Haryana government would be providing sanitary napkins at just Re 1 to girl students of government schools starting from August 2018.
• The scheme will cover women belonging to Below Poverty Line (BPL) families too.
• The decision to provide sanitary napkins at Re 1 per packet was taken by Chief Minister Manohar Lal Khattar after a meeting with senior functionaries of school education department and health department.
• The Chief Minister said that girls till the age of 18 years will be provided with the napkins in schools, while those above the age limit will get it through the through Public Distribution System at ration shops every month.
• According to a state survey, only 28 per cent of girls use sanitary napkins while 40 per cent of women use cloth during menstruation, which leads to hygiene issues and diseases. The move will provide huge relief to girls and women.

Tripura starts exporting pineapples to Dubai

• Tripura Chief Minister Biplab Kumar Deb on June 3, 2018 flagged off the first consignment of pineapples from the state to be exported to Dubai.
• Speaking at the function, Deb said more consignments of pineapples of the state would be exported to foreign countries. Deb urged the farmers in the state to plant pineapples and bamboo in land lying unused.
• The state government had on May 18 signed a Memorandum of Understanding (MoU) with a Kolkata-based export-import firm, to market Tripuras pineapple in Dubai and other foreign countries.

First cargo of Russian LNG to arrive in Gujarat

• India will receive the first ever cargo of liquefied natural gas (LNG) from Russia on June 4, 2018 as New Delhi diversifies import basket to meet its vast energy needs.
• The shipload of LNG will be brought by state-owned gas utility GAIL India Ltd from Gazprom, a Russian supplier at Petronet LNG Ltd's import terminal in Dahej, Gujarat.
• Petroleum and Natural Gas Minister Dharmendra Pradhan will receive the first consignment at the terminal.
• The beginning of supplies from Russia comes within weeks of India importing its first ever LNG cargo from US under a long-term import deal.
• GAIL had signed the original deal on August 29, 2012 with Gazprom Marketing and Trading Singapore Pte Ltd,Singapore. The deal was renegotiated in January this year with Gazprom to import 2.5 million tonnes of LNG a year.

India to host Asia Cup International Bridge C'ship

• India would be hosting the third Asia Cup International Bridge Championship in Goa from June 4 to June 11, 2018.
• The championship, to be held in Goa, will be contested in five categories namely men, women, mixed, super-mixed and senior.
• It will see participation from players belonging to countries including Australia, Bangladesh, Singapore, China, Japan, Indonesia, Pakistan and Korea.
• The first round of matches will be played from June 5-8. Four top teams in each category would then progress to the knock-out stage.
• While the semi-finals would be held on June 9, the finals and play-offs for the third place will be held on June 10.

Nearly half of Afghan children out of school: UN

• According to a new UN report, which released on June 3, 2018, nearly half of Afghanistan's children are not attending school because of worsening security, poverty and sex discrimination.
• The number of children deprived of schooling is at its highest rate since 2002, the year after the US-led ouster of the repressive Taliban regime, which had banned girls from the classroom.
• The report states that girls remain more likely to miss out on a formal education, making up 60 percent of the 3.7 million children aged between seven and 17 not at school.
• The figure rose as high as 85 per cent in some of the worst-affected provinces, reflecting pervasive gender-based discrimination in parts of the deeply conservative Muslim country.
• Child marriages and a shortage of female teachers were additional factors keeping girls away from the classroom.
• The report by United Nations Children's Fund (UNICEF) also estimated that up to 300,000 children are at risk of dropping out before the end of the year.

Indian paddler Suhana claims gold in ITTF Oman Open

• India's Suhana Saini claimed the gold medal in the Oman Junior and Cadet Open, an ITTF Premium Circuit event.
• The 12-year-old from Haryana beat Egypt's Hana Goda in the Hopes Girls singles final 3-1 to annex the coveted title.
• Suhana began on a strong note but couldn't take charge of the table, losing the first game 10-12. She was much more composed in the rest of the match, though, countering Hana's attacking play with a solid defense and a torrent of her own shots.
• She won the remaining three games 11-7, 11-6, 11-8 comfortably to show her maturity beyond her years.

Nipah virus: Situation now not alarming, says Kerala Government

• The Nipah virus situation in Kerala, which has so far claimed 16 lives, is not as alarming now as no new cases have been reported.
• The announcement was made during a high-level review meeting chaired by Chief Minister Pinarayi Vijayan. The meeting saw participation from Additional Chief Secretary (Health) Rajiv Sadanandan, DGP Loknath Behara and senior IAS officers.
• The collectors of Kozhikode and Malappuram districts, the worst affected by the virus, participated in the meeting through video conferencing.
• So far there have been 18 positive cases of Nipah infection, among which 16 people died. In the second phase of the infection, very few cases have come up.
• However, until the virus is brought under full control, the team of expert doctors from Thiruvananthapuram would continue to monitor the situation at Kozhikode.

Senior Journalist Leela Menon passes away

• Noted journalist and chief editor of Malayalam daily 'Janmabhoomi', Leela Menon, passed away in Kochi on June 4, 2018 due to age related ailments. She was 85.
• Menon, a cancer survivor, began her career as a journalist with the Indian Express in Delhi in 1978 at a time when few women ventured into the profession.
• Later she was shifted to Kochi as its Correspondent. She also worked as its Kottayam bureau chief.
• During her eventful career, she did a lot of investigative stories, particularly relating to the sufferings of women in Kerala society, creating ripples in state politics.