Current Affairs in Short: 6 November 2018
The Union Government has approved the operationalisation strategy for Operation Greens to ensure availability of tomato, onion and potato throughout the country round the year without price volatility.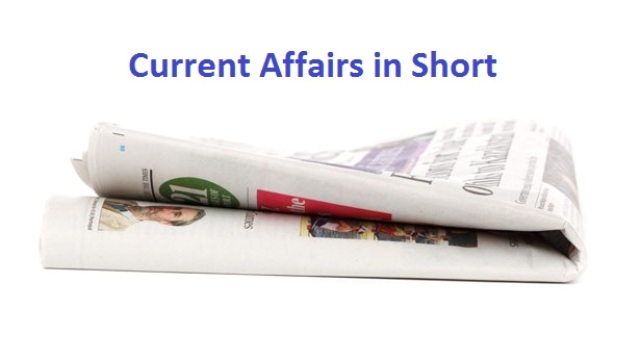 Current Affairs in Short: 6 November 2018
Government approves operationalisation strategy for Operation Greens

• The Union Government on November 5, 2018 approved the operationalisation strategy for Operation Greens to ensure availability of tomato, onion and potato throughout the country round the year without price volatility.
• Operation Greens was announced in the Budget speech of 2018-19 with an outlay of 500 crore rupees to stabilise the supply of tomato, onion and potato crops.
• Approving the measures, Food Processing Industries Minister Harsimrat Kaur Badal said, price volatility of these crops wreaks havoc in the households of this country.
• She further said that this is a revolutionary scheme, which has been evolved after sustained dialogue with all stakeholders.
• The Minister also said that the government has laid down special measures and grants-in-aid under the scheme to ensure enhanced production of these crops.

Twitter removes thousands of automated accounts in US

• In the United States, Twitter has removed thousands of automated accounts that were posting tweets encouraging voters to sit out of the nation's crucial midterm elections.
• A statement from the social media company read that it had removed a series of accounts for engaging in attempts to share disinformation in an automated fashion.
• Twitter said it appeared the account network was run out of the United States but did not provide details on how the accounts worked.
• For months, Twitter has sought to eliminate automated and bogus accounts designed to manipulate the public conversation on its platform.

India, Malawi sign MoUs on extradition treaty, atomic energy and visa waiver

• India and Malawi on November 5, 2018 signed three MoUs on Extradition Treaty, cooperation in the field of atomic energy for peaceful purposes and visa waiver for diplomatic and official passports.
• The information was shared by the External Affairs Secretary T S Tirumurti, at a press briefing about Vice President Venkaiah Naidu's visit in Malawi on November 5.
• India will also extend a new Line of credit of 215 million US dollars to Malawi for 18 water projects.

Tourism Minister inaugurated Tourist Facilitation Counter at IGI airport

• Tourism Minister K J Alphons on November 5, 2018 inaugurated the Tourist Facilitation and Information Counter at Indira Gandhi International Airport in New Delhi.
• The facilitation counter is located at the terminal-3 arrival gates of the IGI Airport.
• The centre is aimed at helping the tourists who will visit the country. The counter will be connected to the 24x7 Helpline - 1363 of the Tourism Ministry.
• The Tourism Ministry is also starting facilitation counters in Mumbai, Chennai, Kolkata, Gaya and Varanasi.

Turkey unveils world's largest airport in Istanbul

• The world's largest airport was unveiled by Turkish President Tayyip Erdogan outside Istanbul.
• The new $11.7 billion will be one of the world's busiest, though it will not be fully operational until January. The name of the new airport will be Istanbul Airport.
• The airport uses mobile applications and artificial intelligence for customers, is energy efficient and boasts of a high-tech security system.
• The airport's interiors pay homage to Turkish and Islamic designs and its tulip-shaped air traffic control tower won the 2016 International Architecture Award.
• The new airport, located on the shores of the Black Sea, will be able to handle 90 million passengers a year and can be expanded to accommodate as many as 200 million.
• For the first two months, however, it will be used for just a few flights within Turkey and to Azerbaijan and northern Cyprus.

HAL to roll out more Tejas fighters from new facility
• State-run aerospace major Hindustan Aeronautics Ltd (HAL) will roll out more Light Combat Aircraft (LCA) Tejas from its new production facility at Nashik in Maharashtra.
• The company is investing Rs 1,300-crore for the Tejas fighter production augmentation.
• The defence company has two production units in Bengaluru where the advanced fourth generation multi-role light fighters are built for the Indian Air Force (IAF) combat fleet.
• The new facility is expected to be operational by 2020.
• Over the last six months, HAL received an order worth Rs 950 crore for the upgrade of 17 Dornier aircraft from the Indian Coast Guard.

'BhubaneswarMe Wi-Fi' launched

• Odisha Chief Minister Naveen Patnaik on November 5, 2018 launched the 'BhubaneswarMe Wi-Fi' by Bhubaneswar Smart City Limited to make the city accessible across its major happening places.
• On the first day 100 hotspots located in major locations with 275 access points (APs) went live.
• One wi-fi hotspot would be able to handle 150 users at a given point of time and the Internet speed will be available at 2 mega bytes per second (MBPS).
• There will be no charge on data usage for citizens, when they access government services through this network. Besides, access upto 250 MB of data will be free for any user on a given day.
• After the consumption of the free 250 MB daily data, a person would be required to log in and choose a payment plan for subsequent use. 'BhubaneswarMe Wi-Fi' will provide very low-cost top up plans for the users.
• A person should be within at least 300 m reach of the access point to login to the network.

Gaddam Dharmendra appointed India's Ambassador to Iran

• Senior diplomat Gaddam Dharmendra has been appointed India's Ambassador to Iran, the Ministry of External Affairs announced on November 5, 2018.
• Dharmendra, a 1990-batch Indian Foreign Service officer and at present, additional secretary in the MEA here, will replace Saurabh Kumar, who was appointed India's ambassador to Myanmar in October.
• Dharmendra is expected to take up the assignment shortly. His appointment comes at a time when the global focus is on oil imports from Iran as the US recently imposed "the toughest ever" sanctions aimed at altering the Iranian regime's "behaviour".
• India and China are among the eight countries that have been given the rare temporary exemptions from the Iranian sanctions.

SC Secy Gen to be Uttarakhand HC judge

• The Collegium headed by CJI Ranjan Gogoi has recommended Supreme Court Secretary General Ravindra Maithani's name for elevation as a judge of the Uttarakhand High Court.
• Maithani's name was cleared along with that of two other judicial officers Narayan Singh Dhanik and Ramesh Chandra Khulbe.
• The decision was taken on the recommendation of the then Chief Justice of Uttarakhand High Court to fill three vacancies that existed on May 29, 2018.
• After scrutinising the material on record, observations made by Department of Justice and interaction with the three judicial officers, the Collegium that also included Justice Madan B Lokur and Justice Kurian Joseph considered it fit to elevate them.
Video: Check out the latest current affairs of this week