Forbes' 32nd World's Billionaires List released: Jeff Bezos tops list for first time
Indian jeweller Nirav Modi dropped out from the list this year. The other drop-offs from the list were Papa John's pizza founder John Schnatter, Christoffel Wiese of South Africa, and Saudi Arabia's Prince Alwaleed Bin Talal Alsaud.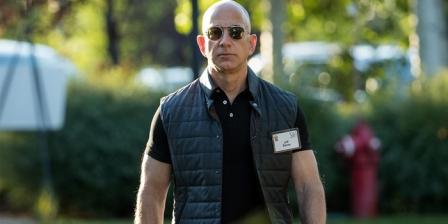 Jeff Bezos
American magazine Forbes on March 6, 2018 released the 32nd annual World's Billionaires List, comprising names of a record 2208 billionaires.

The report, after thorough evaluation, concludes that the superrich continue to get richer, widening the gap between the rich and everyone else.

Key Highlights

• 2208 billionaires made it to the list this year, up from 2043 in 2017, with an average net worth of USD 4.1 billion, a record high of all times.

• The total combined net worth of these 2208 billionaires came out to be USD 9.1 trillion, up from USD 7.7 trillion in last year.

• Out of 2208, 1490 are self-made billionaires, up from 1371 in 2017.

• The Top 20 billionaires have a combined net worth of a record USD 1.2 trillion. Their aggregate wealth represents 13 per cent of all 2208 billionaires.

Top 10 Billionaires

• Jeff Bezos topped the World's Billionaires List for the first time with a fortune of USD 112 billion, up from USD 39.2 billion in 2017, the biggest one-year gain ever.

• Bill Gates, who consistently topped the list for 18 of the past 24 years, dropped to 2nd position this year with a fortune of USD 90 billion, up from USD 86 billion in 2017. This is the biggest gap between the top 2 spots since 2001.

• Warren Buffett, with a net worth of USD 84 billion, secured 3rd spot in the list.

• Bernard Arnault gained 4th spot with a fortune of USD 72 billion. Moreover, Arnault also became the richest person in Europe for the first time since 2012.

• Facebook's Mark Zuckerberg, with net worth of USD 71 billion, garnered 5th position.

• Spanish clothing retailer Amancio Ortega, best known for the Zara fashion chain, fetched 6th rank, followed by Mexico's richest man Carlos Slim Helu & family at 7th, Charles Koch at 8th, David Koch at 9th and Oracle cofounder Larry Ellison at 10th.

President Donald Trump slips over 200 places in Forbes Billionaires List

President Donald Trump, with a net worth of USD 3.1 billion, stood at No 766, slipped over 200 places from No 544 in 2017.

Trump's wealth has fallen USD 400 million since the 2017 Billionaires list, due to partially falling values of Midtown Manhattan real estate and declining revenues at several Trump golf properties.

Mukesh Ambani leads Indians in Forbes' Billionaires List

A total of 119 Indian billionaires made into the list this year, up from 102 in 2017. Reliance Industries Ltd Chairman Mukesh Ambani leads Indians in Forbes' Billionaires List with net worth of USD 40.1 billion. He secured 19th global rank on the list of 2208 billionaires worldwide. In 2017, he got 33rd spot with wealth of USD 23.2 billion.

Entrepreneur Azim Premji moved up from the 72nd global spot in 2017 to the 58th rank with net worth of USD 18.8 billion this year, becoming second richest Indian.

Lakshmi Mittal fetched third spot among Indians and 56th global rank with net worth of USD 18.5 billion. The lowest ranked Indian billionaires in the list were Raamdeo Agrawal, Tarang Jain, Nirmal Minda, and Ravindra Kishore Sinha, all with a net worth of USD 1 billion each.

Richest Indian Woman
The richest Indian woman on the Forbes' Billionaires List is Savitri Jindal of the Jindal Steel and Power, who ranked 176th globally with USD 8.8 billion.