Aero India 2023: New Solar Power ISR Drone 'Suraj' Launched by Garuda Aerospace, Check its Specifications & Uses
Garuda Aerospace displays a solar-powered Suraj drone specifically designed for 'surveillance operations'. This newly launched Solar Power High Altitude ISR Drone was presented at the Aero India 2023 event. Read more about this spectacular drone startup, its description and its uses in the article below.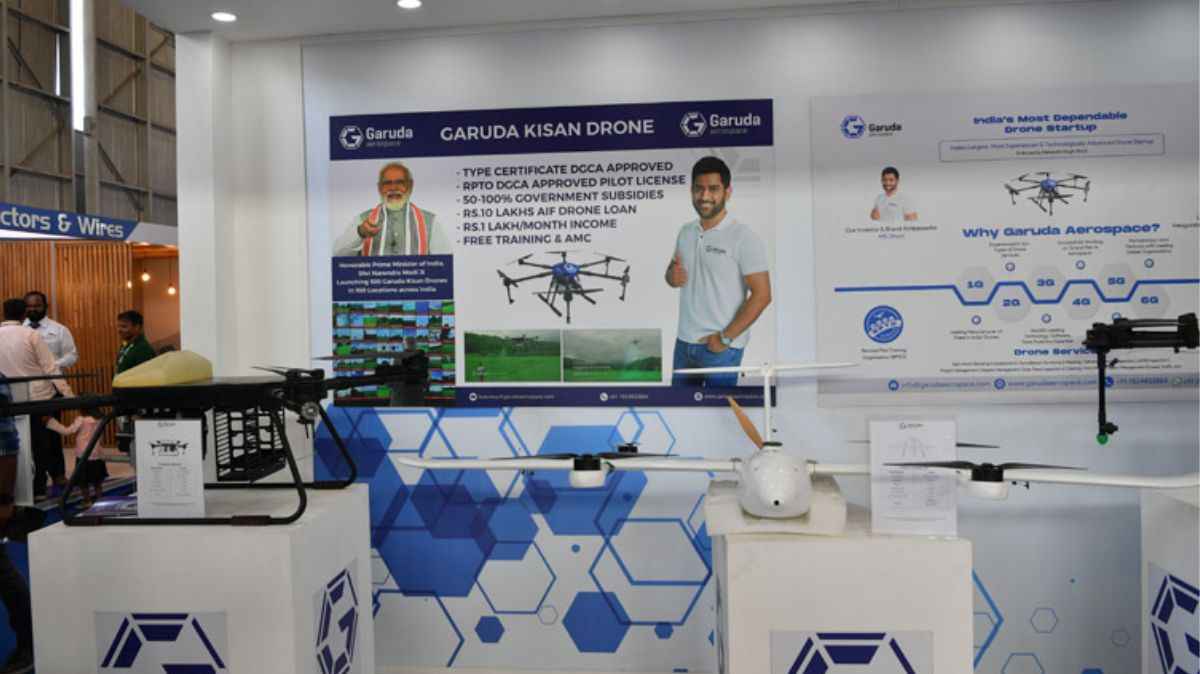 Garuda Aerospace Displays Solar Power ISR Drone Suraj
Do you know about New ISR Drone 'Suraj'?
This highly capable ISR drone named 'Suraj' carries a versatile payload of high-resolution zoom cameras designed with thermal imagery as well as foliage-penetrating lidar sensors. Also, the maximum capacity of this device is approximately 10 kg, as per the announcement.
Garuda Aerospace held its unveiling ceremony on February 15, 2023 (Wednesday) to showcase this exemplary piece of technology. The Garuda corporation presented the latest solar-powered unmanned reconnaissance aerial J-Glider - SURAJ at the Aero India 2023 show which was conducted in Bengaluru, India.
Dr Satheesh Reddy who is the former DRDO Chairman and current Principal Scientific Advisor to the Defence Minister unveiled the ISR drone. Talking about its usage, SURAJ is an ISR high-altitude drone invented to provide assistance in surveillance operations. It can help in providing real-time information to the high command and protecting Indian Armed Forces deployed on borders and crucially high altitudes. This will prove beneficial in carrying out security operations and other military processes.
The wait is over! Unveiled our new Solar Powered High Altitude ISR Drone #SURAJ at Aero India 2023 @AgnishwarJ @AeroIndiashow #SolarPowered #SOLAR #AeroIndia2023 #AeroIndia pic.twitter.com/oxxSQZ5ooN

— Garuda Aerospace Pvt Ltd (@garuda_india) February 15, 2023
Unique Features of Suraj Drone

First of all, this drone has J-shaped wings that are equipped with solar-powered cells. These Solar cells serve as their primary fuel source whereas an auxiliary battery is fixed inside which provides additional propulsion or decreased speed as per requirement.

Additional characteristics include having a versatile payload of high-resolution zoom cameras with thermal imagery and foliage-penetrating lidar sensors created with a maximum capacity of 10 kg. The Gauruda company claims that it has an endurance capacity of about 12 hours and can fly at an altitude of 3000 feet respectively.

It is further equipped with cutting-edge technology which allows it to capture, process, and transmit photos and videos simultaneously. It can also display valuable information to headquarters before planning strategic operations. The drone is extensively designed to cater to the Indian Army, Navy, Airforce, BSF, CRPF, CISF, ITBP, DRDO, MOD, as well as MHA. Garuda Aerospace recently raised 22 million dollars in funding which will be spent on developing a prototype of the SURAJ. This device is ready to fly by August 2023.

Development of Suraj Drone

As per the official reports, Garuda Aerospace company has been working on this project with a professional team of scientists and experts from the National Aerospace Laboratories (NAL), DRDO, and other organizations to invent the SURAJ drone. The drone is prepared with AI, ML, and Bionic Chips for advanced real-time processing making it an analytical component in safeguarding the security of India.

The significant development of the SURAJ drone marks a historical milestone in the Indian drone industry. With a rise in the use of drones in military and surveillance operations globally, the demand for technologically advanced drones such as SURAJ is undoubtedly expected to grow.

About Garuda Aerospace

Dr Satheesh Reddy, Former DRDO Chairman and current Principal Scientific Advisor to the Defence Minister praised the duly efforts made by the Garuda Aerospace corporation. This company is one of the upcoming digital technology companies in the drone sector that are developing many technological or modern solutions for different sectors like Defence, Agriculture and Industrial Automation, stated the Chairman.

Another official, Agnishwar Jayaprakash the Founder and CEO of Garuda Aerospace added, "We are confident that the SURAJ drone will play a vital role in safeguarding the security of our nation and the people. Suraj will have ISR capability and will be equipped with AI, ML and Bionic Chip for advanced real-time processing."

The 22 million dollars of funding amount raised by the Garuda company will help in the development of a 1:1 prototype of SURAJ which will be ready to fly by August in the current year 2023. Moreover, the company has over 400 drones and 500 pilots across 84 cities in India in order to support different emergencies.

Also Read: World Bank Chief David Malpass to Resign before his Tenure, Know his Career Path from Trump's Advisor to President
Take Weekly Tests on app for exam prep and compete with others. Download Current Affairs and GK app
एग्जाम की तैयारी के लिए ऐप पर वीकली टेस्ट लें और दूसरों के साथ प्रतिस्पर्धा करें। डाउनलोड करें करेंट अफेयर्स ऐप
Android
IOS