GOAL: Digital Skill Training Programme for Tribal Women
GOAL program was jointly launched by Ministry of Tribal Affairs and Facebook.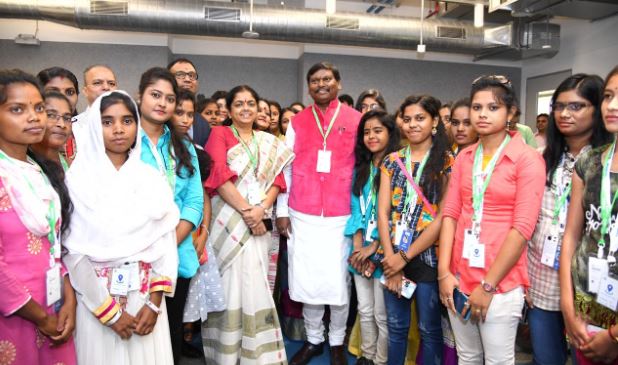 Image: PIB
Union Minister of Tribal Affairs Arjun Munda announced the second phase of programme GOAL (Going Online as Leaders) for tribal women. The programme GOAL aims at encouraging, inspiring and guiding tribal women from across India to become local level digitally literate leaders.
Ministry of Tribal Affairs partners with Niti Aayog and Facebook are running GOAL for tribal women. The objective of this program is to digitally mentor 5000 young women in India's tribal-dominated districts. The GOAL program will give technical support to the socially and economically marginalized women for their needs to succeed, using the technology they may otherwise have not had access to.
About GOAL program
• The GOAL program will include one-to-one weekly mentoring sessions. These sessions will focus on various types of programs like entrepreneurship, online safety and digital literacy.
• Facebook and the Tribal Affairs Ministry will ensure that beneficiaries should get around 2,00,000 hours of guidance.
• Facebook Messenger and WhatsApp will be part of the training. District administration will support the central government's initiative.
• As per the government's data, more than 125 tribal women have already enrolled in the program.
Also Read | India wins four 2019 UNESCO Asia-Pacific Awards for Cultural Heritage Conservation
Objective
Facebook and Tribal Affairs Ministry are jointly working on this project with an aim to close the digital gender gap. Facebook is committed to providing access to the internet to more women to enable them to reach worldwide resources. This program actively supports these young tribal women to build leadership qualities and helps them to be champions and share their learnings with others.
The joint venture between the private and government sector will illustrate the power of partnership. All those women who have a keen desire to upgrade their skills and uplift their livelihood through modern technologies can take benefits of this initiative.
Tribal Population in India
As per the data of 2011 census about 104 million tribal people are living in India. Most of the tribal people are living in Jharkhand, Chhattisgarh, Andhra Pradesh, Odisha, West Bengal, Gujarat, Madhya Pradesh, Maharashtra, Andaman Nicobar Islands and some north-eastern states.
Also Read | International Poverty Eradication Day 2019: Everything you should know
Also Read | Ayodhya Case: SC reserves its Judgement on Babri Masjid Dispute after 40 days of hearing