Google's Top 10 Searches of 2019: Cricket World Cup, Chandrayaan-2, Kabir Singh among others
Google has recently released 'Year in Searches' list that comprises Overall, Personalities, News, Movies categories.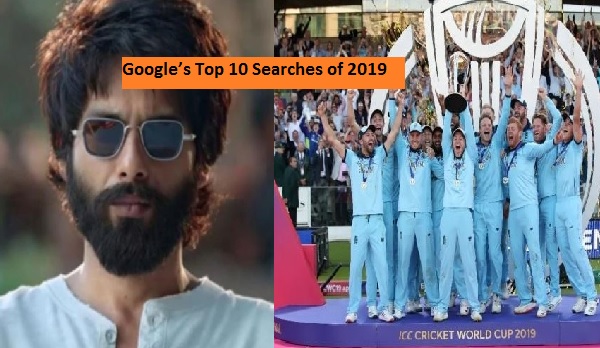 Google's Top 10 Searches
Google has released 'Year in search 2019' list. It has revealed the top trends of this year in India. It has described what people have searched the most this year in different categories. India has searched Cricket World Cup 2019 the most this year which is not surprising at all. However, last year the FIFA World Cup was at number one.
According to 'Year in Search 2019' released by Google, the most searched topic under 'What is' in India this year was 'What is Article 370'. Here is the category wise list of 'Year in Search 2019.
Top 10 Overall Searches
'Cricket World Cup 2019' was the most searchable keyword of this year. As per the report, about 2.6 billion people have watched the Cricket World Cup 2019 worldwide. England won the world cup for the first time in history after defeating New Zealand in Super Over.
1) Cricket World Cup
2) Lok Sabha Elections
3) Chandrayaan 2
4) Kabir Singh
5) Avengers: Endgame
6) Article 370
7) NEET results
8) Joker
9) Captain Marvel
10) PM Kisan Yojana
Also Read | Golden Tweet of India 2019: PM Modi's tweet tops Twitter list
Top-10 searched personalities
This time people of India have searched about the Abhinandan on Google the most. He is at the top position in the 'Personalities' category. Last year, Priya Prakash was at the first position. This year, Lata Mangeshkar is at number two, while Yuvraj Singh and Anand Kumar are at number three and fourth respectively.
1) Abhinandan Varthaman
2) Lata Mangeshkar
3) Yuvraj Singh
4) Anand Kumar
5) Vicky Kaushal
6) Rishabh Pant
7) Ranu Mondal
8) Tara Sutaria
9) Siddharth Shukla
10) Koena Mitra
Top-10 searched Movies
This year, the most searched movie on Google was Kabir Singh. The Avengers Endgame was at number two, while Joker and Captain Marvel were at number three and fourth respectively.
1) Kabir Singh
2) Avengers: Endgame
3) Joker
4) Captain Marvel
5) Super 30
6) Mission Mangal
7) Gully Boy
8) War
9) Housefull-4
10) Uri - The Surgical Strike
Top-10 Searched News
This year people searched about Lok Sabha Elections the most. The list of Top-10 Google News comprises Chandrayaan-2, Article-370, PM Kisan Yojana among others. It was said that the Lok Sabha elections and PM Modi's oath-taking ceremony were among the most searched news items on Google this year.
1) Lok Sabha election results
2) Chandrayaan 2
3) Article 370
4) PM Kisan Yojana
5) Maharashtra assembly elections
6) Haryana assembly election result
7) Pulwama attack
8) Cyclone Fani
9) Ayodhya verdict
10) Amazon forest fire
Also Read | MPs give up subsidy on food at Parliament Canteen to save Rs 17 cr annually
Also Read | UDAN 4.0: Government launches 4th round of air connectivity scheme