India's first flight powered by biofuel lands at IGI Airport
India's first flight powered by Biofuel landed at the Indira Gandhi International Airport in New Delhi on August 27, 2018. The test flight had taken off from Dehradun.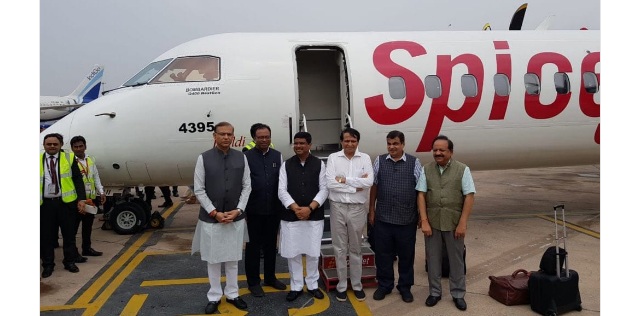 India's first flight powered by biofuel lands at IGI Airport
India's first flight powered by biofuel landed at the Indira Gandhi International Airport in New Delhi on August 27, 2018. The Spicejet flight, featuring a latest generation Q400 aircraft, had been flagged off from the Dehradun airport by Uttarakhand CM Trivendra Singh Rawat.
It was received at the IGI by Union Transport Minister Nitin Gadkari, Petroleum and Natural Gas Minister Dharmendra Pradhan, Civil Aviation Minister Suresh Prabhu, Environment Minister Harsh Vardhan and Minister of State for Civil Aviation Minister Jayant Sinha.
The experiment is first-of-its-kind in India. With this, India joins the exclusive club of nations using biofuel in aviation.
Its successful implementation provides a significant boost to encourage alternative fuels in transport and aviation sector, as envisaged in the National Biofuel's Policy.
India has been attempting to promote biofuels to reduce dependence on fossil fuel. The environment-friendly initiative is expected to reduce the country's import bills.
The biofuel was developed by Indian Institute of Petroleum- Dehradun.
The use of bio jet fuel, apart from reducing greenhouse gas emissions by about 15 percent and sulfur oxides (SOx) emissions by over 99 percent, is expected to provide indigenous jet fuel supply security, possible cost savings as feedstock availability at farm level scales up, superior engine performance and reduced maintenance cost for the airline operators.
Speaking on the occasion of World Biofuel Day on August 10, 2018, Prime Minister Narendra Modi had said that biofuel has the power to create a balance between the environment and economic development. He had said that biofuel is not just science but a Mantra that will provide a new energy to not only India but also the entire world.
The Prime Minister had also said that biofuel will transform and improve the quality of life of the people in both rural and urban areas.
Other Details
• Speaking at a function in New Delhi, Civil Aviation Minister Suresh Prabhu had said that an environment-friendly aviation sector is required to create the positive impact on the environment.
• He said Spice Jet is the first Indian airline to fly on biofuel. The Minister also said the government is working on ideas to make air travel the most environmentally friendly travel in the world.
• He said an action plan to this effect will be made keeping in the mind year 2035.
• Besides this, Union Transport Minister Nitin Gadkari said that the government is planning to use methanol in the shipping sector.
• He said that the dependence on biofuel will help boost farmers' income and is an ideal example of converting waste to wealth.
Background
The genesis of this development goes back several years to an Indo-Canadian consortium project from 2010 to 2013 involving CSIR-IIP, Indian Oil, Hindustan Petroleum, IIT Kanpur and IISc Bangalore, in which research was directed towards the production of Bio-aviation fuel by CSIR-IIP from jatropha oil and its evaluation under various conditions.
The test culminated in a detailed engine test by Pratt and Whitney in Canada that showed fitness for purpose.
Spicejet and Chhattisgarh Biofuel Development Authority, which supplied the jatropha oil for the flight after sourcing from over 500 farmers, received considerable policy and regulatory support from the MOPNG Working Group on Biofuels and the Directorate General Civil Aviation (DGCA) in making the flight happen.