India's first Helitaxi Service takes-off in Bengaluru
People can book their seat through a mobile app named 'Heli Taxii'.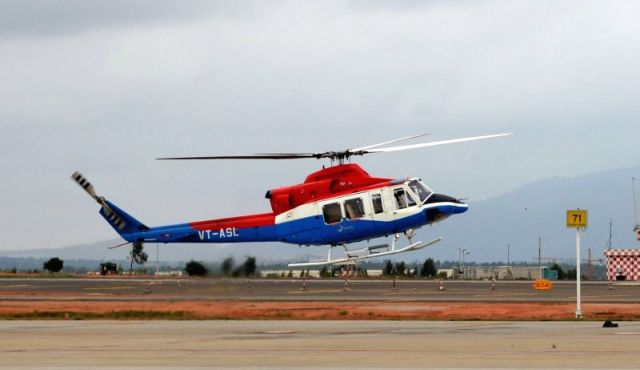 India's first Helitaxi Service takes-off in Bengaluru
In a first, India's app-based helitaxi service was launched in Bengaluru on March 6, 2018. The maiden trip of the helitaxi took off from Kempegowda International Airport (KIA) to Electronics City, ferrying passengers in 15 minutes.

This helicopter taxi service was launched by Kochi-based Thumby Aviation Private Limited.

Highlights of the helitaxi service

• The helitaxi service aims to connect a couple of locations from Kempegowda International Airport in Bengaluru.

• The one-way trip will fly people approximately in 15 minutes from KIA to Electronic City and Hindustan Aeronautics Limited airport.

• Six passengers can be ferried on each trip and the fare is fixed at Rs 4130 per seat including GST.

• The service includes pick up from airport terminal to the helipad and allowed to carry 15 kg luggage, however, will charge extra for more luggage.

• Thumby Aviation Private Limited has developed its own app named 'Heli Taxii' through which people can book their flights.

• The Bengaluru International Airport Limited (BIAL), which is about 40 km from the city centre, had also tied up with Thumby Aviation to ferry air passengers to and from the city.

• The helicopter taxi service will be operated during peak business hours and make three round-trips between Kempegowda International Airport and Electronic City.

• Currently, the service will be provided twice a day- first from 6.30 am to 9.30 am and then 3.15 pm to 6 pm between the airport and the city.

• In the Phase-II, the operations will be launched from Kempegowda International Airport to luxury hotels, including ITC Gardenia near Sree Kanteerava Stadium.


Background
The launch of this helitaxi service was announced in August 2017 by Union Minister of State for Civil Aviation Jayant Sinha.

Being one of the busiest cities of India, Bengaluru has at least 60000 fliers landing or taking off on working days. If even 100 among them would use choppers to commute to the airport, the service could become economically viable.

The Karnataka government expects the service to be a model for other cities in India, in order to promote the use of choppers to commute over high traffic areas to reach airports on time.