Kristalina Georgieva named new IMC Chief, becomes second woman to hold the post
Kristalina Georgieva, former World Bank CEO, has been selected as the new IMF chief.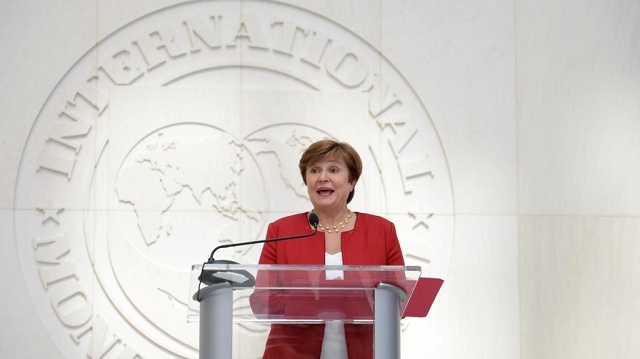 Kristalina Georgieva
Bulgaria's Kristalina Georgieva was selected as the new chief and Managing Director of International Monetary Fund on September 25, 2019. Kristalina Georgieva has become the second-ever woman to lead the IMF. IMF comprises 189 member states.
Kristalina Georgieva's appointment to the post is guaranteed as IMF confirmed earlier this month that she was the sole candidate. She was selected by the 24-member Executive Board of the IMF. She formerly served as the CEO of World Bank. In her new role, she would be succeeding Christine Lagarde, who is set to take over as the new Chief of the European Central Bank (ECB).
Kristalina Georgieva IMF Term
Kristalina Georgieva will be assuming her role as IMF Chief and Managing Director from October 1, 2019. She will be required to serve at the post for the next five years.
Significance
Kristalina Georgieva is the first person from an emerging economy to lead the IMF. According to an unwritten rule, a European has led the IMF since its creation in 1945 after the Second World War and the leader of the World Bank has been designated by the United States.
Speaking on her selection, Kristalina Georgieva said that it is a huge responsibility to helm the IMF at a time when the global economic growth continues to disappoint, trade tensions persist and debt is at historically high levels. Helming the post would also mean "dealing with issues like inequalities, climate risks and rapid technological change," she said adding that her immediate priority would be to help countries minimise crisis risk and ready themselves to cope with downturns.
Kristalina Georgieva: Who is she?
The 66-year-old is a Bulgarian economist, who was appointed as the CEO of the World Bank in January 2017. She also served as the Acting President of the World Bank Group between February 1 and April 8, 2019.
Before that, she served as the Vice-President of the European Commission under Jean-Claude Juncker from 2014 to 2016.
Kristalina Georgieva served in a number of positions in the World Bank Group from 1993 to 2010, eventually becoming its vice president and corporate secretary in March 2008.
She has also previously served as a member of the trustee board and associate professor in the Economics Department of the University of National and World Economy in Bulgaria.
Kristalina Georgieva was also one of the candidates in running for the post of United Nations Secretary-General in 2016. She was nominated by the Bulgarian Government.
However, Georgieva ranked eighth among ten candidates after a vote at the UN Security Council. In the same vote, Antonio Guterres was selected as the next UN Secretary-General after getting the highest number of votes.
Download our Current Affairs & GK app for Competitive exam preparation. Click here for latest Current Affairs: Android|IOS