PM Modi announces Rs 1000 crore aid to Odisha; FAME 2 revised rules - Current Affairs
Thousands of trees and electric poles have been uprooted. Puri, where the cyclone made landfall, and parts of Khurdha are most affected by the cyclonic storm.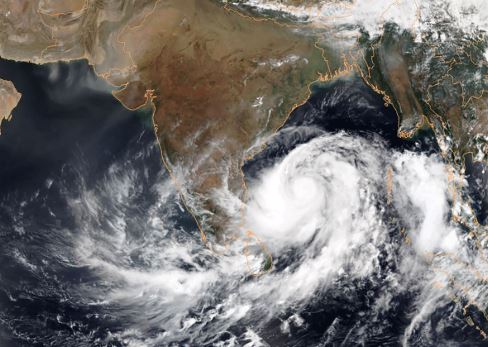 Cyclone Fani
Story 1: Centre announces assistance of Rs 1,000 cr for cyclone hit Odisha
Prime Minister Narendra Modi has announced a further release of Rs 1,000 Crore for assistance to the Fani affected state Odisha on May 06, 2019. Earlier Rs 341 crores had been provided to Odisha as an advance to its State Disaster Response Fund (SDRF). Prime Minister also announced Rs. 2 lakh ex-gratia each for the family member of dead in the natural disaster and Rs. 50,000 for the injured.
Odisha informed that restoration of Power and Telecommunication infrastructure continue to remain the major priority in the Cyclone affected areas of the State. Around 50% power restoration has been reported while more works need to be done in Bhubaneswar and Puri. Medicines dispatched by the Centre have been received and all measures were being taken to prevent any outbreak of diseases.
Fani affect
Around 1.08 crore people in 14,835 villages spread across at least 11 districts have been affected by the cyclone Fani. Over 13.41 lakh people had been evacuated ahead of the severe cyclonic storm on May 3. Thousands of trees and electric poles have been uprooted in the coastal districts. Puri, where the cyclone made landfall, and parts of Khurdha are most affected by the cyclonic storm.
Relief Measures
More than 2,500 gang men are working in Odisha to restore power lines, substations and Steel Ministry has dispatched about 5,500 steel electric poles and another 15,000 will be supplied by 14th May.
Cabinet Secretary directed that more manpower should be mobilized to restore power. He also suggested that mobile service operators need to operationalize their towers in coordination with the State Government.
Ministry of Petroleum informed that three mobile dispensers of Diesel of 6000 liters capacity each are being pressed into service.
Majority of petrol and diesel retail outlets are functional and sufficient stocks of diesel and other fuels are available in Odisha.
Railways have resumed train services on all the lines. The yard at Puri, which was extensively damaged will be restored fully by 12th May.
Four helicopters of Navy and Indian Coast Guard are engaged in relief operations. Navy and ICG are also running community kitchens for cyclone affected people.
Story 2: Rules revised for Phase-2 of FAME scheme
Centre government has announced that Electric and hybrid vehicle (xEVs) manufacturers will have to indigenise a significant portion of components to avail benefits under a revised set of rules of the phase 2 of the Faster Adoption and Manufacturing of Hybrid and Electric Vehicles (FAME) scheme.
Detailed localization draft guidelines have been issued by the Department of Heavy Industry (DHI) putting out a list of key components for xEV manufacturers to localise with respective deadlines to avail the scheme across all approved vehicle categories.
Major revised rules
Department of Heavy Industry (DHI) has listed components used in the xEVs across vehicle categories including electric two-wheelers, electric three-wheelers and e-rickshaws, four-wheelers and electric buses (eBuses).
Electric vehicle manufacturers across the above-mentioned categories will have to localize manufacturing of wheel rims integrated with hub motor from 1 October 2019.
The HVAC units (heating, ventilation and air conditioning) for electric cars are also scheduled for indigenization from the same date.
Key components like electronic throttle, vehicle control unit along with the onboard charger for all approved vehicle categories, and electric compressor and the DC charging inlet, both for the electric cars and buses are aimed for indigenization from 1 October 2020.
Objective
The main objective of the scheme is to encourage Faster adoption of Electric and hybrid vehicle by way of offering upfront Incentive on purchase of Electric vehicles and also by way of establishing a necessary charging Infrastructure for electric vehicles. The scheme will help in addressing the issue of environmental pollution and fuel security.
About FAME-2 Scheme
The first phase of Faster Adoption and Manufacturing of (Hybrid &) Electric Vehicles Scheme or the FAME scheme was introduced on 1 April 2015, while the second phase was notified in March earlier this year, and has been under implementation April onwards.
The scheme is part of the government's increased thrust to boost electric mobility through greater indigenization and has an outlay of ₹10,000 crore till 2022 for the phase 2.
The scheme proposes for establishment of charging infrastructure, whereby about 2700 charging stations will be established in metros, other million plus cities, smart cities and cities of Hilly states across the country so that there will be availability of at least one charging station in a grid of 3 km x 3 km.