PM Modi pays tribute to Veer Savarkar on his Jayanti
Veer Savarkar was a fierce critic of the Indian National Congress and its acceptance of India's partition.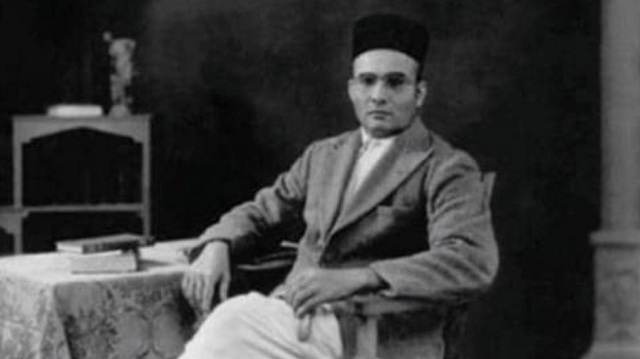 PM Modi pays tribute to Veer Savarkar on his Jayanti
Prime Minister Narendra Modi on May 28, 2019 paid tribute to patriot and freedom fighter Veer Savarkar on his birth anniversary.

The Prime Minister tweeted a photo of him paying his homage to the freedom fighter and wrote 'We bow to Veer Savarkar on his Jayanti. Veer Savarkar epitomizes courage, patriotism and unflinching commitment to a strong India." He added by saying that Savarkar in his time had inspired many people to devote themselves towards nation building.
Who was Veer Savarkar?

• Born on May 28, 1883, Vinayak Savarkar was an Indian independence activist, politician, lawyer, writer, and the formulator of the Hindutva philosophy.

• It was reportedly Savarkar, who popularized the term 'Hindutva' after he joined the Hindu Mahasabha, to create a collective "Hindu" identity, in response to the right-wing Muslim league. The term was originally coined by Chandranath Basu.

• Savarkar was also an ardent practitioner of Hindu Philosophy. He spoke out in favour of validating religious myths and blind faith against the rationalisation of modern science. He was also was a rationalist and reformer.

• While he was studying in India and England, he was associated with the revolutionary group- India House and founded student societies including Abhinav Bharat Society and the Free India Society, as well as publications promoting the cause of complete Indian independence.

• He also published 'the Indian War of Independence', which was about the 1857 revolt that was banned by the British authorities.

• His revolutionary activities led to his arrest in 1910 and he was sentenced to two life terms of imprisonment, which totaled 50 years, and was moved to the Cellular Jail in the Andaman and Nicobar Islands.

• He was, however, released in 1921 under restrictions after signing a plea for clemency, on the condition that he would renounce revolutionary activities.

• During his prison sentence, Savarkar wrote the work describing Hindutva, advocating what it means to be a Hindu. Besides that, his work described what Hindu pride was and he defined all the people who descended from Hindu culture as being part of Hindutva, including Buddhists, Jains and Sikhs.

• Later, serving as the president of the Hindu Mahasabha political party, Savarkar advocated the idea of India as a Hindu Nation.

• After his death, he became popular in the 1970s with children in India due to a comic book published by Amar Chitra Katha.

• He resurfaced in the popular discourse after the BJP came to power in 1998 and again in 2014 when Modi-led NDA alliance took to the center.
Opposition to Quit India movement, INC, India's partition and Mahatma Gandhi
Savarkar was a fierce critic of the Indian National Congress and its acceptance of India's partition.
He had opposed the 1942 Quit India movement, calling it a "Quit India but keep your army" movement.
He also openly criticized Mahatma Gandhi for being a hypocrite as he supported the use of violence by the British against Germany during World War II. He also criticized his appeasement of Muslims at the time of Khilafat Movement. He was accused of the assassination of Mahatma Gandhi but was acquitted by the court.
Though he respected Dr. Ambedkar, Savarkar was critical of Ambedkar's conversion to Buddhism. However, he termed it as a change of sect rather than a change of religion and said that as long as Ambedkar remained an Indian Buddhist, he would remain in the ambit of Hindutva.
He also vehemently opposed the partition of India and creation of an independent Muslim state.
Support to Creation of Independent Jewish state
Savarkar had supported the establishment of the Jewish State of Israel, as he saw it as a barricade against the Muslim Arab world. He regretted India's vote at the United Nations against the creation of the Jewish state terming the vote a policy of appeasement of Muslims.
Death

On February 1, 1966, Savarkar renounced medicines, food and water in what he termed as atmaarpan, fast until death.

He wrote an article titled "Atmahatya Nahi Atmaarpan" before his death, in which he argued that when one's life mission is over and ability to serve the society is left no more, it is better to end the life at will rather than waiting for death.

Port Blair's airport was renamed as Veer Savarkar International Airport in 2002.