Saudi Arabia abolishes rules mandating separate entrances for men, women in restaurants
Traditional Saudis believe gender segregation in public to be a religious requirement.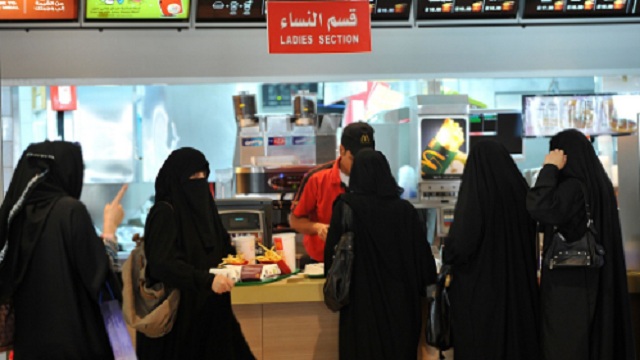 Saudi Arabia
Saudi Arabia has abolished its age-old rule that mandated separate entrances and seating areas for men and women. The gulf nation's Municipal and Rural Affairs Ministry lifted the ban through a twitter announcement on December 8, 2019.
Earlier, all restaurants in Saudi Arabia were required to have one entrance for women and families and another entrance for men dining on their own. Unrelated men and women were barred for decades from mixing in public places. This was decreed by the strict social rules put in place decades ago by the hardline clerics.
The relaxation in the strict social rules follows the other liberal approaches that Saudi Arabia has undertaken ever since Mohammed Bin Salman was appointed as the Crown Prince in June 2017.
Also read: Saudi Arabia allows women to open business without male consent
Saudi Arabia abolishes separate entrances in restaurants
The Gulf nation has removed the requirement for restaurants to have separate entrances for single men and women and families. The restaurants will also no longer need to specify private spaces for unrelated men and women.
Though the segregated entrances and dining rules had been eased over the past year, as many restaurants, eateries and cafes had stopped enforcing it, its complete abolishment has done away with one of the world's strictest social rules.
However, the new change is not compulsory, which means that the restaurants could still continue their routine of maintaining separate entrances for men and women if they choose to.
It is also not clear whether the segregated seating areas inside the eateries would be done away with or not.
Further, there is also no clarity on changes in other public establishments such as hospitals and schools, which are likely to continue with their segregation system.
Saudi Arabia's strict social rules
Traditional Saudis believe gender segregation in public to be a religious requirement. Hence, unrelated men and women are not allowed to mix in public places and public institutions such as government schools and public universities and also weddings.
Most eateries, cafes and restaurants in Saudi Arabia have separate entrances for women and single men and they also have partitions or separate dining rooms for women and families, where they are not visible to single men.
Smaller restaurants or cafes, which do not have space for segregation, do not allow women to eat there.
Background
Under Crown Prince Mohammed bin Salman, Saudi Arabia has witnessed an array of social reforms with women not only being allowed to drive but also to enlist in the military, enter sports stadiums, attend concerts and watch movies at theatres.
Young girls in the country were also recently allowed access to physical education and sports in schools. Earlier, only boys had the right to engage in sports and other physical education activities in school.
In August 2019, Saudi Arabia also allowed Saudi women to travel abroad freely without the approval of a male guardian. The new rule also lifted age-old restrictions on women obtaining passports. Now, the gulf country will issue passports to anyone who applies.
The new changes are a part of Crown Prince Mohammed bin Salman's vision 2030, which includes creating a more modern and liberal Saudi Arabia, diversifying its economy and shifting its dependence on oil.
The Crown Prince also aims to make the kingdom more tourist and recreation-friendly to attract more foreign investments.
Also read: In a historic first, Saudi Arabia lifts ban on female drivers