Education Budget Expectations 2022: Experts demand Revision of Tax Slabs, Revisiting High GST on Education Services
Education Budget 2022 Expectations: The education sector experts are expecting a revision of the tax slabs and revisiting high GST on education-related services and higher budget allocation to the education sector in Union Budget 2022. Check what experts have to say!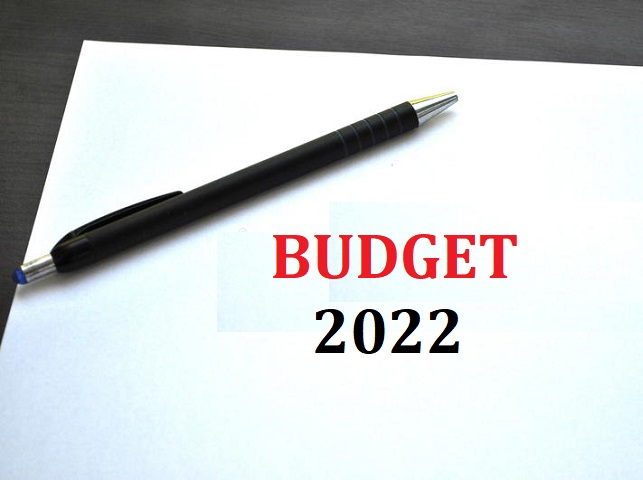 Union Budget 2022 Industry expectations
Budget 2022 Expectations: Union Budget 2022 will be presented by Finance Minister Nirmala Sitharaman on February 1, 2022. This year, the Finance Minister will be introducing the fourth budget of Modi 2.0 government. The budget session of the parliament will begin on January 31, 2022. Many expectations are riding on Union Budget 2022.
The experts are expecting the union government to make focused budgetary allocation for the edu-tech and healthcare sector and incentivise the sector through innovative fiscal policies. The experts are also expecting the government to revise the existing income tax slabs during this year's budget and also focus on boosting consumer demand and private investments and introducing relief packages to support the industries that have taken the hardest hit in the COVID-19 pandemic.
Union Budget 2022 Session: Check Schedule, timings, expectations and other details
Here is what Industry expects from Union Budget 2022
Education Pre-budget expectations
The education sector experts are expecting a revision of the tax slabs and revisiting high GST on education-related services and higher budget allocation to the education sector in Union Budget 2022.
According to Sahil Miglani, Co-Founder of an Ed-tech platform called Geekster, "The Pandemic has changed the way learning happens and fast-forwarded the adoption of online education by 5-10 years. Delivering quality education to every town and village of the country is now possible, provided we improve the digital infrastructure. We expect the Government to revisit the high GST on education-related services, and overall higher budget allocation to this sector."
Karun Tadepalli, CEO & Co-founder, byteXL pointed out, "Currently, subscriptions to EdTech platforms attract 18% GST. The Government in this Union Budget must unburden a load of excessive taxes by abolishing GST on eLearning. Our vision must be to ensure that the students are getting career ready, and they will be more productive to the workforce and the nation by skilling and upskilling themselves leveraging eLearning in an affordable manner. Additionally, strong internet connectivity and infrastructure through adequate fund allocation must also be ensured to support seamless eLearning."
Himanshu Tyagi, CEO & Founder of Digikull (Ed-tech company) has advised that the government should revisit 18 percent GST on skilling, which is very demotivating for the students who want to gain skill-related education. He emphasised, "In India, any skill development related service must come under the lowest tax slab. Even the loans related to education must be provided for lower interest rates. Only then will we be able to say that in India the policies are encouraging towards education and literacy. During the pandemic too, the edu-tech played a vital role in keeping the show running for education institutes. Now they need the Budget to consider a decent allocation to the sector to suffice for long term tax exemption, technology and accessibility."
Aakash Chaudhry, MD , Aakash Educational Services Limited (AESL) said, "With the Union Budget 2022-23 approaching, the young generation has high expectations from the Government especially in four segments – Education & Skill Development, better infrastructure, enhanced employment opportunities and common man's safety & security. "
"With Covid completely changing the dynamics of classroom education, we expect there to be a great amount of focus on online education and its infrastructure, especially in the Tier 2,3 cities, in the Budget, " Chaudhry added.
P.C. Chhabra- Executive Director of Sanskriti University pointed out that the education allocation budget last year was Rs. 93,223 crores, 6 percent less in comparison to the year before. "This year we are expecting it to be increased by 10%. To increase connectivity government should announce programmes to boost 5G devices at an affordable rate to boost e-learning infrastructure," said Chhabra.
Mr. Rachit Agrawal, Co-founder & Director of AdmitKard said that the Union Budget 2021-22 should focus on building stronger capabilities in the school infrastructure to enable the hybrid model of education which has become essential in the recurring pandemic scenario. "Additionally, early education needs to get more tech-enabled and we expect that should work in favor of the EdTech community. Further, there should be greater emphasis on skills and language training in order to make Indian youth ready for the global economy, and encouraging more Indians to migrate for work or studies," he said.
Startup Tax Exemption
Karanvir Singh, Founder & CEO, Pariksha - Vernacular EdTech Company urged the government to consider the tax structure on Employee Stock Ownership Plan (ESOP), as to attract and retain talent, a lot of startups have started offering ESOPs. Singh advised that it be taxed only at the time of sales and not at the time of exercising, as the case currently is. He also demanded for a centralised Professional Tax system on the lines of GST and an increase in the ease of business for startups operating in multiple states.
Gaurav VK Singhvi, Co-Founder of We Founder Circle also stated, "In the early stages, startups cannot offer handsome salaries, therefore they provide ESOPs. However, if at current valuation ESOPs have tax liability then even that cushion is not there anymore." Singhvi added saying, "Furthermore, Indian startups cannot raise funds through SAFE Notes which is the most acceptable instrument across the world. Lastly, I request the government, the way they have established SEZ Special Economic Zones or investment regions should form a Special Startup Region, SSR, which is spread across the country in Tier-II or Tier-III of India"
Dr. Navneet Gupta, Founder & CEO at YPay, a young fintech startup, said, "Extension of the tax holiday for startups would be a great way for the government to show its commitment towards building a robust and dynamic startup environment. Investment into infrastructure that would promote digital payments needs to continue rapidly. There is so much unexplored potential in Tier-2 and 3 cities, let alone villages. The pace of investment only needs to go up if this potential is to be meaningfully utilized."
Gupta further added saying, "for Neobanks and PPI companies such as ours, the idiosyncrasies of and changes in KYC requirements are a major nuisance. KYC norms lead to several problems such as registration issues for customers. And finally, the government needs to see the fintech industry as a partner in helping formalize the economy and getting banking services to those who do not have access to them."
Financial Sector Pre-budget expectations
Kumar Gaurav, Founder & CEO of Cashaa highlighted, "The crypto industry has stayed amidst speculation for a couple of years now. With the upcoming budget, we expect the government to introduce the regulations that the community has been waiting for a long time. Positive growth is only possible with the introduction of a stringent framework. This is also expected to welcome a heavy fund infusion in the country by foreign investors."
Healthcare Pre-budget expectations
Krishna Veer Singh Co-Founder and CEO, Lissun emphasised on the need for fair and impartial digital focus on healthcare. He said, "We hope the government allocates more funds to health-tech, enabling even the rural population to fall under its ambit. Owing to India's young population, SaaS is maturing, and health-tech would help stabilize the shortage of medical manpower in the country. More budget in health-tech would also make it a lucrative space for investments and start-ups, in turn helping the government to achieve its aim of 1:1000 doctor/patient ratio by 2024, which is a WHO-recommended norm."
Dr Preet Pal Thakur, Co-founder of GlamyoHealth said, "Healthcare, for obvious reasons, is likely to be the sector of focus in this financial budget. As a Health-tech startup focused on elective surgeries, I would wish that the GST on Health insurance premiums be removed - a step that will accelerate the insurance penetration in masses and remove inequity in healthcare access. Specifically for the start-up ecosystem, I would request the honorable finance minister to tax the ESOPs only at the exercise. There is still some ambiguity. It will help start-ups like Glamyo Health to hire and retain good quality talent as we scale this year to 40 plus cities in India "
Sujata Pawar- CO-Founder & CEO of Avni, a traditional menstrual care brand, urged the government to come up with subsidies on eco-friendly products in all categories and also encourage entrepreneurs to work towards organic replacements of various products. She said, "A lot of startups have entered the space of eco-friendly products. This is not just a leap to alter lifestyle, but also a contribution towards the environment. Lenient taxation could be looked at to promote the adoption of organic products by the end consumers too."
Food & Beverage Industry Pre-budget expectations
According to Farman Beig, Co-founder & CEO of Wat-a-Burger, "It takes multiple licenses to establish a food & beverage business in India. We expect the government to address this in the upcoming budget. Additionally, the sector requires reintroduction of the inputs tax credit. Also, considering the sector has been struggling due to the pandemic havoc, it is necessary to provide it with relief package and special fund allocation for a speedy recovery,"
Kushang, Co-founder & CEO of SupplyNote, a supply chain automation platform, also noted that the food and beverage industry has incurred heavy losses due to the pandemic, which makes it essential for them to look up to the Union Budget 2022-23 for relief. He said,"To accelerate the recovery of the sector, this budget should enable interest-free loans, greater subsidies, and a reduction in the tax structure. Additionally, since most of the F&B businesses fall under Micro and SMB categories they should be offered an extended moratorium. Considering the current situation, business losses should be allowed to be carried forward from the existing 8 years to 12 years."
Miten Shah, Co-Founder of The Studs Sports Bar & Grill stated, "2020 and 2021 showed the whole world how each wave of Covid affected the Hospitality, Restaurant and F&B industry. Multiple Operating Hour restrictions, Capacity Restrictions, Lack of Landlord support, Swiggy and Zomato deliveries also coming under the GST ambit have all made it worse for the Industry which contributes over 10% of the overall employment of the nation's young working class."
He pointed out that the restaurant industry has been ailing since the onset of covid and had just started to barely recover before the 3rd wave hit again. "This industry needs the maximum of the Government support to come to its feet again. This could be started in the form of firstly the GST Input Credit being reinstated on the Capex, Rentals and many other spends on which restaurants pay 18% GST but do not get the setoff against the taxes collected from the customers," he added.
Read more: What to expect from Union Budget of India
Take Weekly Tests on app for exam prep and compete with others. Download Current Affairs and GK app
एग्जाम की तैयारी के लिए ऐप पर वीकली टेस्ट लें और दूसरों के साथ प्रतिस्पर्धा करें। डाउनलोड करें करेंट अफेयर्स ऐप
Android
IOS