Gujarat, Punjab, UP, Bihar, Kerala, ByPoll Results 2019: BJP gets a jolt, Congress performs well
Experts believe that the latest results of ByPolls Elections 2019 will bring some strength in the congress party. The party has showcased good comeback in many parts of the country. Congress party has won three seats in Punjab while Shiromani Akali Dal won only one seat.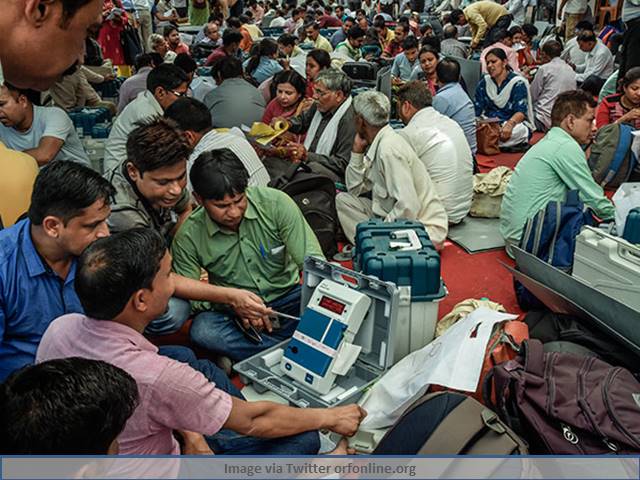 UP-Bihar ByPolls Result 2019 Live updates
The BJP and its supporting parties won 26 seats in the by-elections held in 51 assembly seats in 18 states. Congress won in 12 seats. In UP, Samajwadi Party won three seats two from BJP and BSP stronghold areas but kept Rampur seat in its hold.
Congress has performed well in overall election results across the country. In Himachal Pradesh BJP has won Dharamshala both the seats while in Punjab and Gujarat it was a good show by Congress. BJP's Alpesh Thakor has lost the election from Radhanpur seat of Gujarat.
Updates
Highlights @ 4.57 pm, Bihar - AIMIM candidate has won Kishanganj assembly poll while RJD candidate Ramdeo Yadav won Belhar seat.
Bihar Assembly Bypolls Result 2019

Constituency

Winners

Party

Kishanganj

Qamrul Hoda

AIMIM

Simri Bakhtiarpur

Zafar Alam

RJD

Daraundha

Karnjeet Singh

IND

Nathnagar

Lakshmikant Mandal

JDU

Belhar

Ramdeo Yadav

RJD
Highlights @ 3.49 pm, Uttar Pradesh - BJP is leading in eight seats in Uttar Pradesh as counting progressed in 11 assembly seats. BJP is leading in Lucknow, Manikpur, Ghosi, Balha and Govindnagar.
Uttar Pradesh Assembly Bypolls Result 2019

Party

Won

Leading

Apna Dal (Soneylal)

1

0

BSP

0

1

BJP

3

4

Independent

0

0

Samajwadi Party

2

0

Total

6

5
Highlights @ 3.49 pm, Amraiwadi seat - BJP's Jagdish Patel wins against Congress' Dharmendra Patel. In Tharad seat, Congress candidate Gulabsinh Rajput defeated BJP's Jivraj Patel by more than 6,400 votes.
Highlights @ 3.26 pm, Odisha ByPoll result - Rita Sahu of BJD has won the by-election for Bijepur seat. She won this seat with a record margin of 97,990 votes. Bishwa Bhushan Harichandan in 2000 Assembly elections had the highest margin was that of 94,555 votes.
Odisha Assembly Bypolls Result 2019

Constituency

Winner

Party

Bijepur

Rita Sahu

BJD
Highlights @ 3.13 pm, INC wins Chattisgarh seat - Assembly ByPoll was held in Chattisgarh on one seat only. INC candidate Rajman Venjam has won Chitrakot seat while BJP candidate Lachhuram Kashyap appeared on the second position.
Chhattisgarh Assembly Bypolls Result 2019

Constituency

Winner

Party

Chitrakot

Rajman Venjam

INC
Highlights @ 3.06 pm, BJP wins Himachal Pradesh seats - Bharatiya Janta Party has won both of the assembly seats in Himachal Pradesh. BJP candidates from Dharamshala and Reena Kashyap from Pachhad assembly have won their seats in Bypolls elections 2019.
Himachal Pradesh Assembly Bypolls Result 2019

Constituency

Winner

Party

Dharamshala

Vishal Nehria

BJP

Pachhad

Reena Kashyap

BJP
Highlights @ 2.41 pm, Congress wins in Punjab - As per the Election Commission's report, Congress has won Phagwara, Mukerian and Jalalabad seats. However, SAD candidate is leading on Dakha assembly constituency.
Punjab Assembly Bypolls Result 2019

Constituency

Winner

Party

Mukerian

Indu Bala

INC

Phagwara

Balwinder Singh

INC

Jalalabad

Raminder Singh Awla

INC

Dakha

Manpreet Singh Ayali

SAD
Highlights @ 1.26 pm, AIMIM wins Kishanganj seat - All India Majlis-e-Ittehadul Muslimeen (AIMIM) party's candidate Qamrul Hoda has won the Kishanganj seat while BJP's Sweety Singh has lost the election. Md. Asrarul Haq won this seat in 2014 elections.
Highlights @ 1.11 pm, Sikkim - Election Commission has given final results for Sikkim bypoll elections. Bharatiya Janta Party and Sikkim Krantikari Morcha have won one seat each. BJP got about 32% of total votes while SKM got 42.56% of votes.
Highlights @ 12.51 pm, Samastipur LS Seat - LJSP candidate Prince Raj is leading with over 31,000 votes. The re-election was announced on this seat due to the death of former MP Ram Chandra Paswan.
Highlights @ 12.12 pm, SP in Barabanki - Samajwadi Party's Gaurav Rawat is leading in Barabanki's Zaidpur seat by 39,000 votes while BJP's Ramkumar from Iglas is leading with more than 24,000 of votes.
Highlights @ 12.01 pm, BJP Wins Sikkim seat - As per the ANI's information, Bharatiya Janta Party wins on Martam-Rumtek assembly seat. However, SKM's Prem Singh has won Poklok-Kamrang Assembly seat.
Highlights @ 11.56 am, Pratapgarh seat - Apna Dal candidate Rajkumar Pal is leading with 12,000 votes in Pratapgarh after sixth round of voting. Tanjim Fatima of SP in Rampur leading with 31,000 thousand votes. Anand Shukla of BJP from Chitrakoot is leading with about 9,000 votes.
Highlights @ 11.13 am, Samastipur Lok Sabha Constituency - Prince Raj of Lok Jan Shakti Party (LJSP) is leading on Samastipur Lok Sabha seat.
Highlights @ 11.08 am, Alpesh Thakor trailing - BJP's Alpesh Thakor is trailing from Radhanpur seat of Gujarat. He recently left the Congress and joined the BJP. At the same time, BJP has received a setback from Rampur seat of UP where Azam Khan's wife is leading by 12,363 votes.
Highlights @ 10.15am, Rampur Constituency - In UP by-elections, SP candidate Tanzin Fatima from Rampur is leading by 1635 votes and BJP candidate Bharat Bhushan Gupta is trailing.
Highlights @ 10.11 am, SP leads Zaidpur - This seat is located in Barabanki region where Samajwadi Party is leading with over 5500 votes. In the first round of voting, BSP candidate Abhay Kumar Bunty is leading ahead in Aligarh assembly.
Highlights @ 9.32am, NCP leads in Satara - Shriniwas Dadasaheb Patil of National Congress Party (NCP) is leading on Satara Lok Sabha seat. He is giving a tough fight to Udayanraje Bhosale of BJP and Chandrkant Tatu Khandait of VBA.
Highlights @ 9.06 am, Congress leads in Jhabua - Congress candidate Kantilal Bhuria is leading on Jhabua seat of Madhya Pradesh. The voting for this seat took place on October 21.
Highlights @ 9.04 am, SP leads in Gangoh - As per the initial trends, Samajwadi Party is leading on Gangoh and Rampur seats in Uttar Pradesh. It is believed that the Samajwadi Party has a stronghold in Rampur constituency.
Highlights @ 8.36 am, Jhabua Assembly seat - Jhabua Assembly bypoll in Madhya Pradesh begun at 8 am and 62 per cent of voters exercised their votes.
Highlights @ 8.34 am, Puducherry Assembly seat - In the first round of counting congress candidate John Kumar is leading.
Highlights @ 8.07 am, Six seats of Gujarat Assembly - Counting of votes for six assembly seats begins at 8am. Election commission recorded 53.67 per cent of voter turn out in the by-elections.
Highlights @ 7.45 am, Counting of votes begins - Election Commission has started counting of votes for Maharashtra and Haryana Assembly Poll Results 2019.
The Ernakulum seat recorded about 40.3% of voter turnout while Konni in Kerala recorded the highest polling at 64.6%. On the other hand in Uttar Pradesh, the average poll percentage stands at 28.98 per cent. Gangoh (UP) had the highest voter turnout with 41.7%.
Uttar Pradesh Assembly Bypolls Result 2019

Constituency

Winners

Party

Gangoh

Kirat Singh

BJP

Rampur

Tazeen Fatma

SP

Iglas

Rajkumar Sahyogi

BJP

Lucknow Cantt

Suresh Chandra Tiwari

BJP

Govindnagar

Surendra Maithani

BJP

Manikpur

Aanand Shukla

BJP

Pratapgarh

Rajkumar Pal

NDA

Zaidpur

Gaurav Kumar

SP

Jalalpur

Subhash Rai

SP

Balha

Saroj Sonkar

BJP

Ghosi

Vijay Kumar Rajbhar

BJP
Gujarat Assembly Bypolls Result 2019

Constituency

Winners

Party

Tharad

Rajput Gulabsinh Pirabhai

INC

Radhanpur

Desai Raghubhai Merajbhai

INC

Kheralu

Ajmalji Valaji Thakor

BJP

Bayad

Patel Jashubhai Shivabhai

INC

Amraiwadi

Jagdish Patel

BJP

Lunawada

Jigneshkumar Sevak

BJP
2 Lok Sabha Constituencies Bypolls Results 2019

Constituency

Winners

Party

Satara (Maharashtra)

Shriniwas Dadasaheb Patil

NCP

Samastipur (Bihar)

Prince Raj

LJSP
Samastipur
Voting took place for Samastipur (SC) Lok Sabha seat besides Nathnagar, Simri Bakhtiyarpur Kishanganj, Belhar and Daraunda assembly constituencies in Bihar. This Lok Sabha constituency comprises six assembly seats. The bypoll took place in the constituency due to the death of sitting MP of LJP Ramchandra Paswan.
Kishanganj
Assembly Bypoll in Kishanganj has been necessitated by the election of Congress MLA Mohd Javed from the parliamentary constituency of the same name.
Lucknow Cantt
Lucknow Cantt recorded poor voter turnout because of the less participation of the people. As per the data about one-fourth of the total female voters and just one-third of total male voters came out to cast their votes. The total polling percentage was just 28.77 per cent which is the lowest since 1991.
Phagwara
Four assembly seats in Punjab – Phagwara, Dakha, Jalalabad and Mukerian had bypolls. The Phagwara seat has a total of 1.85 lakh voters. As per the official data released by the state election commission, the Phagwara constituency recorded 55.97% voting till 6 pm.
Dharamshala
The assembly bypolls in Dharamshala and Pachhad constituencies took place on October 21. As per the media reports, the election commission recorded about 40% of voter turnout. The state commission established 202 polling stations for two seats. The bypolls took place in these constituencies because sitting MLAs of Pachhad and Dharamshala were elected to the Lok Sabha this May.
Also Read : Panchkula, Ambala Cantt, Gurugram, Adampur: Haryana Assembly Election Result 2019 Highlights - Key Constituencies & Battles