Venezuela to eliminate three zeros off currency to counter economic crisis
Venezuela's President Nicolas Maduro announced that he would re-value the crisis-wracked country's bolivar currency, cutting three zeroes from current values to combat hyperinflation.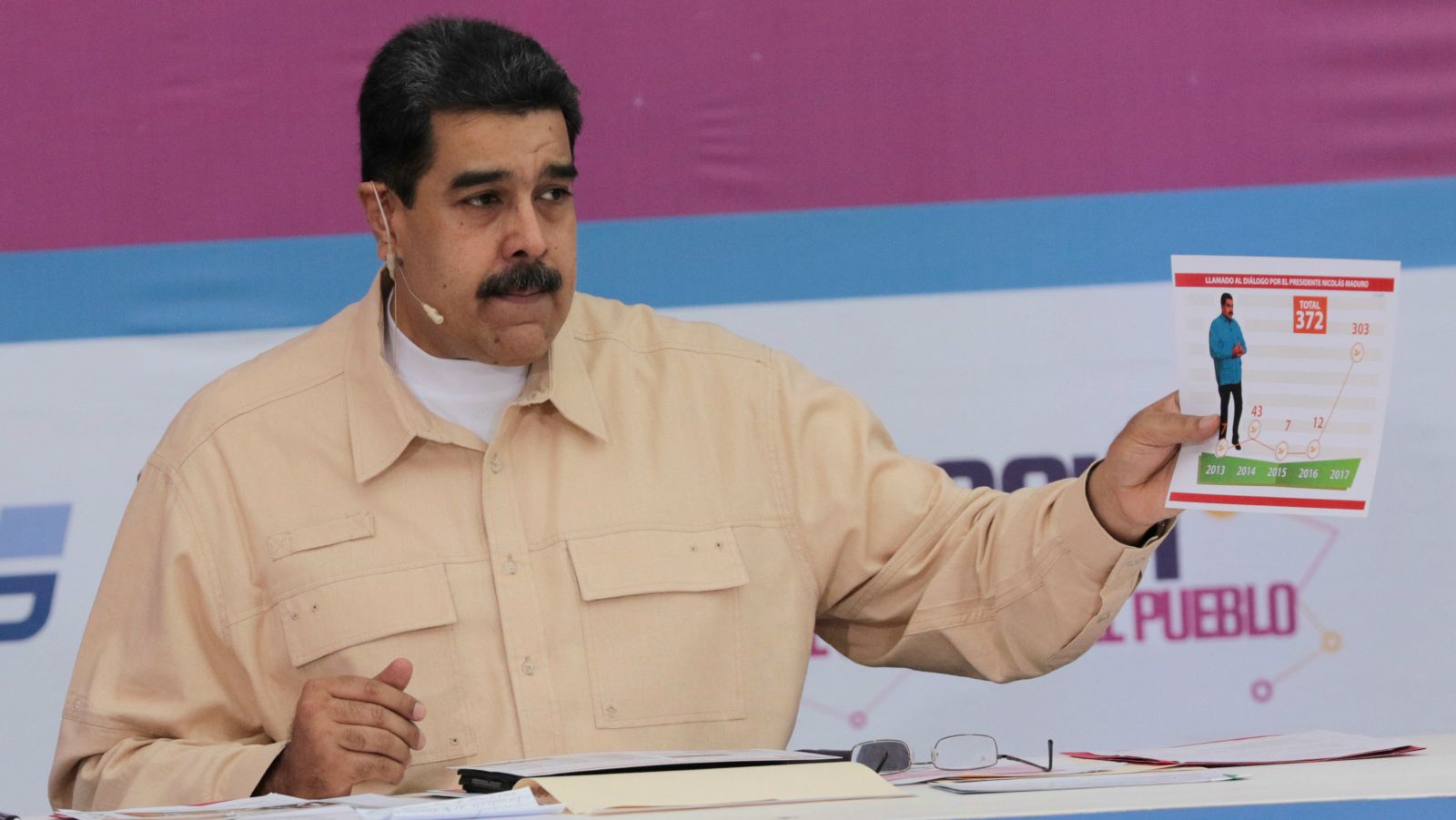 Nicolas Maduro
Nicolas Maduro, the Venezuelan President, has decided to remove three zeros off the Venezuelan currency Bolivar in the midst of a hyperinflation and crippling economic crisis.

This is considered as an economic measure to guarantee commercial activities and it will come into effect from June 4, 2018.The President has therefore decided to take out of circulation the current bills and put into circulation new bills.

Why this decision?

The move comes as Venezuelans struggle to find food, medicine and cash in the worst economic crisis ever to strike the oil-rich country.

According to the President, new monetary denomination will replace the old one established in January 2017, which will help the government fight the "economic war of financial persecution".

As per the President, this measure represents "the defence of the Bolivar" and that these new bills will be known as "sovereign bolivar". He also claimed that some forces are trying to dollarise the Venezuela, but, Venezuela will not be a colony of the dollar.

The Venezuelan government is also trying to defend the Petro (the new Venezuelan cryptocurrency) and monetary, economic and financial sovereignty of the country.

Impact

The move does not affect the Bolivar's value.

The largest bill in circulation is the 100,000 bolivar note, which trades for about $0.50 on the black market. A kilo of sugar (2.2 pounds) costs around 250,000 bolivars.

Venezuela's new set of monetary denomination will consist of two coins, one of 0.50 cents of a bolivar ($0.00001) and the other of one bolivar ($0.00002).

In addition there will be bills of two bolivars ($0.00004), five bolivars ($0.0001), 10 bolivars ($0.0002), 20 bolivars ($0.0004), 50 bolivars ($0.001), 100 bolivars ($0.002), 200 bolivars ($0.004) and 500 bolivars ($0.01).

About Venezuela

Venezuela holds the world's largest oil reserves and once shined as one of Latin America's wealthiest nations. A fall in global oil prices and a collapse in Venezuela's crude production after nearly 20 years of socialist rule and mismanagement of the state-run oil company sent the economy into a tailspin.

Venezuela's inflation rate was more than 6,000 percent in the 12-month period ending in February. The International Monetary Fund expects inflation to top 13,000 percent this year.

One kilogram (2.2 pounds) of sugar costs around 250,000 bolivars. Meanwhile, the monthly minimum wage is less than 400,000 bolivars, which along with a food bonus amounts to about $5.60 at the black market exchange rate.
Venezuela to launch 'Petro' cryptocurrency to combat US blockade