Weekly Current Affairs Quiz: 13 March to 19 March 2023
For this week, Jagran Josh is presenting the top 10 questions with their answers including US Air Force Secretary, First Female Loco Pilot, US Ambassador, etc.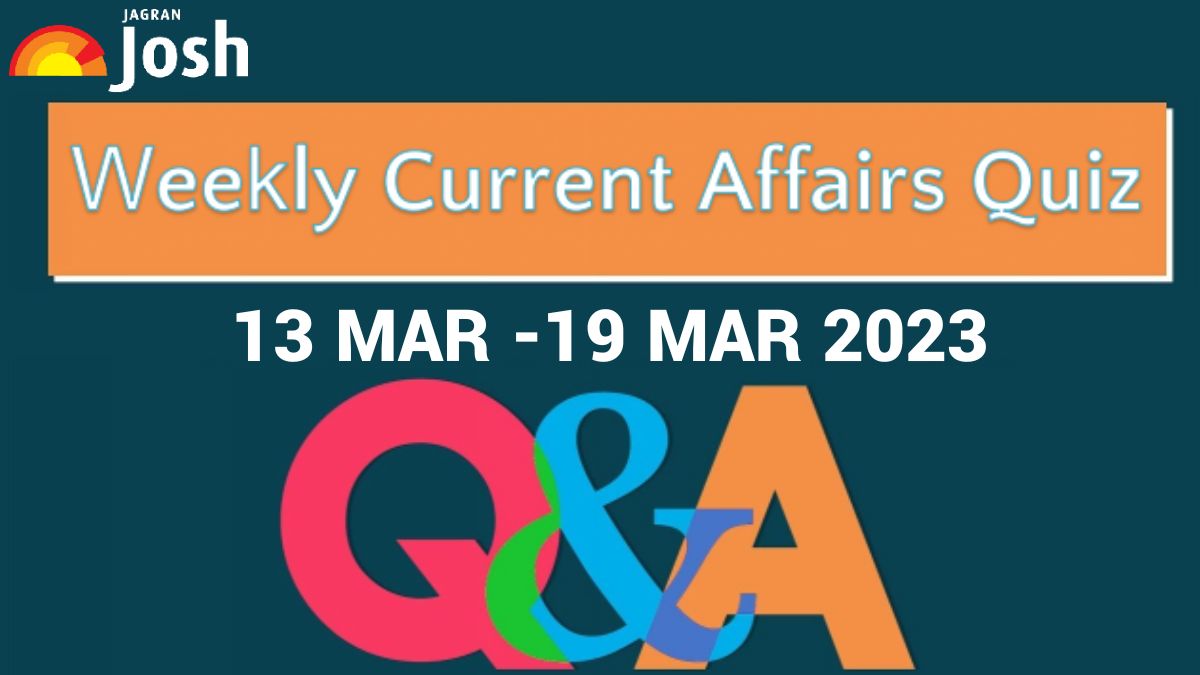 Weekly Current Affairs
Weekly Current Affairs Questions for UPSC/IAS Exams: Weekly Current Affairs Quiz section of Jagran Josh aims to help every competitive exam aspirant to revise the day with ease. This week, we have compiled 10 weekly current affairs questions and answers relevant to government exams including World's largest weapon importer, Banking Partner with Mumbai Indians, and GPT-4 launch among others.
1. Who has launched the new Artificial Intelligence Chatbot GPT-4?
(a) OpenAI
(b) Google
(c) Signature AI
(d) Twitter
2. Which Indian-American has been appointed as the Assistant Secretary of the US Air Force?
(a) Ravi Chaudhary
(b) Neal Mohan
(c) Vivek Ramaswamy
(d) Arun Subramanian
3. India has signed a Memorandum of Cooperation (MoC) with which country for cooperation in the field of research?
(a) Sweden
(b) Switzerland
(c) Norway
(d) Portugal
4. Who has been selected by the US Senate as the next US Ambassador to India?
(a) Kenneth Juster
(b) Atul Keshap
(c) Eric Garcetti
(d) A. Elizabeth Jones
5. Who has become the first woman loco pilot of the Vande Bharat Express train?
(a) Shiva Chauhan
(b) Mira Nayak
(c) Aditi Singh
(d) Surekha Yadav
6. According to the report of the Stockholm International Peace Research Institute, which is the world's largest importing country of weapons?
(a) China
(b) India
(c) France
(d) Qatar
7. The Union Home Ministry has announced a 10 per cent reservation for ex-Agniveers in which security force?
(a) CISF
(b) CRPF
(c) RAF
(d) ITBP
8. Who won the ICC Men's Player of the Month award for the month of February?
(a) Harry Brook
(b) Shubman Gill
(c) Jos Buttler
(d) Virat Kohli
9. Which bank has become the official banking partner of Mumbai Indians?
(a) HDFC bank
(b) IDFC First Bank
(c) State Bank of India
(d) Axis Bank
10. Which airport topped the list of the world's best airports released by Skytrax?
(a) Munich Airport
(b) Zurich Airport
(c) Singapore Changi Airport
(d) Indira Gandhi International Airport
Answers:-
1. (a) OpenAI
OpenAI has launched an advanced ChatGPT model called chatbot 'GPT-4' after ChatGPT's previous versions were positively welcomed across the globe. OpenAI is an Artificial Intelligence Research Organisation which launched this new chatbot and proclaims it to be more innovative and reliable than its predecessor GPT-3. Chatbot GPT-4 will be accessible to ChatGPT subscribed customers at a rate of $20 per month charged to avail of the service.
2. (a) Ravi Chaudhary
The US Senators voted in favour of Ravi Chaudhary, an American citizen of Indian origin. He has been designated as the Assistant Secretary of the US Air Force. This is a huge responsibility as he becomes the first Indian-American to have been offered this position. Currently, Ravi is working as an American flight test engineer however, now he will be responsible for matters related to energy, installation and environment in the US Air Force. Earlier, he served as an active Air Force pilot for over 2 decades between 1993 and 2015.
3. (a) Sweden
The Science and Engineering Research Board (SERB) of India and The Swedish Foundation for International Cooperation in Research along with Higher Education (STINT) of Sweden have jointly signed a Memorandum of Cooperation (MoC). The main idea behind this pact is to implement research networking among research institutions. Both these organisations will accelerate the mobility of researchers through their regular funding programmes. Sweden is a Scandinavian nation and its capital is Stockholm.
4. (c) Eric Garcetti
American Diplomat Eric Garcetti has been appointed as the next US Ambassador to India. The US Senate voted by a margin of 52-42 to nominate Garcetti in order to become the US Ambassador to India. The Senate Foreign Relations Committee also marked their votes in favour of Garcetti. For the first time, US President Joe Biden nominated him for the post in July 2021. He got this post almost after a 2 years gap.
5. (d) Surekha Yadav
57-year-old Surekha Yadav becomes the first woman in Asia to be the loco pilot of India's semi-high-speed Vande Bharat Express train. Central Railway told that she operated the high-tech train between Solapur station and Chhatrapati Shivaji Maharaj Terminus (CSMT) in Mumbai. She became the nation's first-ever senior-most train driver of the Indian Railways in 1988. She resides in the Satara district of the western Maharashtra region.
6. (b) India
The Stockholm International Peace Research Institute (SIPRI) releases the annual report of the world's five largest arms importers during 2018-22. These were India, Saudi Arabia, Qatar, Australia and China. According to a report released by defence think-tank SIPRI, India topped the position of the world's top weapons importer. However, its imports declined by 11 per cent between 2013-17 and 2018-22. The five largest arms exporters were the United States, Russia, France, China and Germany. Pakistan came out to be the world's eighth-largest arms importer during 2018-22.
7. (a) CISF
The Union Home Ministry declared a 10 per cent reservation for ex-Agniveers deployed in the Central Industrial Security Force (CISF). The newly appointed armed force will get relaxation in the upper age limit and an exemption from physical efficiency tests. This was announced days after the ministry announced a similar 10 per cent reservation for firefighters in the Border Security Force (BSF). The central government begins the Agneepath scheme for recruitment in the armed forces and it aims to encourage youth in the age group of 17 ½ years to 21 years to join on a short-term contract basis for 4 years.
8. (a) Harry Brook
The Player of the Month title is given to England's cricketer Harry Brook by ICC for the month of February. He has won this award for the second time. He leaves behind Indian all-rounder Ravindra Jadeja and West Indies spinner Gudakesh Moti in the race for the prestigious award. India's young cricketer Shubman Gill won the award last month.
9. (b) IDFC First Bank
IDFC First Bank engages with Mumbai Indians as the official banking partner for a period of 3 years. This bank is considered India's first universal bank and it has introduced services like monthly interest credit on the savings accounts, zero charges on all savings account services and a lifetime free credit card. The IPL opening ceremony is scheduled to be held at the Narendra Modi Stadium in Ahmedabad. The starting date of the IPL is March 31 while Gujarat Titans will face four-time IPL champions Chennai Super Kings in the 1st match.
10. (c) Singapore Changi Airport
Global Air Travel Guiding Firm, Skytrax published the list of the 10 best airports in the world. According to the survey, Singapore's Changi Airport remained in the top position this year. It has been awarded the title of the world's best airport for the 12th time. Doha's Hamad International Airport won the 2021 and 2022 World Airport of the Year awards. However, in 2023 it missed the spot and becomes 2nd on the list. Delhi's Indira Gandhi International Airport was honoured with the best airport in India and South Asia award.
Also Read: Weekly Current Affairs Quiz: 05 March to 11 March 2023
Take Weekly Tests on app for exam prep and compete with others. Download Current Affairs and GK app
एग्जाम की तैयारी के लिए ऐप पर वीकली टेस्ट लें और दूसरों के साथ प्रतिस्पर्धा करें। डाउनलोड करें करेंट अफेयर्स ऐप
Android
IOS