PSLV- C48, RISAT-2BR1 and 9 Foreign Satellites: Important Facts and Features
India's latest spy satellite RISAT-2BR1 and nine foreign satellites are launched by the Indian Space Research Organisation (ISRO) through Polar Satellite Launch Vehicle (PSLV- C48) on 11 December 2019 at Sriharikota in Andhra Pradesh. Let us read more about PSLV, RISAT-2BR1, and PSLV-C48.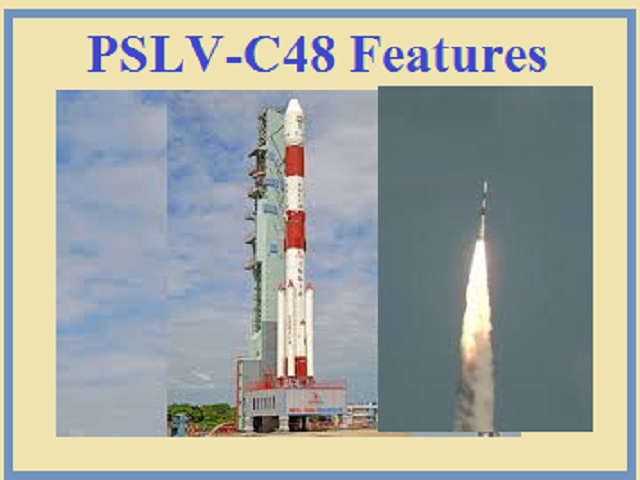 About PSLV-C48 and RISAT-2BR1 features
Do you know that PSLV-C48 is the 50th mission of PSLV that successfully injected India's newest defence satellite RISAT-2BRI in a 576 km orbit from the First Launch Pad (FLP) of Satish Dhawan Space Centre (SDSC) SHAR, Sriharikota?
Also, PSLV-C48 carried 9 customer satellites including Israel(1), Italy(1), Japan(1), and USA(6) as co-passengers. These satellites were launched under a commercial arrangement with NewSpace India Limited (NSIL). Let us tell you that PSLV-C48 is the second flight of PSLV in the 'QL' configuration with 4 strap-on motors. And is the 75th launch vehicle mission from SDSC SHAR, Sriharikota and 37th launch from the First Launch Pad.
About PSLV
Height : 44 m
Diameter : 2.8 m
Number of Stages : 4
Lift off Mass : 320 tonnes (XL)
Variants : 3 (PSLV-G, PSLV - CA, PSLV - XL)
First Flight : September 20, 1993
As we know that Polar Satellite Launch Vehicle (PSLV) is the third generation launch vehicle of India. It is equipped with liquid stages and is the first vehicle of this kind. The first successful launch took place in October 1994 and emerged as the reliable and versatile workhorse launch vehicle of India.
10 Amazing facts about PSLV C-40
The specifications of PSLV-C48 mission are as follows:
Pay load: RISAT-2BR1
Orbit Height: 576 km
Inclination (Deg): 37
Launch Pad: First launch Pad (FLP)
- It is 2nd flight of PSLV with 'QL' variant.
About RISAT-2BR1
It is a radar imaging earth observation satellite. Its function is to help in agriculture, forestry, and disaster management support.
- The lift-off weight of RISAT-2BR1 is about 628 Kg.
- It will be placed in the low-earth orbit of 576 km at an inclination of 37 degrees.
- It has a capability of Synthetic Aperture Radar (SAR) that will provide all the capabilities of weather where radar surveillance is concerned.
- By using SAR, it will penetrate clouds and observe images on the ground by sampling distance of around 35 cms.
- The payload is X-Band Radar.
- The life of the mission is 5 years.
About International Customer Satellites
They are launched under commercial arrangements with NewSpace India Limited (NSIL).
| | | | |
| --- | --- | --- | --- |
| Name of Satellite | Number of Satellite | Country | Objective of the mission satellite |
| QPS-SAR | 1 | Japan | Radar Imaging Earth Observation |
| Tyvak-0092 | 1 | Italy | Search and Rescue |
| Tyvak-0129 | 1 | USA | Technology Demonstration |
| DUCHIFAT-3 | 1 | Israel | Remote Sensing |
| LEMUR | 4 | USA | Multi-mission remote sensing platform |
| 1HOPSAT | 1 | USA | Earth Imaging |
Therefore, India's Polar Satellite Launch Vehicle (PSLV-C48) launch is successful by ISRO carrying RISAT-2BR1 and 9 international customer satellites.
What are Near-Earth Objects (NEO)?
What is CARTOSAT-3 Satellite and its features?