Today In History, 21 January: What Happened On This Day
What happened today in history (21 January): Rasputin and Sushant Singh Rajput born, Vladimir Lenin and Rash Bihari Bose died, Louis XVI executed by guillotine, Manipur, Tripura, Meghalaya states formed, Agatha Christie's first novel published in the UK, and more.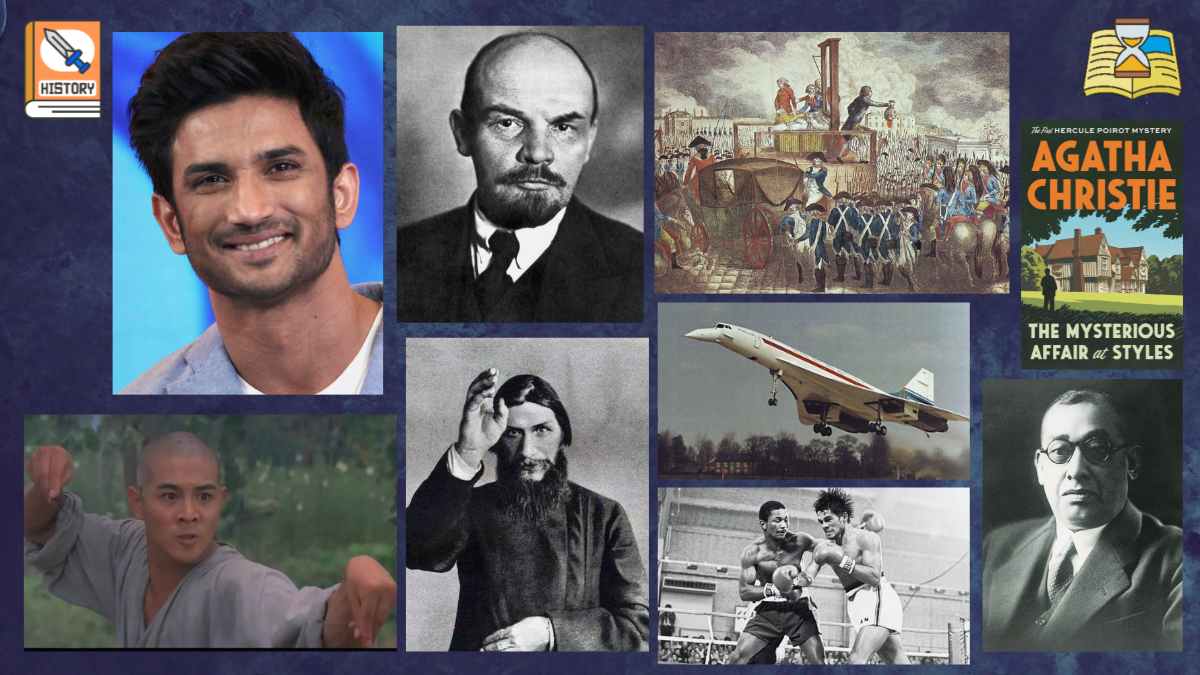 This day in history (21 Jan): The Birthday of Sushant Singh Rajput
Today in History, 21 January: 2023 is off to a tremendous start so far. Barring a few hiccups, the year has been peaceful and prosperous for most of the world's population, unlike the last two years, which were marred by the Covid-19 pandemic. But let's not fall into the comfort zone and slack off on learning.
Today is 21 January, which looks like another normal day in the first month of the year, but that is not so. 21st January holds a key place in world history.
Dive in to find out what major events transpired on this day (Jan. 21) in sports, politics and art, along with famous birthdays and deaths in world history.
Historical Events On This Day
In 1789, the first American novel, "The Power of Sympathy or the Triumph of Nature Founded in Truth," by William Hill Brown, was printed in Boston.
In 1793, Louis XVI, the last Bourbon king of France, was tried for treason, convicted, and executed by the guillotine in Paris during the French Revolution.
In 1952, famed Indian politician and freedom fighter Jawaharlal Nehru's Congress party won the general election in India.
In 1954, the first nuclear-powered submarine, the USS Nautilus, was launched on the Thames River in Connecticut.
In 1972, the northeastern region of India, comprising Manipur, Meghalaya and Tripura, became separate states of the Indian Union. Mizoram was declared a union territory.
In 1976, the French-British commercial supersonic plane, the Concorde, began its service.
In 2017, the women's march took place across 400 cities in the US and over 160 countries on Donald Trump's first full day as US President.
Sports Events Today
In 1978, Panamanian boxer Roberto Durán became the undisputed WBC world lightweight champion with a 12th-round TKO of Esteban De Jesus.
In 2010, LA Lakers' Kobe Bryant become the youngest NBA player to score 25,000 career points at 31 years, and 151 days, beating the record of fellow NBA legend, Wilt Chamberlain.
In 2019, Li Na of China became the first Asian player to be elected to the International Tennis Hall of Fame.
Art and Culture Events Today
In 1921, celebrated British crime writer Agatha Christie's first novel, "The Mysterious Affair at Styles," was published in the UK and introduced the iconic detective Hercule Poirot.
In 1950, T.S. Eliot's acclaimed play "The Cocktail Party" premiered in New York City.
In 1956, Danish-American comedian and pianist Victor Borge's one-man show "Comedy in Music" closed after a Guinness World Record of 849 performances.
In 1982, Chinese martial artist and actor Jet Li made his film debut in the film Shaolin Temple, which was the first Hong Kong film shot in China.
Notable Deaths On This Day
| | | |
| --- | --- | --- |
| Sr No | Death Year | Personality |
| 1 | 1793 | Louis XVI, the last king of France who was dethroned during the French Revolution, tried for treason and executed via the guillotine |
| 2 | 1924 | Vladimir Lenin, Russian politician and revolutionary who became the Soviet Union's first head of state and developed a new form of Marxism, now known as Leninism |
| 3 | 1938 | Georges Melies, French illusionist and filmmaker who made surreal, groundbreaking sci-fi movies like A Trip to the Moon and The Impossible Voyage using highly innovative special effects |
| 4 | 1945 | Rash Behari Bose, Indian freedom fighter and revolutionary who orchestrated the Ghadar Conspiracy and founded the First Indian National Army during World War II |
| 5 | 1950 | George Orwell, English novelist, journalist and critic known for his writings like "1984" and "Animal Farm," opposing totalitarianism and support of democratic socialism |
| 6 | 1959 | Cecil B. DeMille, American film director, producer and actor who is considered as a founding father of American cinema and made multiple commercially successful films |
Famous Birthdays On This Day
| | | |
| --- | --- | --- |
| Sr No | Birth Year | Personality |
| 1 | 1338 | Charles V, Holy Roman Emperor who ushered a new, peaceful and prosperous era for Europe following the end of the devastating hundred-year war |
| 2 | 1869 | Rasputin, Russian mystic and self-proclaimed healer who befriended and manipulated the royal family of Nicholas II, the last Emperor of Russia |
| 3 | 1905 | Christian Dior, French fashion designer known for founding one of the world's most iconic and luxurious fashion houses, Christian Dior SE |
| 4 | 1940 | Jack Nicklaus, American sportsperson who is considered the greatest golfer of all time |
| 5 | 1953 | Paul Allen, American investor, businessman and philanthropist who is known for co-founding the tech giant Microsoft Corporation with childhood friend Bill Gates |
| 6 | 1963 | Hakeem Olajuwon, Nigerian-American former professional basketball player who is regarded as one of the greatest players in the sport and NBA |
| 7 | 1986 | Sushant Singh Rajput, Indian film and television actor who became famous for his humble beginnings and incredible performances in films like M.S. Dhoni: The Untold Story and Kai Po Che |
Related | Today in History (20 January)
Related | Today in History (19 January)