Simple ways to reduce stress and anxiety during SSC exams preparation
In this article, we will discuss about the methods and activities to follow, so that candidates can tackle stress and anxiety during their SSC exams preparations.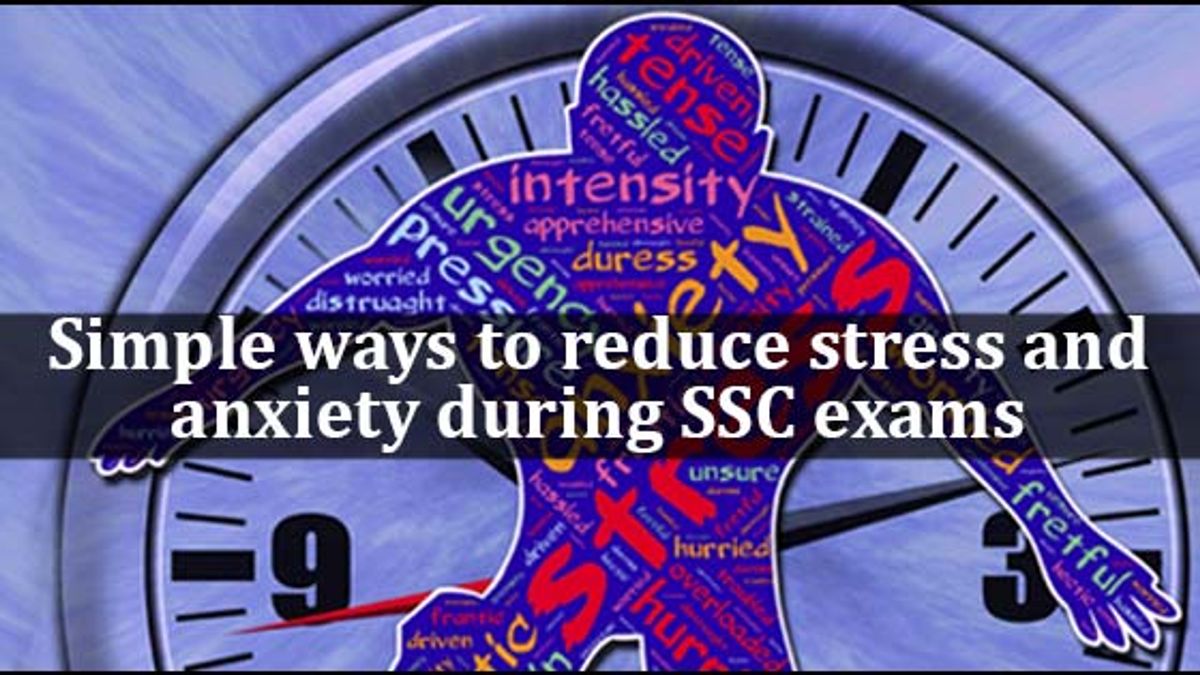 SSC preparation tips
SSC conducts several exams to recruit candidates for various posts including Grade-'C' and 'D' through several entries like SSC CGL, SSC CHSL, SSC JE, SSC SI ASI CISF and others. Most of these exams are comprised of three tiers. Therefore, preparation stages become very hectic and stressful. As the competition is getting very hard and difficult year by year, the numbers of candidates applying for these examinations are also increasing every year. Hence, an SSC aspirant has to compete with them.
As the time for preparation is very limited and you have to cover a lot of syllabus. Therefore, you
have to manage your time and yourself. It is observed that a laborious candidate also faces hurdle and fails in this exam due to improper self-management. Self- management includes maintaining physical and mental health. Improper management can put your body on stress and anxiety.
In this article, we will discuss about the methods and activities to follow, so that candidates can tackle stress and anxiety during their SSC exams preparations. Let us dive into this-
SSC preparation: Stress and anxiety reduction Methods
Stress and anxiety are the common symptoms observed during the SSC exams preparation. Let us learn how to reduce them effectively-
Exercise
Exercise encompasses numerous activities that use repetitive movements of large muscles including jogging or walking. Make a routine of exercise in your daily activities. Exercise is the most important thing in battling stress. Physical activity stresses your body, which results in defeating mental stress. It is observed that people who exercise regularly are less likely to feel anxiety in comparison to those, who do not exercise.
Now, you may be surprised to know about reasons behind it-
8 Common mistakes exercised during SSC exams preparation
Stress Hormones- Exercising helps in lowering the body's stress hormone for a long time and releases endorphins. Endorphins are hormones that boost your mood and acts as the painkiller.
Sleep- Exercising regularly stretches the body's muscles and after each workout, you will need to sleep. It helps in improving your quality of sleep, which is adversely affected by the stress and anxiety.
Confidence- Regular exercisemake you feel more competent and confident, which in turn encourage mental health.
Hence, it is advisable to opt for some regular exercises during SSC preparation.
Use Supplements
There are several supplements, which are used to eliminate stress and anxiety. We have listed out some common supplements, which are prescribed by the physician or self-consumed by the people. You can also consider them during your preparation phase.
Ashwagandha- It is an Ayurvedic herb used in formulating medicine to treat stress and anxiety. Several patients reported its effectiveness.
Green Tea- It helps in increasing your serotonin levels to combat anxiety. Serotonin levels are increased due to its polyphenol antioxidants.
Lemon balm- It hails from the mint family, which is enriched with anti-anxiety effects.
Omega-3 fatty acids- it helps in reducing anxiety by 20% a study suggest so.
Valerian- Valerian root is popular for its tranquilizer effect as it contains valerenic acid, which alters GABA receptors in lowering anxiety.
10 things, which result in failure in SSC CGL exam
Reduce caffeine
People have different thresholds for caffeine intake. High doses of caffeine can damage your mood and increase anxiety. Caffeine is found in coffee, tea, chocolate and energy drinks. Moderate consumption can be healthy. Hence, if you feel anxiety about your Behavior during preparation, then reduce your caffeine intake.
Learn to say 'NO'
Try not to take the additional assignments that you cannot handle. Not all factors causing stress and anxiety are fully under your control. Therefore, control those parts of your life that you can use to reduce stress. One way to achieve this is to say, no.
Hence, being selective and saying 'no' to what will redundantly add to your preparation load- can be a perfect start in controlling stress levels.
Avoid procrastination
Procrastination is about deferring the priorities. Procrastination results in higher stress level due to not achieving the desired results. Therefore, this can be the other way to overcome stress during your preparation phase by staying on top of your priorities and stop procrastination.
15 websites that will help you in SSC preparation
Hence, before involving yourself in any study, first make a list of tasks and activities and prioritize them accordingly. It is advisable not to switch from current task to another fresh task during the SSC exam preparation.
Mindfulness
Mindfulness refers to the practices that make you live in the present. It further helps in combating anxiety induced effects of 'Negative thinking'. There are various methods to achieve mindfulness including-
Cognitive therapy to achieve mindfulness
Stress reduction to achieve mindfulness
Yoga and meditation
Deep breathing
When you encounter stress and anxiety during the exam preparation, your heartbeat fastens, breathing becomes quick and blood vessels stretch. Deep breathing exercises help in activating a parasympathetic nervous system that controls relaxation response.
There are several types of breathing exercises given as below-
Belly breathing
Abdominal breathing
Paced respiration
Diaphragmatic breathing
The main objective of deep breathing is to focus on your breath, when air passes through your nose expanding your lungs and rising belly. This helps in slowing your heart rate and makes you feel more peaceful.
Top 5 tips to strengthen your memory for SSC exams preparation
Music
Listening music can soothe your mood and reduce the stress. Music helps in inducing relaxation responses by lowering blood pressure, heart rates, and stress hormones. You can try following types of music-
Indian music
Classical
Celtic
Native American
Stress Diary
This is most effective methods opted by many psychologists to cure stress, anxiety and even depression. In this method, you have to carry a stress diary for a few weeks as a stress management tool. It makes you more aware of the situations in which you find the causes of becoming stressful. Stress diary looks like this-
Date & time

Mood (Happiness or sad)

Ratings(0-10)

Study/Work Efficiency (0-10)

Feeling of Stress (0-10)

Most Recent Stressful event

What did you feel?

Fundamental cause

How did you manage?
How Internet can be useful in SSC preparation?
This will make you to take effective decisions about the situations in which you feel more stressful and you can develop better coping mechanisms.
Spend time with family and friends
Social support from friends and family can help you to get out of stressful times. It also gives you a sense of belonging and self-worth. Spending time with friends, family, and children helps in releasing oxytocin. Oxytocin is a natural stress reliever. Both men and women are benefited from such friendship.
However, manage your time and avoid extra meetings with friends during your exam preparation. Healthy interaction can be sufficient to motivate you in preparing for SSC exams.
We at www.jagranjosh.com are committed to provide you all necessary and needful information and guidance for SSC preparation. So, keep on visiting us.
Good luck!