What to do after you decide to resign from your current job?
Quitting current job is an inescapable moment that every professional has to meet once, twice, or so more times in life. Here's what formalities you should never ignore.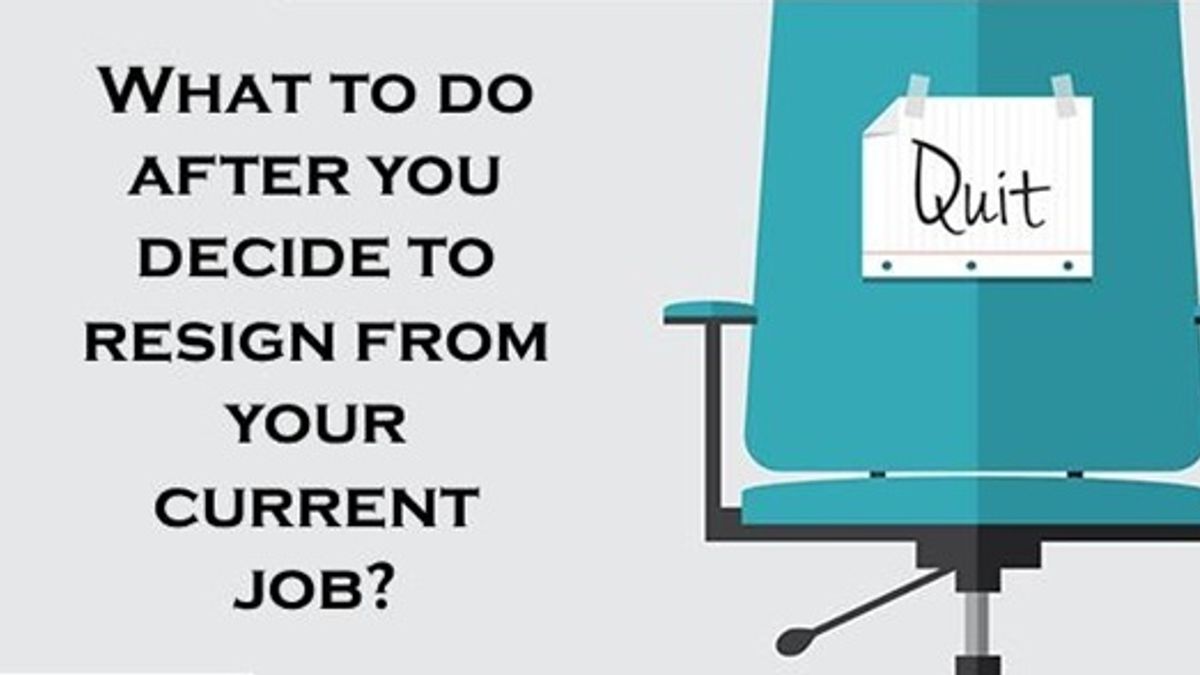 What to do after you decide to resign from your current job?
Resigning from the current job is such a decision that every professional is bound to take it. It may be once, twice or sometimes, so more times in the life of a professional. As far as career of professional is concerned, it's inevitable and inescapable. It'll badly affect your career prospect if you make any mistake in this course of action. To evade this, there are certain rules and formalities that every professional should never ignore.
To know what rules one should follow after deciding to resign from current job and how to leave the good impression behind, keep the reading continue as here is the good collection of that of.
Prior Notice
In some companies, organisations or institutes, the duration of time for prior notice is already decided for the professionals who want to quite their job. It may be of 1, 2 and 3 weeks or 1, 2, and 3 months. Find out what duration of time forprior notice you are comfortable in. Write a polite, humble, and positive resignation notice letter, citing positive attitude of your superiors, seniors and others towards you. Don't cite anything negative that can affect your relation with your superiors, seniors, and management of the organisation, even if you had the same.
Recommend someone
To ensure that the routine, monthly and yearly task remain unaffected, the Human Resource (HR) department of your company begin looking for a person who can work efficiently on the position soon after you send your resignation notice letter. If there is anyone who is efficient and deserves the position, then recommend him/her for the job you're leaving.Before recommending any candidate, try to evaluate the efficiency, potential, sense of responsibility, and qualification of the candidate as per the position you're recommending him/her for. You need to take care of this because a wrong recommendation can badly affect your image and reputation in the organisation.
Train your junior
Following your resignation, the assignments, projects, and tasks of the organisation are likely to be affected if there is no one who can work as efficiently as you were doing. And hiring of a suitable, efficient, and experienced person requires different pre-selection process. These processes take time. During this, the company may have to suffer losses due to incomplete projects, assignments, and task. In case of lack suitable man-force, select and begin training a junior for the tasks, assignments, and projects only after acknowledging it to your immediate boss or seniors. This will definitely reflect the good part of your professional approach.
Clean up your computer
Your current would never like to hear that you were carrying out your own personal works with the computer you were provided only for official tasks. And On your part, you would never like to share your personal details with anyone. So, email your personal documents to your own mail address and delete the same from your office computer. If you want to save the some of the official emails send them to the same. Apart from this, reset your browser history. Delete the instant messaging apps if you downloaded it. Do the same with the software that you think is relevant only to you.
Write Resignation letter
Frame, structure, and write a polite resignation letter if it's your second or third last day of notice period. You can give an emotional touch to your letter, citing the good, touchy, and memorable incidents that you enjoyed with you seniors, superiors, and co-workers of your current organisation. You can mention the good lessons you have taken from your seniors, superiors, and co-workers. Never cite any wrong, negative, and harsh that can hamper your relation with the people working in your current organisation. After writing, send it on your last in the organisation and get it approved.
Write a goodbye letter
After tendering your resignation, now you're to move anywhere you do like to. Before moving out of your office, take some time to write a goodbye letter addressing your immediate manager or reporting manager, seniors, superiors, administration, and Human Resource department. In your letter, wish for the prosperity of organisation as well as for your co-workers, superiors, seniors, and others.
Conclusion
Resignation has always been considered as negative activity, especially in the organisation where it's tendered. The co-workers, seniors, superiors, and employers of the professional begin criticising his/her past actions. This happens, especially when a professional leaves organisation without following the appropriate course of action. Through this article, we have tried point out what can help you escaping the criticism from your previous co-workers, superiors, seniors, and employers.