Ancient Mars supported liquid water: study
Mars had a surface environment that supported liquid water about 3.5 billion years ago, according to a study of river deposits spread across the red planet. A region of Mars named Aeolis Dorsa contains some of the most spectacular and densely packed river deposits seen on the planet, researchers said.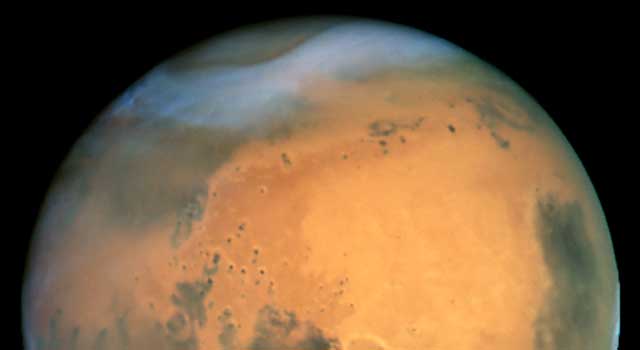 Water on Mars
Mars had a surface domain that bolstered fluid water around 3.5 billion years back, as per the study of rivers deposit spread over the red planet. A region of Mars named Aeolis Dorsa contains the absolute most dynamite and thickly stuffed river deposit seen on the planet, researchers said.
These deposits are noticeable with satellite pictures since they have experienced a procedure called "topographic inversion," where the deposits filling once geographically low river stations have been unearthed such that they now exist as ridges at the surface of the planet, as per the study.
How they reached to this conclusion?
With the utilization of high- resolution pictures and topographic information from cameras on orbiting satellites, B T Cardenas and associates from the Jackson School of Geosciences in the US recognized fluvial deposit stacking examples and changes in sedimentation styles controlled by a transitory coastline.
They additionally built up a strategy to measure river paleo-transport course for a subset of these ridges. Together, these estimations exhibit that the studied river deposits once filled incised valleys. On Earth, incised valleys are ordinarily cut and filled during falling and rising eustatic ocean level, individually.
NASA finds 'Shape-shifting' bacteria on the International Space Station
The study
Cardenas and associates infer that comparable falling and rising water levels in an expansive water body constrained the development of the paleo-valleys in their study area. Cross-cutting connections are seen at the valley-scale, demonstrating various episodes of water level fall and rise, each well more than 50 meters, a comparable scale to eustatic ocean level changes on Earth, researchers said.
The conclusion that such large water level fluctuations and coastline developments were recorded by these river deposits suggests some long haul solidness in the controlling, downstream water body, which would not be normal from catastrophic hydrologic events, they said.
IAU names two Pluto Mountains after mountaineers who first scaled Mount Everest
Source-PTI