Chandrayaan 2: ISRO asked people what you would take to the Moon; see the answers
ISRO asked a quiz on twitter about Moon essentials, twitter users are replying with interesting answers.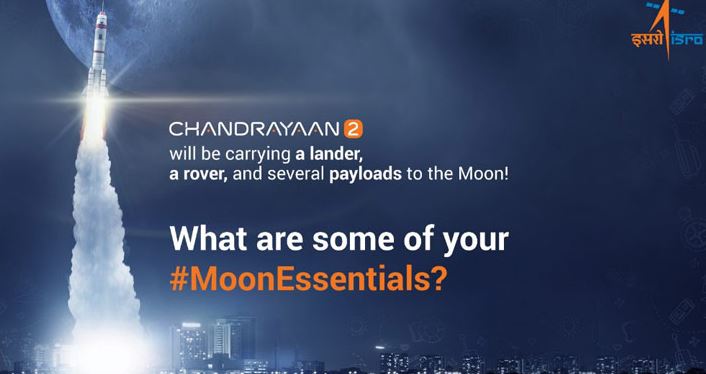 ISRO asked a quiz on twitter
With Chandrayaan 2, Indian Space Research Organisation (ISRO) is all set to launch its second mission to the Moon on July 15, 2019. ISRO asked an interesting quiz on twitter – What you would take to the Moon? Twitteratis shared interesting answers with list of amazing items. These answers are trending on twitter with hash-tag #MoonEssentials.
ISRO posted a graphic image of Chandrayaan 2 in the background and asked, "What are some of your #MoonEssentials?' ISRO has received amazing response from the users. For example, one of twitter user, Nikku Yadav said, Indian Flag, Telescope, Mobile, Indian Food, Solar Panel and lighting will be Moon essential for him.
Similarly, Another user replied, Pressure cooker, Volleyball and weighing machine will be in his Moon essential list.
Another users with name ISRO RLV TD said that Solar powered Radio transmitter for detecting any seismic activities or asteroid rain on the moon will be in Moon essential list.
Few other replies:
Chandrayaan-2 will be launched from Satish Dhawan Space Centre at Sriharikota, Andhra Pradesh on-board GSLV Mk-III as it will head to the Moon's south polar region. The Chandrayaan-1 mission was launched almost ten years ago and Chandrayaan-2 is an advanced version of it.
Also Read | Chandrayaan-2 Mission: Cost, launch date and what's next, everything you need to know