Chhaya Sharma gets McCain Institute award; first women cricket magazine launched - Current Affairs
The McCain Institute for International Leadership at Arizona State University's Award for Courage and Leadership is presented each year to honor an individual who has stood unwaveringly for fundamental values and has inspired the world through acts of selfless courage.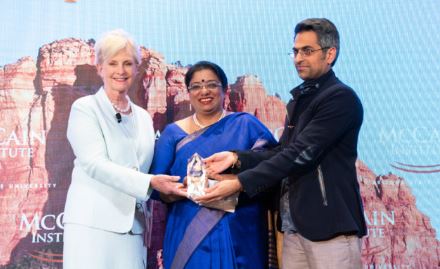 Chhaya Sharma gets McCain Institute award
Story 1: Nirbhaya rape case investigator Chhaya Sharma gets McCain Institute award
Chhaya Sharma, an officer of the Indian Police Service (IPS) and investigation officer of Nirbhaya rape case was felicitated with McCain Institute Award 2019. Chhaya Sharma is serving as deputy inspector general (DIG) at the National Human Rights Commission (NHRC) of India. She was awarded with McCain Institute Award for Courage and Leadership.
Describing her profile, McCain writes that she has protected human rights throughout his career. During investigation of various sensitive criminal cases and protecting human rights she was leading various teams in 19 years. Her approach is always a victim-centric through her numerous investigations of serious crimes, particularly against women and children.
Role of Chhaya Sharma in Nirbhaya Case
• Her stellar contribution, however, has been leading the investigation of the infamous Nirbhaya gang-rape and murder case of December 2012 in New Delhi.
• As the head of the special investigation team, she closely supervised all aspects of investigation of this blind case by actively taking charge of the situation – making quick decisions, giving directions, assimilating information and guiding with succinct inputs – all the while coordinating efforts of various teams.
• During the six grueling days of the manhunt across five Indian States, Sharma stood as a shield for her team of officers and men, insulating them from mounting media and civil society pressures, which led to quick apprehension of the perpetrators of that ghastly crime.
• As the lead investigator, Sharma kept the focus on meticulous documentation and collection of scientific evidence including use of forensic techniques like analysis for bite marks as evidence, hitherto unexplored in India.
• Scientific evidence was collated, stitched into the charge-sheet and filed in a record 18 days, which withstood various stages of judicial scrutiny all the way up to the Indian Supreme Court, the highest appellate authority, resulting in conviction with maximum punishment.
Protecting Human Rights
• Being a DIG (Investigation) at NHRC since 2015, Sharma has been instrumental in bringing the voices of the victims of human rights' violations for effective redressal by the National Commission.
• She has guided a lean but effective unit of officers who directly meet the victims during spot enquiries.
• Her tenure with NHRC has allowed her to have pan-India outreach and deal with subjects including public health, food security, right to education, good governance and LGBTQ rights.
• Sharma's work has received a number of appreciations and accolades throughout her career including two Special Duty Medals for her services in remote and insurgency affected areas in North East India in 2004 and 2015 and the prestigious President's Police Medal for Meritorious Service in 2015.
Previous years' awards
• McCain Institute for International Leadership at Arizona State University presented its 2018 Award for Courage and Leadership to the White Helmets.
• Kayla Mueller was honored posthumously by the McCain Institute for International Leadership at Arizona State University with the 2017 Award for Courage and Leadership, which was accepted by her parents Carl and Marsha Mueller.
• 2016 award was given to Dikembe Mutombo, a Congolese American humanitarian.
• He created the Dikembe Mutombo Foundation in Atlanta in 1997. The Biamba Marie Mutombo Hospital, named after his mother, was inaugurated in July 2007.
Liked the article? Do watch our videos too!
Story 2: In a first women only cricket magazine Criczone launched
World's first exclusive women's cricket magazine 'Criczone' was recently released in India. Magazine claims that it is the world first magazine which features only women cricketers. First edition of Criczone features Smriti Mandhana as cover story.
International women cricketers - Mithali Raj, Smiriti Mandhana, Harmanpreet Kaur, Danielle Wyatt and Sophie Devine were also present during inauguration ceremony. Yash Lahoti is publisher of the magazine.
Objective
Objective behind publishing women's only magazine is to provide one stop solution, updates, news, interviews etc about women's cricket. Criczone stories will seek to empower young aspiring women cricketers to take the sport as a profession and able to make sustainable living.
Women's T20 Challenge
Women's T20 Challenge 2019 was the second season of the Women's T20 Challenge. It is a Twenty-20 cricket tournament established by the Board of Control for Cricket in India (BCCI) in 2018. Unlike previous year, this year it was a three team tournament instead of a one-off match, featuring a new team called IPL Velocity. It was held from 6 to 11 May 2019 at the Sawai Mansingh Stadium, Jaipur, coinciding with the 2019 IPL's playoffs. Team Supernovas won by 4 wickets while Team Velocity came second.
CEAT International Cricket Awards-2019
In a recent CEAT International Cricket Awards 2019 Smriti Mandhana was given the International women cricketer of the year award while Virat Kohli was named the International Cricketer of the year. Mandhana had received the Rachael Heyhoe Flint Award for the ICC Women's Cricketer of the Year and was also named the ICC Women's ODI Player of the Year. She scored 669 runs in 2018 at an average of 66.90 in 12 ODIs while hitting 622 runs at a strike-rate of 130.67 in 25 T20Is.
Download our Current Affairs& GK app from Play Store/For Latest Current Affairs & GK, Click here