Chilesaurus, the 'missing link' in dinosaur evolution mystery found
Chilesaurus, originally classified as a relative of T rex, may solve the biggest mystery in dinosaur evolution, as it is reported to be the missing link between two major dinosaur groups, plant-eating herbivores and carnivores.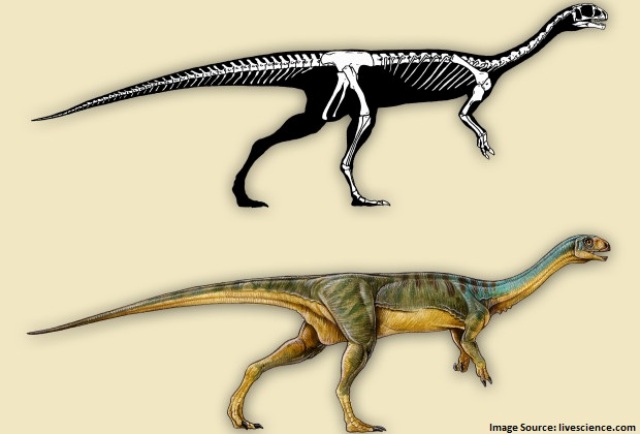 Chilesaurus, the missing link in dinosaur evolution found
Chilesaurus, which was discovered in southern Chile, is reported to be the missing link that fills the huge gap between two of the major dinosaur groups- plant-eating herbivores and carnivores.
The bizarre-looking dinosaur may be the answer to how one major dinosaur lineage evolved into a completely new dinosaur group
According to researchers in the United Kingdom, the species explain how mostly meat-eating, bipedal dinosaurs, evolved into the herbivorous, long-necked ornithischians. The study was published in the journal, Biology Letters,
Key Highlights
• Researchers from the University of Cambridge and the Natural History Museum in the United Kingdom used a comprehensive dataset to analyse over 450 anatomical characteristics of early dinosaurs and correctly placed Chilesaurus in the dinosaur family tree.
• The dinosaur effectively fills the huge gap between the two major dinosaur groups and shows how the divide between them may have happened.
• Chilesaurus was first described in 2015. It lived during the late Jurassic period, about 150 million years ago.
• Its odd combination of physical characteristics made it difficult to classify. While its head resembles that of a carnivore, it has flat teeth for grinding up plants.
The Origin Debate
• Earlier research suggests that this dinosaur species belonged to a group called 'Theropoda'- the 'lizard-hipped' group of dinosaurs that includes Tyrannosaurus.
• New study however, suggests that it was probably a very early member of a completely different group called Ornithischia, the 'bird-hipped' group of dinosaurs that includes Stegosaurus.
• Dinosaurs belonging to the Ornithischia group have several common traits including inverted bird-like hip structure and a beak-like structure for eating.
• While Chilesaurus has a bird-like hip structure, it has flat teeth and does not possess the distinctive beak like many other bird-hipped dinosaurs.
According to researchers, the fact that Chilesaurus has such a weird mix of features is the reason that makes it such an important find.
According to Matthew Baron, the study's co-lead researcher, "previously, it was unclear how the ornithischian group just suddenly appeared and became this well-adapted herbivorous group. Before this, there were no transitional specimens, we did not know what order these characteristics evolved in. This is the first one we have found."
Baron further added that this species fills the gap quite nicely, as it shows that in bird-hipped dinosaurs, the gut evolved first and the jaws evolved later.