Current Affairs in Short: 20 February 2020
French Prime Minister Edouard Philippe has said that the oldest nuclear plant of France, Fesenheim nuclear plant will be shut down.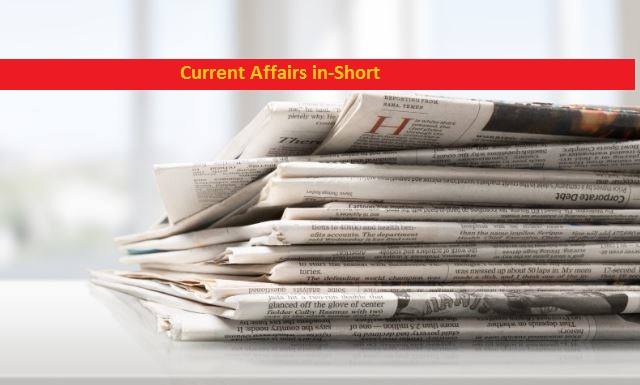 Current Affairs inshorts
France to shut down Fessenheim nuclear reactor by June
• French Prime Minister Edouard Philippe has said that the oldest nuclear plant of France, Fesenheim nuclear plant will be shut down by June this year. He said that reactor number 1 of this plant will stop working this week while the entire plant will be shut down on June 30, 2020.
• He described the decision as the first phase of the energy policy formulated in 2018 by French President Emmanuel Macron. The plan calls for re-balancing between electricity generated from nuclear plants and electricity generated from renewable energy sources.
• The French Prime Minister also said that some other coal plants would also be closed by 2022 to reduce greenhouse gases. France is dependent on nuclear power than any other country.
US scientists prepared first 3D molecular scale map of novel coronavirus
• American scientists have prepared the first 3D molecular scale map of the novel coronavirus that can attach to human cells and infect them. It will help to develop a Coronavirus vaccine.
• A team at the University of Texas at Austin and the National Institute of Health studied the genetic code of the virus.
• A team of researchers is sending maps of this molecular structure to colleagues around the world to improve it further by increasing disease resistance.
Arunachal Pradesh celebrates 34th Statehood Day
• India's North-Eastern state Arunachal Pradesh is celebrating its 34th Statehood Day on February 20, 2020. This North-Eastern state got a statehood status on February 20, 1987.
• Home Minister Amit Shah visited Arunachal Pradesh on this occasion. He launched various projects for the overall development of Arunachal Pradesh. These projects include the inauguration of Joram-Koloriang Road construction which was built by BRO.
• Home Minister Amit Shah also laid the foundation stone of the new headquarters of the state police along with some other projects. PM Modi tweeted and wished the people of Arunachal Pradesh on statehood Day.
World Day of Social Justice observed
• The World Social Justice Day is celebrated on February 20 every year. It aims to face the problem of poverty, unemployment, and abandonment. This year's theme is - Closing the Inequalities Gap to Achieve Social Justice.
• This day highlights that gender equality, social security and the rights of migrants are essential for social justice.
• United Nation believes that social justice can be ensured only when people do not face problems due to gender, age, race, religion or culture.
Delhi's IGI Airport becomes single-use plastic free airport
• The Delhi International Airport has become the first single-use plastic-free airport in India. The airport started work to become single-use plastic-free after 2018's Environment Day.
• Delhi International Airport uses eco-friendly products instead of plastic. It is India's biggest airport. Every year about 68.5 million passengers travel through this airport.
• India has targeted to end the use of single-use plastic by 2022. There will be an effort to reduce the use of plastic cups, bags, small bottles, plates, pouches and straws.