Current Affairs in Short: 21 August 2019
Chandrayaan-2 spacecraft has successfully performed second lunar bound orbit maneuver today.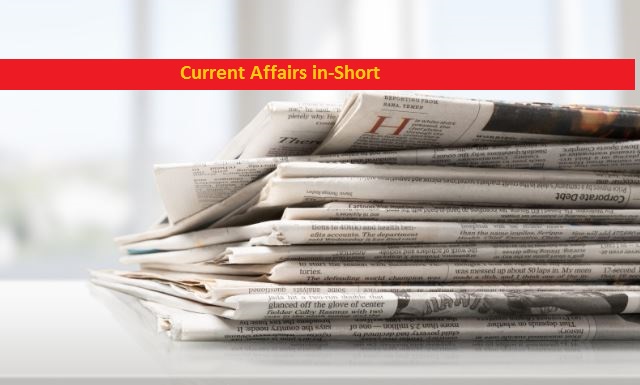 Current Affairs in short
Chandrayaan-2 successfully completed second Lunar Orbit Maneuver
• Chandrayaan-2 spacecraft has successfully performed second lunar bound orbit maneuver on August 21, 2019.
• The duration of the maneuver was 1228 seconds. The orbit achieved is 118 km x 4412 km. All spacecraft parameters are normal.
• ISRO released the information that the next Lunar bound orbit maneuver is scheduled on August 28, 2019, between 0530 - 0630 hrs IST.
Former Madhya Pradesh CM Babulal Gaur passed away
• Former Madhya Pradesh Chief Minister Babulal Gaur passed away on Wednesday morning at the age of 89 following a prolonged illness
• He was the CM of Madhya Pradesh from August 2004 to November 2005.
• He was born on June 2, 1930. He was senior Bharatiya Janata Party (BJP) leader in the state and he was credited with expanding BJP's footholds in Madhya Pradesh.
Indian Railways to enforce ban on single-use plastic material
• The Railway Ministry has directed all Railway units to enforce a ban on single-use plastic material, with less than 50 microns thickness from 2nd October 2019.
• Railway Ministry has issued a circular stating that the staff should reduce, reuse and refuse plastic products and use inexpensive reusable bags to reduce plastic footprint.
• Ministry of Railways has also instructed its Railway units that a pledge can be administered on 2nd October 2019 to cut the use of plastics.
India's new e-Tourist visa programme
• India will introduce a flexible e-tourist visa regime for more than 160 countries based on tourist footfall.
• There will be no visa fee for tourists from belonging to Forum for India-Pacific Islands Cooperation (FIPIC), which consists of 14 Pacific Island nations.
• Tourists from all countries to which India has extended e-visa facility will pay USD 10 for 30-day e-visa during lean season and will have to pay USD 25 during peak period.
Three-year extension to Pak Army Chief
• Pakistan's PM Imran Khan has recently extended the term of the Army Chief General Bajwa for another 3 years.
• According to the report published in Pakistani media that the decision has been taken in view of the regional security environment.
• Pakistani Army Chief General Bajwa (58) was expected to retire this year. Now, he will retire in 2022.
Download our Current Affairs & GK app for Competitive exam preparation. Click here for latest Current Affairs: Android|IOS