Current Affairs in Short: 21 December 2018
External Affair Minister Sushma and her Chinese counterpart Wang Yi co-chaired the first-ever meeting of India-China High-Level Mechanism on Cultural and People-to-People Exchanges in New Delhi on December 21, 2018.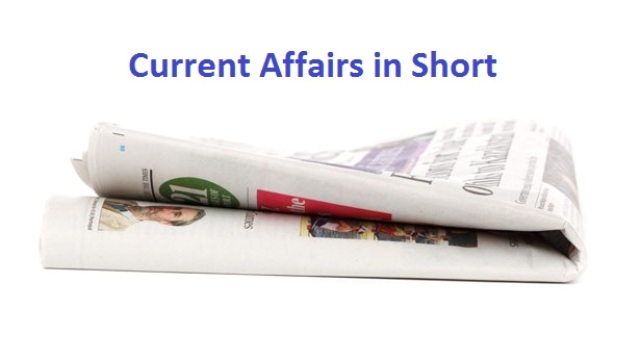 Current Affairs in Short: 21 December 2018
India, China hold first people-to-people exchanges meeting

• External Affair Minister Sushma and her Chinese counterpart Wang Yi co-chaired the first-ever meeting of India-China High-Level Mechanism on Cultural and People-to-People Exchanges in New Delhi on December 21, 2018.
• India and China had decided to set up people to people mechanism during the meeting between Prime Minister Narendra Modi and Chinese President Xi Jinping on the sidelines of Shanghai Cooperation Organisation Summit in China.

UN General Assembly adopts global framework on International migration

• The UN General Assembly has adopted the Global Compact for Safe, Orderly and Regular Migration, the first-ever negotiated global framework on a common approach to international migration in all its dimensions.
• The compact aims to address issues that concern the world's 258 million people on the move and countries of origin, transit and destination. It was adopted by the General Assembly with 152 votes in favour in Marrakesh, Morocco, on December 10, 2018.
• India voted in favour of the resolution while, the Czech Republic, Hungary, Israel, Poland and the US voted against it.
• The document reaffirms the foundational principles of global community, including national sovereignty and universal human rights.
• Though non-legally binding, the Compact is the outcome of a long negotiation process and provides a strong platform for cooperation on migration, drawing on best practices and international law.

US Senate approves legislation to fund government

• The US Senate has approved a legislation to temporarily fund the government in an effort to avoid partial shutdown over President Donald Trump's insistence on setting up border wall with Mexico. The funds would keep the government running till February 8.
• The House of Representatives, in which the Republicans have a majority, needs to pass a similar bill to avoid a government shutdown this weekend.
• Trump, however, said last week that he would prefer to shut down part of the government to get the money for the border wall with Mexico, if it is not sanctioned by the Congress. The border wall was central to Trump's presidential campaign.
• More than 8 lakh federal workers would face furloughs or be forced to work without pay, disrupting government operations days before Christmas, if the issue is not resolved.

France fines Uber 400000 euros over huge data breach

• France's data protection agency said on December 20, 2018 that it had fined the US ride-hailing group Uber 400,000 euros over a 2016 data breach that exposed the personal data of some 57 million clients and drivers worldwide.
• The French Data Protection Authority said the breach would have been prevented, if certain elementary security measures had been in place.
• Uber has already paid $148 million to US authorities to avoid a potentially embarrassing court case and vowed to improve its security efforts.
• Uber drew the wrath of users and regulators after the company waited a year before revealing in November 2017 that hackers had infiltrated its systems.
• Last month, the Netherlands imposed a 600,000-euro fine over the breach and Britain ordered Uber to pay 385,000 pounds.

Assam govt approves release of Chah Bahgicha Dhan Puraskar Mela

• The Assam government has approved the release of second instalment of the Chah Bagicha ( tea estate ) Dhan Puraskar Mela.
• All the beneficiaries will get 2,500 rs in their bank accounts by January 15, 2018. The government will bear Rs 200 crore towards this.
• Previously Rs 2,500 was transferred to the each of over 7 lakh account holders in tea garden areas at 26 districts of the state.
• It may be recalled that the Assam government had announced that 5000 rupees will be provided to tea garden workers who had opened bank accounts after demonetization.

Transport Minister lays foundation for several NH projects in Arunachal

• The Union Minister for Road Transport and Highways, Nitin Gadkari has laid the foundation stones for several national highway projects at Roing in Lower Dibang Valley District of Arunachal Pradesh on December 20, 2018. The projects have been sanctioned at a cost of Rs 28000 crore.
• The Minister also inaugurated two bridges over the Lohit and Dibang River.
• He also laid the foundation for 472 km of national highways costing Rs 5583.92 Crore in Lower Subansiri District.

Upendra Kushwaha joins Congress-RJD alliance

• RLSP Chief and former Union Minister Upendra Kushwaha on December 20, 2018 joined Congress-RJD alliance in the presence of Congress leader Ahmed Patel, RJD leader Tejashwi Yadav, Loktantrik Janata Dal leader Sharad Yadav and HAM leader Jitan Ram Manjhi in New Delhi.
• Speaking on the occasion, Kushwaha alleged that he was humiliated in the NDA and he has joined the Congress-led group in the interest of the people of Bihar.
• He also accused Bihar Chief Minister Nitish Kumar of hatching a conspiracy to weaken his party.
• Kushwaha had recently quit the NDA and resigned from the Union Council of Ministers.