Current Affairs in Short: 31 December 2018
The Minister for Housing and Urban Affairs, Hardeep Singh Puri has announced that the Pradhan Mantri Awas Yojana loan subsidy for middle-income group has been extended till March 31, 2020. About one lakh beneficiaries have taken benefit of the scheme so far.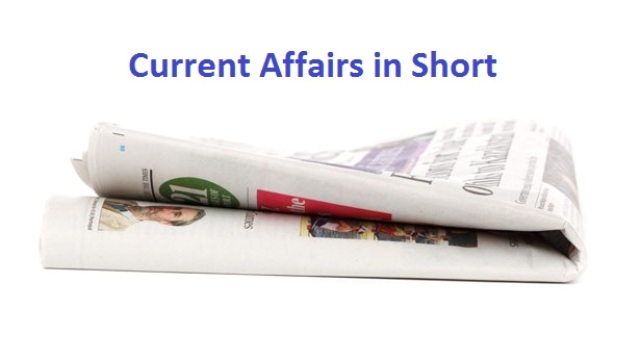 Current Affairs in Short: 31 December 2018
Loan subsidy for middle-income group extended till March 2020

• The Minister for Housing and Urban Affairs, Hardeep Singh Puri said on December 31, 2018 that the Pradhan Mantri Awas Yojana (PMAY) loan subsidy for middle-income group has been extended till March 31, 2020.
• Speaking on the same, Puri said that about one lakh beneficiaries have taken benefit of the scheme so far.
• Under the yojana, around 68.7 lakh houses have been sanctioned, 37 lakh houses have been grounded and 13.5 lakh have been completed and handed over.
• An investment worth Rs 3.85 lakh crore has been envisaged under the mission. More than Rs 6900 crore interest subsidy on housing loans have been disbursed to over 3.14 lakh beneficiaries of Credit Linked Subsidy Scheme CLSS under Pradhan Mantri Awas Yojana (Urban).

PM Modi renames 3 islands of Andaman Nicobar
• Prime Minister Narendra Modi on December 30, 2018 announced renaming of three islands of Andaman and Nicobar on the occasion of 75th anniversary of Tricolour hoisting by Netaji Subhas Chandra Bose in Port Blair.
• The Ross Island was renamed as Netaji Subhas Chandra Bose Dweep, the Neil Island would now be known as Shaheed Dweep and the Havelock Island as Swaraj Dweep.
• The PM also released a commemorative stamp, its first-day cover and a Rs-75 coin to mark the special occasion. He also announced setting up of a deemed university after Bose.
India will witness strong economic growth in 2019: CII
• The Confederation of Indian Industry (CII) has said that India will witness strong economic growth in 2019, despite external vulnerabilities arising from rising oil prices, the US-China trade war and America's monetary tightening.
• In its growth outlook for 2019, the industry body said, its optimism is buttressed by strong drivers emanating from services and infrastructure sectors and better demand conditions arising out of spending occasioned by the general elections due in early 2019.
• In a statement, CII said, better demand conditions, settled GST implementation, capacity expansion from growing investments in infrastructure, continuing positive effects of reform policies and improved credit offtake will sustain the robust GDP growth in the range of 7.5 per cent in 2019.
Delhi govt to erect welcome gates at 12 border points
• The Delhi government has decided to erect 'Welcome Gate' at 12 border points of the national capital by next year.
• The welcome gates will be put up at Delhi's main border points - Noida, Ghaziabad, Faridabad, Sonipat, Kharkhoda, Bahadurgarh, Badli, Gurugram, Kundli and Gazipur.
• The new welcome gates are expected to have an attractive look with colourful lights and an inscription reading 'Welcome to Delhi' on the top. The move is aimed at giving a pleasing look to the commuters entering the capital.
• The project will be executed by the Delhi Tourism and Transportation Development Corporation (DTTDC).
Triple Talaq bill scheduled to be tabled in Rajya Sabha
• The Muslim Women (Protection of Rights on Marriage) Bill was tabled in the Rajya Sabha on December 31, 2018. It was passed by the Lok Sabha on December 27 amid a walkout by the opposition.
• The Bill makes all declarations of instant triple talaq void and illegal. It seeks to make the practice a punishable offence with imprisonment of up to three years.
• The controversial bill was tabled by the Union Law and Justice Minister, Ravi Shankar Prasad. The Minister had claimed the bill will find support in the Rajya Sabha, where the BJP-led NDA lacks numbers.
• On the other hand, the main opposition Congress has said it will not allow passing of the bill in its present form. Both BJP and Congress had issued whips asking their members in the Upper House to be present.
• The opposition has demanded that the bill be sent to a joint select panel for review before it is passed by the Parliament. The bill was passed in the Lok Sabha with 245 voting in favour and 11 opposing it amid a walkout by the Congress, NCP and others.
Saurabh Chaudhary sweeps men's air pistol national trials
• Asian Games and Youth Olympic Games champion Saurabh Chaudhary swept the 10m air pistol trials at the Dr Karni Singh Shooting Range by winning the second National trial competitions in both the men's and junior boy's categories on December 31, 2018.
• Saurabh had won the first trial in both events on December 29 as well and in one final shooting event way above the existing world record score.
• Today he won the men's final with a relatively modest 243.3 score, leaving behind Punjab's Arjun Singh Cheema, who shot 239.8 to emerge second.

Sports Ministry earmarks Rs 100 Cr for funding athletes under TOPS: DGSAI
• The Director General of Sports Authority of India, Neelam Kapur said that the sports ministry has earmarked Rs 100 crore for funding the athletes under the (TOPS) Target Olympic Podium Scheme ahead of 2020 Olympics in Tokyo.
• The scheme was launched in September 2014 to provide financial assistance to potential Olympic medal winners.
• Under the scheme, the athletes were also given financial assistance to prepare for Commonwealth Games and Asian Games.
• The flagship scheme of the government will also nurture future sporting talent by supporting a group of athletes who are potential medal winner in 2024 and 2028 Olympic Games.

TTFI revokes suspension of Soumyajit Ghosh
• The Table Tennis Federation of India (TTFI) meeting in Sonepat on December 30, 2018 revoked suspension of former national champion Soumyajit Ghosh.
• The suspension was handed out to him in March 2018 following allegations of rape against him by an ex-girlfriend.
• The allegations prompted the TTFI to provisionally suspend him, which meant the paddler was left out of India's Commonwealth Games squad in Gold Coast.
• Ghosh's legal troubles finally came to an end after he married the rape accuser four months after his career nose-dived owing to the crisis.
• The withdrawal of suspension means Ghosh is eligible to participate in all national and international tournaments, with the Senior Nationals starting at Cuttack from January 4.
Tuticorin Airport to soon be 5th International airport in Tamil Nadu
• Efforts are on to develop Thuthukkudi (Tuticorin) Airport as the fifth international airport in Tamil Nadu.
• Airport Director N Balsubramaniam revealed on December 31, 2018 that the airport is likely to be declared as an international airport within four years.
• He said that as the first step, night landing facilities will commence from Thuthukudi by next May.
• International flights are already being operated from four airports of the state including Chennai, Coimbatore, Madurai and Trichy.
ICC announces women's ODI and T20I teams of the year
• The International Cricket Council, ICC, announced women's ODI and T20I teams of the year 2018, on December 31, 2018.
• While New Zealand's Suzie Bates was named as captain of the 50-over side, India's Harmanpreet Kaur was appointed the captain of the T20 team.
• Smriti Mandhana and Poonam Yadav are the two Indians who feature in both the ODI and T20I squads. Other players to find places in both the squads are Australia's Healy and Bates of New Zealand.
• Harmanpreet Kaur has been rewarded for spearheading Indian team to the semi-final of the ICC Women's World T20 in the Caribbean in November 2018.